We Check In to Nikoi Private Island, Indonesia
The Indonesian island of Nikoi holds almost mythical status. Known as THE private island of all private islands, so desirable that it's 15 villas can be booked up a year in advance. Those who visit are treated with a hushed reverence, not just due to the knowledge that they are clearly in possession of exceptional forward planning skills.
Nikoi is the brainchild of a group of friends seeking a stylish and sustainable escape from Singapore, and its many devotees conjure a vision that melds Robinson Crusoe, Lord of the Flies and a hefty sprinkling of luxury. I'm intrigued; when contacted to say that a villa has become available for my family we feel like we've reached the inner circle.
Approaching via speedboat from nearby Bintan island excitement levels are high. The first glimpse doesn't disappoint: A huge sand bar so white, it hurts the eyes; driftwood villas with thatched roofing glimpsed through lush foliage; a boy holding what looks like a hand-whittled bow and arrow. My children are momentarily silenced. Nikoi, we're ready for this.
The Spa
Nikoi's safari-inspired tented spa sets the tone for the island. Approached by a meandering path through a tunnel of trees, getting there is an adventure in itself: I narrowly miss a dangling spider of epic proportions, and our progress is accompanied by rustling undergrowth. Inside, the spa is a retreat.
I feel like I could be in Holly Willoughby's quarters post I'm a Celebrity filming. We sip herbal tea while selecting treatments via iPad, and dip our feet in cool flower-strewn water baths. A first: two of my children are here to sample Nikoi's kid's massage. This place clearly rewrites the private island rule book.
The Treatments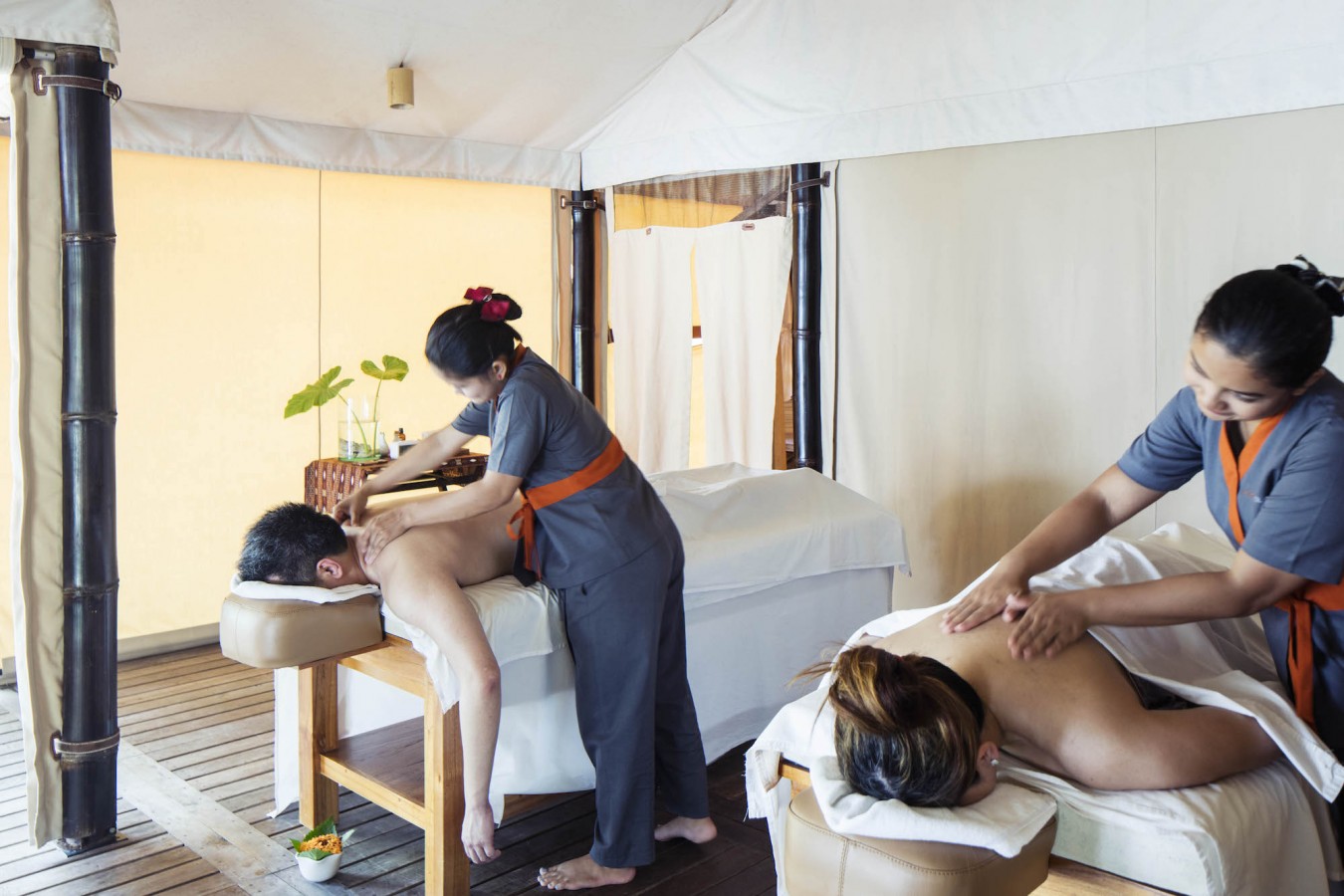 Once ensconced in the treatment tents, that come with the bonus of sea views, I partake in a divine Javanese massage:  luxuriously relaxing but with a hard-working kick. A little like what I've seen of Nikoi so far. My therapist explains they use only the island's home-produced coconut oil.
I am sold. My children's half-hour massages score equally high and seem to be just as intensive as the adult's version. Our therapist tells us that a ten-year-old boy recently enjoyed a massage each day for two weeks. It's that kind of place.
To Stay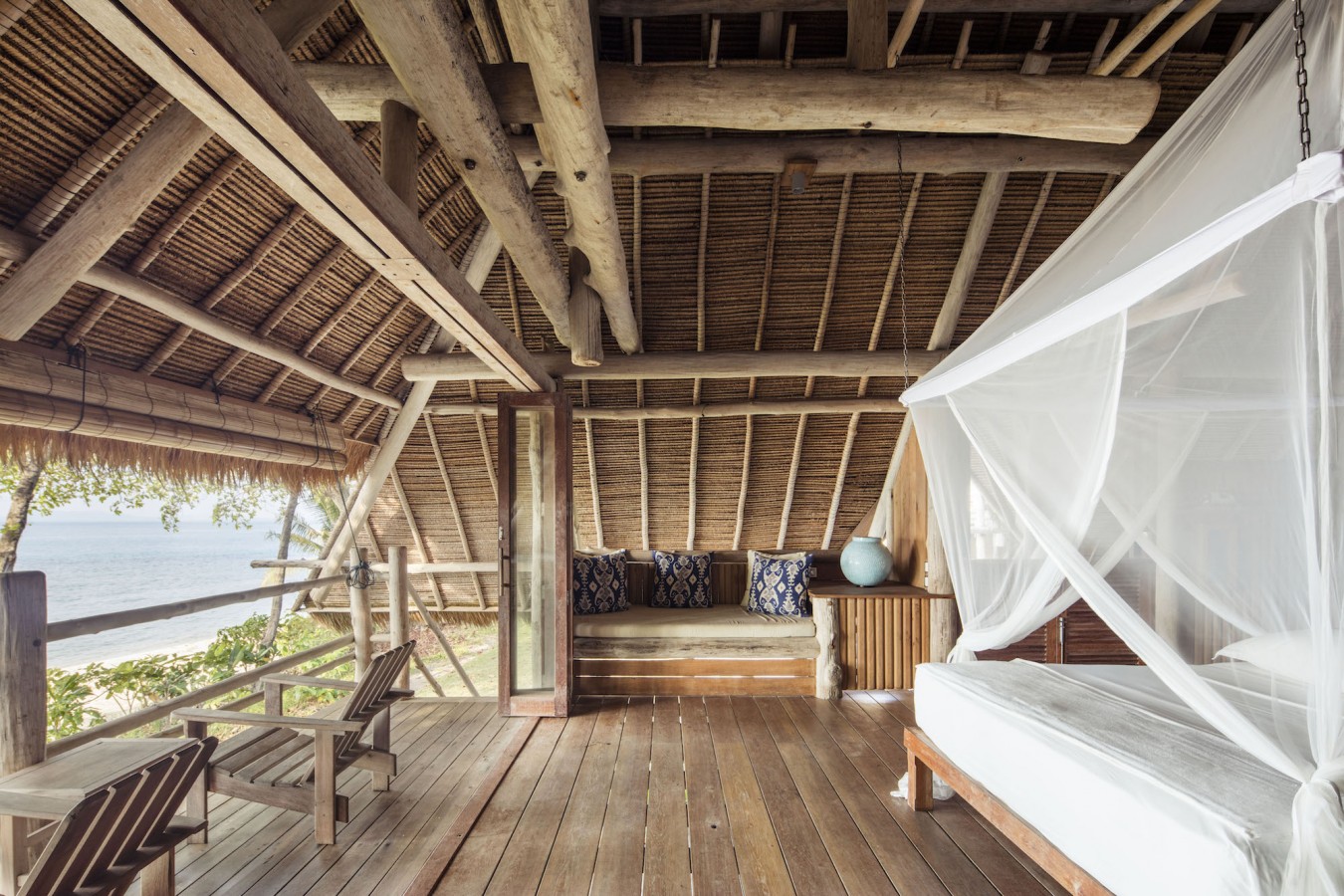 Bottles of coconut oil in hand, we head to our family villa. Open to the elements and hugging the coastline, it's a vision in sun-bleached driftwood. A monitor lizard bigger than I have ever seen lumbers out from under the deck. It looks like it might have just eaten my youngest child. Child located, exploration reveals elevated bedrooms above a lounge in the sand complete with swinging daybed, just steps from the sea. In short, the dream.
On Nikoi adults can do as much or as little as we like, from watersports to sampling cocktails around the spectacular swimming pool hewn into the rocks. For kids, anything is possible. From rock climbing to scaling palm trees, searching for monitor lizards and whittling weapons, the young team actively enjoy helping the kids achieve holiday utopia without the aid of technology or breaking the law. Yes, the weapons lead to a minor holdup en route home. But what's detainment at customs to the pursuit of happiness?
To Eat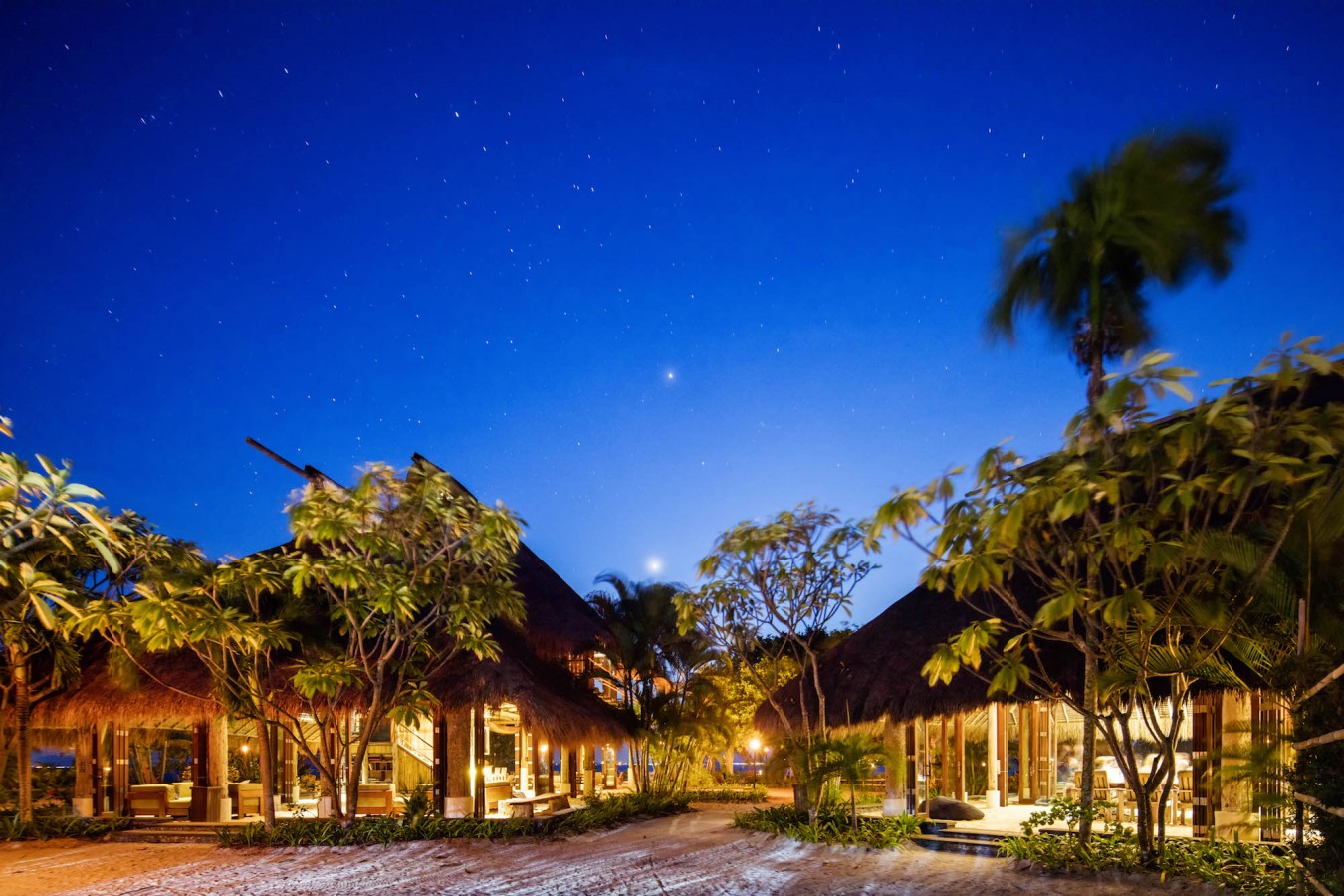 Three times a day we sit at a huge driftwood table with feet in the sand and a view out to sea, Nikoi's menu focuses on sustainably produced meat and fish, and the island's homegrown vegetables and eggs, presented in an insta-fabulous way. Kids can choose between Indonesian or European, and second helpings are actively encouraged. Come 7.30 huge beanbags are pulled out and a film projected, leaving adults to eat and indulge in the child-free witty repartee these parents of three rarely experience on holiday. Love Island eat your heart out.
We stay at Nikoi for three nights, but feel like we've had a month of relaxation. Whether it's the wild beauty of the place, the private island recipe interpreted to family-friendly perfection, or just the fact that Fortnite isn't mentioned once, we leave having joined the converted. We all heart Nikoi.