Restoring Elemental Balance at Ayurveda Pura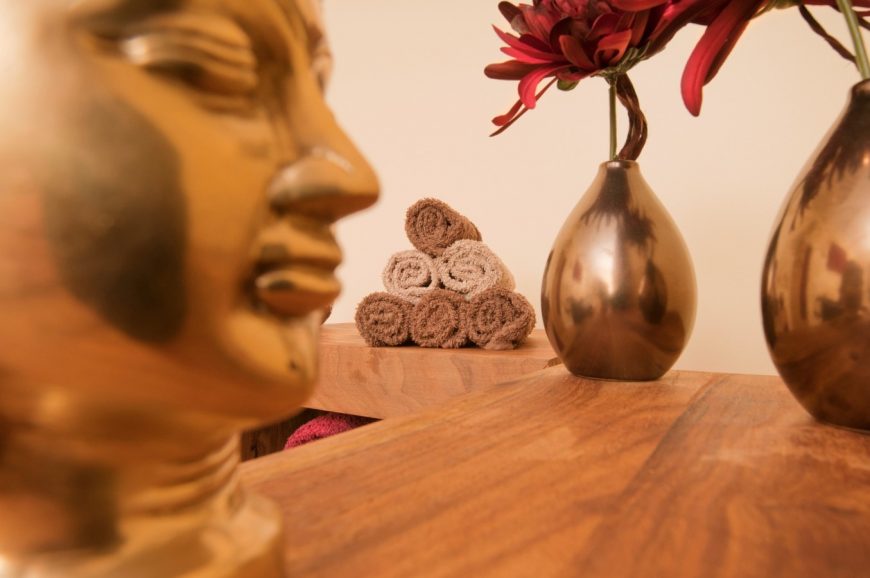 The path to Ayurvedic enlightenment is a long and winding one. Or, in my case, an expletive-laden double-back when Google Maps sends me trotting out of North Greenwich station and into what turns out to the O2 car park. By the time I've fought upstream through a shoal of gig-goers, and arrived at Ayurveda Pura Health Spa, I'm pretty sure my doshas are all out whack.
Luckily, Dr Deepa Apté is on hand to restore my elemental balance. The founder of this award-winning day spa started out as a medical doctor in India before becoming an Ayurvedic practitioner. She now teaches and practices this ancient Indian holistic system of medicine, which believes that all things in the universe (us included) are made up of five basic elements: air, water, fire, space and earth. These elements link into the three doshas (or life forces), which are thought to determine who we are. You don't have to be ill to use this holistic approach to wellbeing, since Ayurveda isn't so much about treating disease as preventing it in the first place by keeping us in balance.
As you'd hope from a holistic health guru, Dr Apté is serenity personified, with a soft, calming voice and soothing aura. She ushers me into her toasty, candlelit treatment room where I can immediately sense I'm going to struggle to stay awake for the next hour.
My previous knowledge of Ayurveda doesn't go much further than a 'find your dosha' quiz I once did in a teen magazine. As it happens, the first part of today's consultation involves a not-dissimilar multiple-choice tick-list covering such wide-ranging matters as my sweating style, my sleep patterns and the shape of my eyes. Heck, I'm even asked to tot up my scores to see whether I'm more Vata, Pitta or Kapha. I shoot a sceptical look. Surely Ayurveda is more complex than a Just Seventeen questionnaire?
Absolutely so, reassures Dr Apté. 'In Ayurveda, we have two selves – the one we are born with, and the one we become. The first is like a solid surface, which never changes. The second is like the dust that settles on top as we go through life. The questionnaire is simply a reflection of where we are now. The aim of Ayurveda is to determine that essential you, and blow away that dust to help restore balance.'
As it turns out, my doshas in need of a damn good spring clean. In the here and now, I lean heavily towards Vata which sounds like a mash-up of all the modern-day ailments: chattering mind, poor concentration and dodgy sleep. However, when Dr Apté takes my pulse and assesses how the blood flows through the three fingertips that represent the three doshas, she reveals the unexpected. The real me is actually 'tridoshic', the rarest of Ayurvedic types, born with a harmonious balance of all three doshas.
'This is very positive because it means you will always have all three working together and protecting each other,' she explains.
Great! Now I just need to get back in touch with Kapha, the chilled-out, go-with-the-flow, rosy-cheeked dosha that scored a big fat zero on my quiz.
In Ayurvedic practice, massage is one of the key pillars by which we can realign ourselves, along with yoga, diet and herbal remedies. As a taster, I'm at Ayurveda Pura to experience Abhyanga, their signature full body massage using herb-infused oil tailored to each client's doshas.
The reason for the balmy room temperature becomes evident when Dr Apté explains Ayurvedic massage involves a generous basting in oil and long, sweeping strokes with no towels to get in the way. Those put off by the idea of an hour clad in nothing but paper pants and rosewater-infused eye pads need not fret. Not only is the treatment is utterly relaxing, the calm, almost medical-like manner in which it's carried out ensures it feels entirely professional and not remotely embarrassing.
It helps that the massage technique is tender and soothing throughout, so you're never subconsciously braced for a vicious knuckle between the shoulder blades. Honestly, I don't think any massage has ever got me in the zone quite so quickly. Sometimes I can waste half a treatment mentally shushing my internal chatter; today Dr Apté manages to mute that angsty Vata tendency by the time she's halfway up the first leg.
Half-awake, half asleep and entirely chilled out, I simply submit to her touch as I'm massaged, stroked and bathed – almost literally – in oil. There is so much of it on my body I don't so much turn over halfway as flip over, rather like a slippery sausage being done on both sides.
By the end, I'm utterly cooked. In fact, I'm so woozy it's a real struggle to get off the couch – if it wasn't for the oil to ease my exit I'd probably still be there now.
The treatment finishes with a warm shower to rinse away any of the toxins released by the massage, followed by a cup of stress-relieving herbal tea. I emerge into the dark North Greenwich night, clutching a big bag of the spa's Holistic Essentials Ayurvedic skincare and feeling lighter than I have in months.
Yes, Ayurveda Pura might be a far cry from a slick Mayfair beauty salon, and distinctly off the beaten track. But sometimes you need to go off your usual course to end up exactly where you need to be.