The Beauty Programme at Clinic La Prairie, Switzerland
Founded back in 1931 by Professor Niehans – a pioneer in the development of cell therapy – this legendary hideaway retreat on the shores of Lake Leman, Montreux has been a popular choice for European royalty and rock stars for decades – past guests are said to include Mick Jagger and Marlene Dietrich.
A serene and tranquil setting, The Medical Centre, Chateaux and Residences are scattered throughout manicured gardens and lush green lawns and set against a stunning mountain backdrop.
The iconic Swiss clinic has recently opened a brand spanking new state of the art spa with 18 treatment rooms, a private treatment suite, a hydrotherapy circuit and a thermal suite.
The medical spa at Clinique La Prairie, awarded Best Medical Spa and Best Destination Spa, 2014 and 2015, has recently undergone a complete renovation to provide state-of-the-art technology and design. Facilities at the spa include 17 treatment rooms, a spa suite with a private hammam and jacuzzi, a Kneipp and hydrotherapy circuit, ice fountains and sensorial showers.
Arriving late, but in style for my three-day taster of the Beauty Programme – I was transported along the shores of Lake Geneva in a private limousine (all part and parcel of the glamorous package) – the clinic's entrance provides an immediate wow factor. Aromatic floral creations of pink peonies, lilies and roses in huge glass display boxes gave an air of tranquility to the state of the art clinic.
On my morning tour of the vast clinic I was blown away by the extensive facilities and aesthetic and medical offerings – there's everything from mental wellness, cardiology and neurology units to dental and orthopaedic surgeries. One of the most popular being the celebrated Menopause Centre headed up by Dr Thierry Pache. The space-age spa area is a high-tech-meets-holistic haven, with 15 crisp white treatment rooms, swimming pool, a Kneipp pool, Jacuzzi, sauna, ice fountain and a relaxation room – extensive offerings range from acupuncture to micro-needling.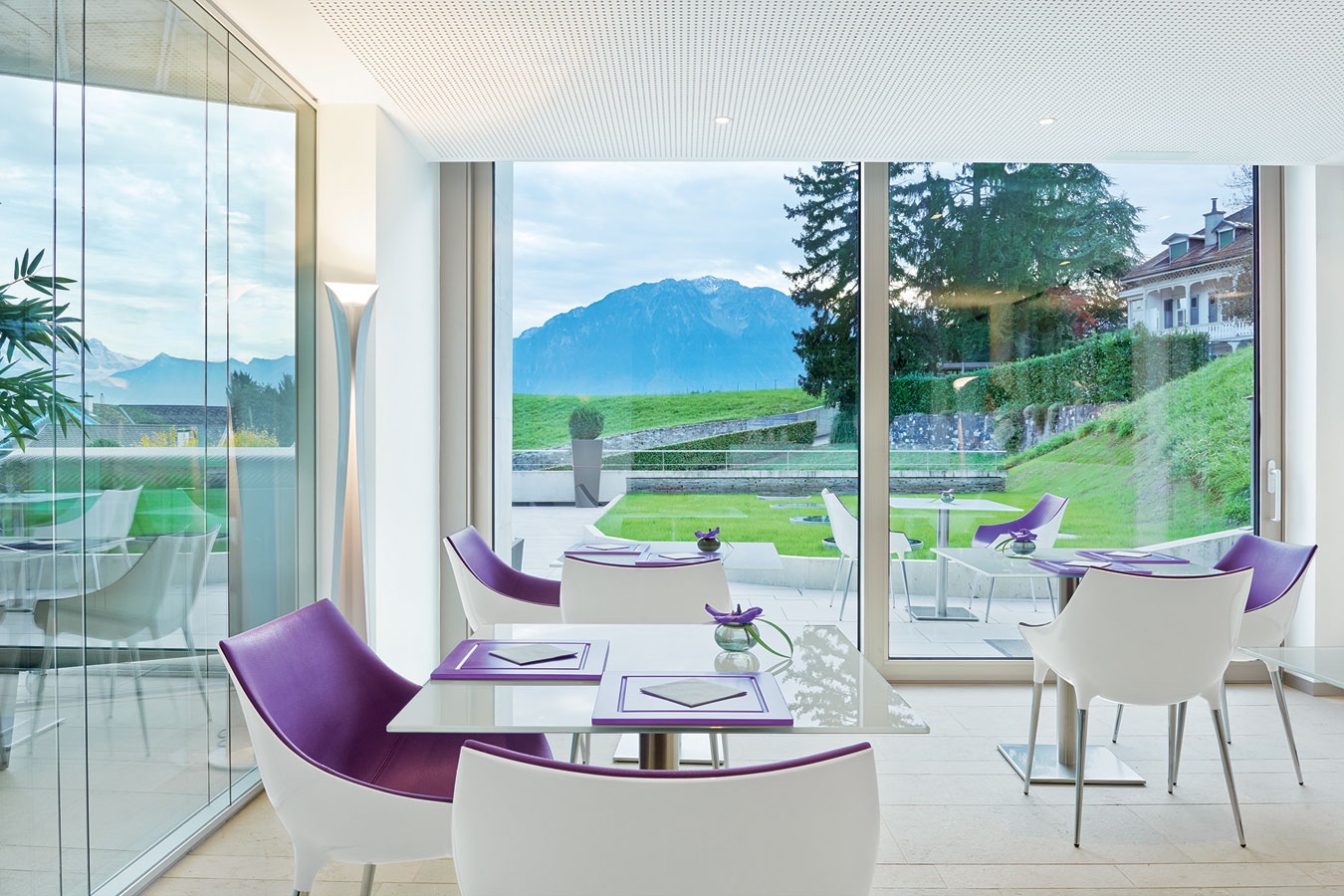 My Beauty Programme began with a consultation and general health check-up, followed by meetings with a nutritionalist skin therapist and a personal trainer. The programme focuses on skin and body treatments, diet and fitness, so a bespoke plan incorporating these is designed. Though a choice of beauty treatments are included – the skin therapist will advise on the most beneficial for you – many guests choose recommended 'add on's' – these can include everything from laser treatments to Thermage.
I stuck to the non-invasive machine-assisted treatments such as Body Contouring – a first for me, I found myself in a bodysuit come sleeping bag that tightens then releases in sequence on various parts for the body for an hour! It really did seem to tone my arms and legs noticeably. And I found the Facial Redensifying was to be as impressive as it sounds. My skin really did look incredible – noticeably fresher, firmer and brighter.
Fitness is also a big part of the programme – one session with a personal trainer is included and there are daily group fitness and aqua gym classes, I also made use of the pool with a daily morning and evening swim.
The diet on the programme is basically healthy – carb-light but plentiful – lots of fresh fish, vegetables and great salads. Wine is available at dinner but advised to be avoided!
My three days at CLP saw wondrous results so it'll come as no surprise that the programme comes with a high price tag. Clinique La Prairie is cited as one of the best clinics in the world, and with good reason – aside from the space-age spa, luxurious accommodation and idyllic setting – when it comes to cutting edge treatments, new technologies and DNA testing, they're top of the game – therapists, doctors and nurses really do know their stuff and are some of the best you'll find, staff are professional, friendly and welcoming – they make you feel safe. If you're feeling a bit broken and weary but financially flushed, I'd definitely recommend you check in.