Looking for a Game Changing Re-Boot? Check Into Kamalaya, Thailand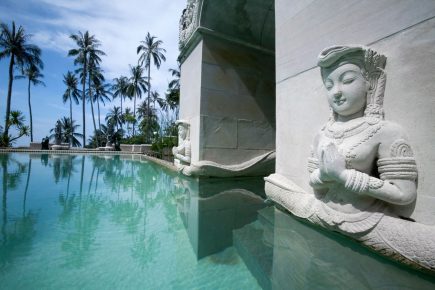 Kamalaya (translation Lotus Realm – a symbol for unfolding life's potential) is a game-changer. Truly. The brainchild of John and Karina Stewart, a former traditional yogi monk and a doctor of traditional Chinese medicine, respectively, this is one hotel where you know you'll be in great hands.
Set in magical surroundings amongst ancient granite boulders and a spiritual old Buddhist monk cave, Kamalaya is more than just a hotel and spa. It is hard to pinpoint exactly what it is, as it is so many things, but primarily it is a health resort. Words like Reconnect, Rejuvenate, Discover, Explore, Enrich, Pause, Integrate, Meditate, Nurture and heal are thrown around like a tennis ball at Wimbledon.
It is clear from the language here, that this is a place to renew your mind body and soul. It is a fitness and ideal weight retreat, offering programmes that focus on the correct exercise and nutrition, with a top-class brand new fully equipped gym, and knowledgeable trainers. It is also a detox retreat. But you won't find intense master cleanses and clay drinks here – rather cleansing the body through food. Nothing is imposed too heavily here, the choices are yours and that mentality makes you want to immerse yourself into it completely.
The staff here rule. Always accommodating, friendly and full of character. Take, for example, Kris who mans the beach (where you can get full food and drink service and water and lemongrass tea is on tap) I asked "Kris, do you have the time?" Kris's prompt reply as he passed me a coconut to drink from, was "It's the same time as it was this time yesterday".
The spa at Kamalaya is set amongst an abundance of nature. Treatment rooms are little thermoses overlooking the beach. Evening treatments are a bonus as they allow you to watch the sun set over the ocean just as you open your weary eyes to reality again. Kamalaya's main focus is on your mind, body and soul.
The therapists and specialists here are carefully handpicked for their special skills. Everyone from stress management therapists (Sujay is my new best friend) to the Indian Reiki experts made a serious impression on me, and I am not easily pleased!
All of my treatments left me walking on air, literally. I had two out of body experiences, one with reiki and one with Shidohara (Involves gently pouring liquids over the forehead (the 'third eye'), used to treat a variety of conditions including stress, memory loss, insomnia, among others. Other programmes here include 'Relax and Renew', 'Asian Bliss De-stress', 'Balance and Revitalise', 'Sleep', 'Detox – Intro/Basic/Comprehensive'.
I chose the Balance and Revitalise as I was suffering from adrenal fatigue, but i would highly recommend any of the programmes. The international naturopaths and nutritionists, stress management experts, and experts in every field imaginable, can work with you to create your own health programme from the wide range of holistic medicine and healing therapies.