Preidlhof
Naturns, Italy
Price Guide
Features
Adults Only
All Inclusive
Couples
Day Spa
Destination Spa
Detox
Fine Dining
Going Solo
Medi Spa
Outdoors
Retreat
Super-luxe
Wellness
Spa
Hydrotherapy
Medi-Spa
Pool
Thermal Facilities
To Do
Bootcamp
Cycling
Gymnasium
Hiking/walks
Meditation
Personal training
Pilates
Pool – Indoor
Pool – Outdoor
Yoga
Preidlhof is a multi award-winning Destination Spa in South Tyrol, Italy, internationally renowned for its Transformational Wellness Retreats and Integrated Healing programmes. Discover 5000m² of wellness space cocooned in luxury. Imbed in nature and enjoy spectacular views of the Vinschgau Valley and Ortler Mountains.
Located in Naturno, Preidlhof offers exceptional health and wellness programmes alongside the hospitality, accommodation and services of a 5* hotel.
Ensuring total relaxation, Preidlhof is for adults-only and welcomes guests aged 16 years and over.
Blessed with a year-round Mediterranean climate, Preidlhof cradles a hillside interspersed with cypresses, palms and olive trees, and surrounded by orchards and vineyards. Preidlhof's location in the foothills of the Texel Group Nature Park provides easy access to an endless array of hiking, biking and nature trails. Here you can be as active or as still as you need.
Preidlhof's continual investment in new technology and talent has led to many hospitality and spa awards. It is the first Wellness & Spa facility in the world to receive ISO 17679 certification: recognition for the highest levels of hygiene, sustainability and quality of services provided.
Preidlhof's philosophy, 'The Preidlhof Way' is based on Aristotle's complete definition of 'wellbeing': that true health and happiness is found in a balance between 'hedonistic' and 'eudaimonic' wellbeing. Simply, this is the point at which the hedonic (joy, pleasure and beauty) meets the eudaimonic (a deeper sense of self-discovery, meaning and purpose). The 'hedonic – eudemonic' dynamic runs seamlessly throughout the entire Preidlhof experience, from the location to the accommodation and cuisine, through to the spa, treatments, and classes
Preidlhof's health programmes and transformational wellness retreats integrate complementary, medical and preventative health expertise. The team specialise in fitness, medical health, nutrition, sleep issues, emotional healing, trauma-release, helping with the menopause, as well as general stress and anxiety. Each programme is integrated and tailored to your individual needs
Special classes led by experts are included in the Retreat programmes: yoga nidra, mindfulness, mindful and sensorial eating experiences, dance therapy, forest bathing, barefoot meditation, sensory experiences, laughter yoga, dao yin yoga, and sound healing. These are in addition to the weekly inclusive offering of fitness classes and guided walks.
The Medical Spa team, led by Dr Alexander Angerer, has a preventative health approach. He integrates Traditional Chinese Medicine (TCM), nutrition, acupuncture and homoeopathy, in addition to using the latest techniques to analyse Heart Rate Variability, gut microbiome, and sleep.
Spa Facilities
14 spa treatment rooms
Wellness water park featuring several outdoors pools of varying temperatures, whirlpools, adventure showers and an outdoor Kneipp water path
Dedicated team of spa and on-site medical experts offering a wide range of natural health, medical and beauty treatments
Weekly talks on health & vitality by Dr Angerer and Life Coach Ms Christanell
"Good Night" menu including 12 different kinds of pillows, mattress toppers, sound life sleep system, and a relax bag with different sleeping aids
Fitness area fully equipped with the latest training tools and cardio equipment, as well as a fitness pavilion
Range of complimentary fitness classes and workouts as well as one-on-one Personal Training sessions available at an extra cost
Preidhof's own line of organic, chemical-free beauty products
Spa Products
Berg
Fuhlendorf
Germaine de Capuccini
Horst Kirchberger
Phyto5
71 luxury guest rooms all with south-facing views, 27 of these are contemporary suites, in addition to 5 luxury penthouse suites. All the suites feature spa loggias and some have their own whirlpool and private sauna. The penthouse suites each have an outdoor cinema and the Luxury Penthouse Suite Dolce Vita Premium also has a private pool.
Features include luxury box-spring beds with 'Sleep-Fit-Health-System' and 210 cm long mattresses, a pillow menu, and complimentary Wifi which is turned off in the rooms from midnight to 7am to promote a restful sleep.
Check in: 2:00 pm
Check out: 11:00 am
Cuisine is a highlight and Gault Millau awarded Preidlhof's Restaurant three toques. Guests enjoy local products and regional delicacies, much of which Preidlhof cultivates and harvests itself. The Chef skilfully blends the health-giving properties of an Alkaline and Mediterranean Diet with the rich flavours and traditions of Italian and South Tyrolean cuisine.
All accommodation packages are offered on a full-board basis:
Breakfast – Extensive buffet breakfast is served daily including a wide variety of hot and cold options, an organic selection, a vast array of teas as well as a health food corner and a "vitamin bar" with a host of fruit juices
Lunch – A healthy buffet lunch is served daily from 2:00pm – 5:00pm
Dinner – Guests can choose between the low-calorie Vital menu or a 7-course à la carte gourmet menu in Preidlhof's Michelin starred restaurant. Modern South Tyrolean cuisine is prepared by a team of talented chefs with dedication and creativity using locally sourced ingredients including produce from the restaurant's own garden.
---
Facilities and Activities
Nordic walking
Guided hikes
Guided bike rides
Complimentary Vespas for guests' use
Active concierge desk
Climbing wall
Daily schedule of fitness classes including Yoga and Functional Training
Tennis
Golf
Skiing (30 minutes drive from Naturns)
---
Getting There
I-39025 Naturns, Province of Bolzano – South Tyrol, Italy
There is a free shuttle service from Naturns Station and transfers can be arranged from Innsbruck and Verona Airports, both a scenic 90 – 120 minutes drive.
Wellness Suite Me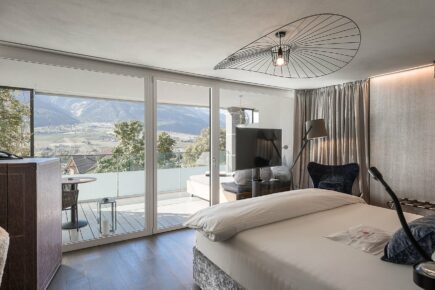 Single Suite Blue Love
Comfort Room Romantic Fire
Comfort Room Pink Love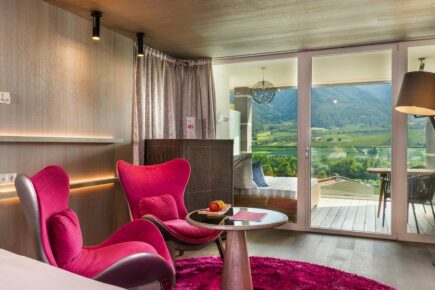 Romantic Suite You & Me
Luxury Suite Lavendel
Romantic Suite Love
Suite Romantic Garden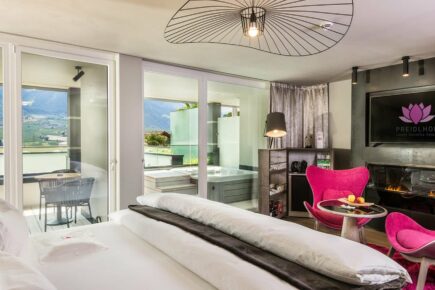 Private Suite Romantic Dream
Romantic Suite Jasmin