Preidlhof
Naturns, Italy
Price Guide
Features
Adults Only
All Inclusive
Couples
Day Spa
Destination Spa
Detox
Fine Dining
Going Solo
Medi Spa
Outdoors
Retreat
Super-luxe
Wellness
Spa
Hydrotherapy
Medi-Spa
Pool
Thermal Facilities
To Do
Bootcamp
Cycling
Gymnasium
Hiking/walks
Meditation
Personal training
Pilates
Pool – Indoor
Pool – Outdoor
Yoga
Located in Naturns, South Tyrol, Italy, Preidlhof is an award-winning luxury wellness retreat with over 5000m² of spa and wellness facilities. Set against a stunning Alpine backdrop, the adults-only retreat offers a truly rejuvenating escape from the stresses of everyday life.
At Preidlhof, wellness is at the heart of everything. The retreat boasts an impressive array of facilities, including an extensive spa with a wide range of treatments and therapies, a state-of-the-art fitness centre, and multiple indoor and outdoor swimming pools. Created by celebrated wellness expert Patrizia Bortolin "The Preidlhof Way" concept includes Transformational Wellness Retreats, signature rituals and treatments, fitness and beauty concepts, and a signature food philosophy.
The resort offers a range of beautifully-appointed rooms and suites, each with its own unique style and decor. Guests can choose from spacious double rooms, elegant junior suites, or the luxurious penthouse suites with private pools – all designed to provide the ultimate in comfort and relaxation.
With its combination of luxurious accommodations, world-class wellness facilities, and breathtaking landscape, Preidlhof is the perfect destination for anyone looking for an unforgettable wellness holiday.
The spa at Preidlhof offers a blend of ancient healing practices and modern techniques alongside a plethora of state-of-the-art facilities to create an unparalleled wellness experience.
A wide range of treatments, including massages, facials and body scrubs are tailored to guests individual needs. Guests can also take advantage of the spa's extensive wellness facilities, which include a whole array of sauna and steam experiences and a choice of ten indoor and outdoor pools.
Designed by wellness expert Patrizia Bortolin "The Preidlhof Way" concept includes award-winning Transformational Wellness Retreats, signature rituals and treatments, fitness and beauty concepts, and a signature food philosophy. Preidlhof's health programmes and transformational wellness retreats integrate complementary, medical and preventative health expertise. The highly trained team specialise in fitness, medical health, nutrition, sleep issues, emotional healing, trauma-release, as well as general stress and anxiety. Each programme is tailored to guests' individual needs.
Spa Facilities
14 Treatment Rooms
Wellness Water Park
Sauna Tower With 16 Heat Experiences
Medi Spa
Fitness Centre
Yoga Studio
Beauty Studio
Relaxation Areas
10 Indoor & Outdoor Pools
Spa Products
Preidlhof Signature Cosmetic Line
Preidlhof boasts 71 luxury guest rooms all with south-facing views, 27 contemporary suites and 5 luxury penthouse suites. All suites feature spa loggias and some have their own whirlpool and private sauna. The penthouse suites each have an outdoor cinema and the Luxury Penthouse Suite Dolce Vita Premium has a private pool.
Features include luxury box-spring beds with 'Sleep-Fit-Health-System' and 210 cm long mattresses, a pillow menu, and complimentary Wifi which is turned off in the rooms from midnight to 7am to promote a restful sleep.
Check in: 2:00 pm
Check out: 11:00 am
Rooted in a region celebrated for its cuisine, the award-winning chefs at Preidlhof source fresh organic produce to create innovative dishes with South Tyrolean and Mediterranean influences.
Retreat guests can enjoy the 'Wellness Healing Gourmet Menu' at dinner. The plant based menu is free from gluten, lactose, egg, soy, and sugar and was created for Preidlhof by chef Emanuele Giorgione with the support of Dr. Med. Alexander Angerer – Preidlhof's resident doctor.
Preidlhof also offer 'Mindful Eating' classes and cookery classes.
---
Facilities and Activities
Nordic walking
Guided hikes
Guided bike rides
Complimentary Vespas for guests' use
Active concierge desk
Climbing wall
Daily schedule of fitness classes including Yoga and Functional Training
Tennis
Golf
Skiing (30 minutes drive from Naturns)
---
Getting There
I-39025 Naturns, Province of Bolzano – South Tyrol, Italy
There is a free shuttle service from Naturns Station and transfers can be arranged from Innsbruck and Verona Airports, both a scenic 90 – 120 minutes drive.
Wellness Suite Me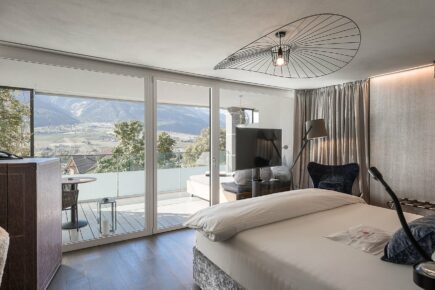 Single Suite Blue
Comfort Room Romantic Fire
Comfort Room Pink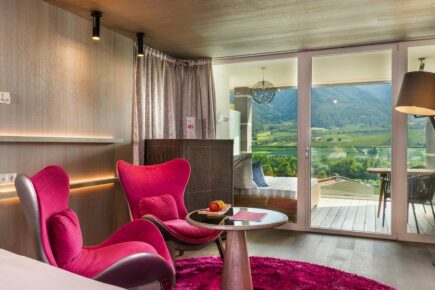 Luxury Suite You & Me
Luxury Suite Lavendel
Luxury Suite Love
Suite Romantic Garden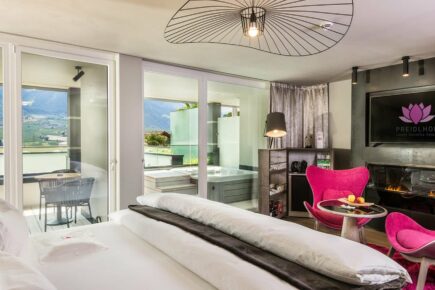 Private Suite Romantic Dream
Luxury Suite Jasmin