Review: Elevate Your Senses – The Chedi Andermatt's Spa Experience
Swiss Alpine elegance harmonises with Asian luxury in this five-star affair with rejuvenating spa rituals, exquisite cuisine – and one of Europe's longest pools. . . .
In the heart of the Swiss Alps, nestled among the stunning Andermatt mountains, lies a hidden gem of tranquillity. An oasis of calm, where the elegant rituals of Asia seamlessly intertwine with the cool serenity of Alpine life – literally: some 60 percent of its guests are Swiss. Welcome to the Chedi Andermatt, a five-star deluxe hotel and spa that's the epitome of understated splendour, the Quiet Luxury we've all been talking about since Succession ended.
The Andermatt doesn't do flashy. No bling, no ostentation, just sheer elegance. It's all about the details here: every element, throughout this vast 2,400 square meter space, oozes quality, from the gourmet cuisine to the huge and zen-like rooms. But it's the spa that truly steals the spotlight.
As you enter this award-winning sanctuary, prepare to be mesmerised by the 12 metre pool (on view from the lounge), one of the longest indoor pools in Europe, inviting you to take a dip amid a jaw-dropping mountain backdrop. If you prefer an aquatic experience with a view, the outdoor pool offers breathtaking vistas of the Swiss Alps.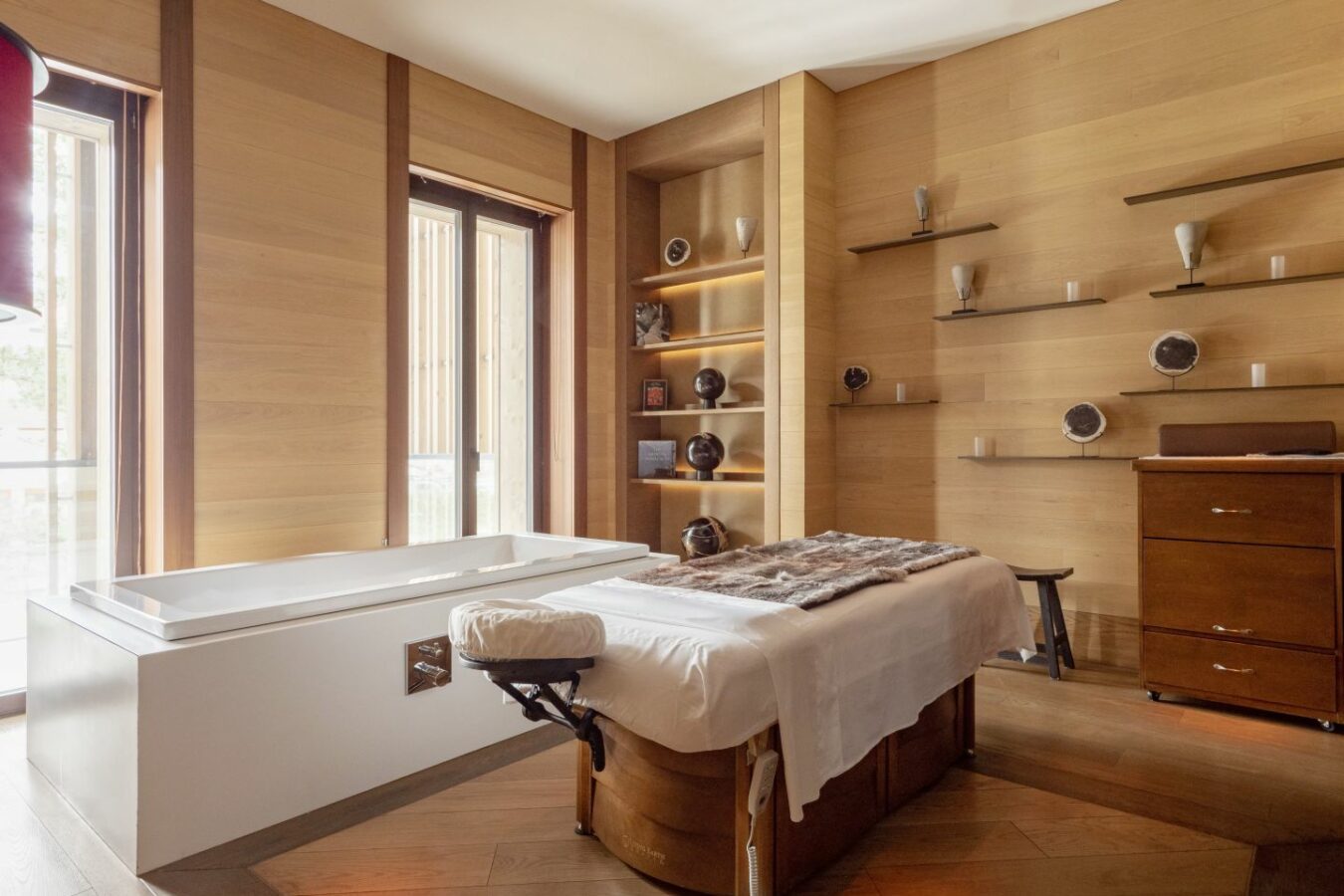 Venture downstairs, and you'll discover the Roman pools, a thermal ride-and-a-half that'll take you from invigorating cold plunges to soothing warmth (from 18 to 48 degrees Celsius, in fact), leaving you refreshed, renewed and ready to tackle whatever adventures the Alps have in store for you.
Let's talk treatments: The Chedi Andermatt offers a diverse range inspired by both Eastern and Western traditions. For a really indulgent experience, try the 'Mountain of Love,' a two-hour ritual involving a rose-infused serum and a soothing full-body massage. Meanwhile, The 'Mountain of Tranquillity' will relax your mind and detoxify your body with a salt scrub and aromatherapy massage.
Expecting mothers are catered for too with the gentle and nurturing 'Chedi New Mom Massage,' while the 'Pantha Jama Massage' uses herbal poultices to promote blood circulation and balance the nervous system. And for those who've had a challenging day on the slopes, the 'Mountain of Healing' is the go-to choice.
Alternatively, indulge in the Chedi Himalayan massage, where warm stones, in a practice centuries-old, dissolve muscular tension. These are just a handful of the extraordinary treatments on offer. They even offer massages with 24-carat gold products and facials with rose-scented gold masks and a sprinkle of gold shimmer oil.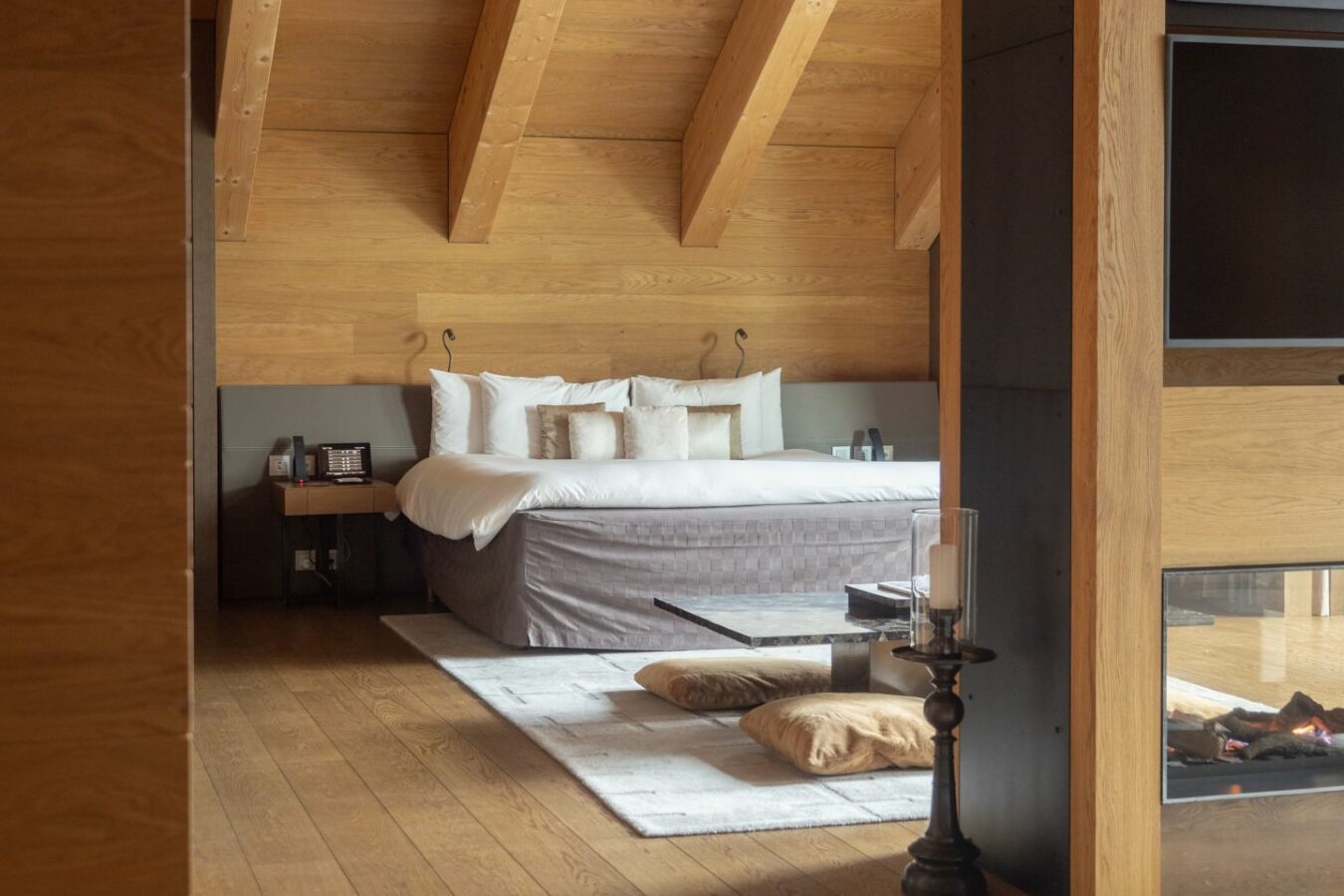 After a day of pampering, you'll want to retreat to one of the Chedi Andermatt's 119 rooms and suites. Whether it's the Grand Deluxe Suite, the Gemsstock Suite, the Furka Suite, or the lavish Gotthard Suite, you'll find heavenly beds, lush bathrooms, and high-quality amenities, all conspiring to cocoon you in comfort.
But the Chedi Andermatt doesn't just cater to your wellbeing; it also caters to your palate: five outstanding restaurants and bars grace this stunning hotel, each offering exquisite cuisine. The Japanese Restaurant and The Japanese by The Chedi Andermatt, led by twins Dominik Sato and Fabio Toffolon, transport guests to Japan with their authentic fine dining cuisine. While The Restaurant (quiet simplicity reigns here too) presents a fusion of European and Asian dishes to tantalise your taste buds.
For wine enthusiasts, The Wine Library boasts a sommelier-driven selection of rare vintages, some exclusive to this establishment. And if you're in the mood for a more relaxed atmosphere, The Bar and Living Room provide the perfect setting for light bites and libations. Elsewhere, The Courtyard offers a stunning panoramic view of the mountains for a backdrop. Better than a 50-inch pub telly.
Whether you're here for skiing, hiking, biking, golfing – or even llama-trekking in the Andermatt mountains, The Chedi Andermatt promises spectacular adventures year-round. Its commitment to excellence has earned it the top rating by Forbes Travel Guide in 2023, solidifying its status as one of Europe's finest hotels. It's the most relaxing pinnacle of luxury you'll ever visit.