Quinta da Comporta
Lisbon, Portugal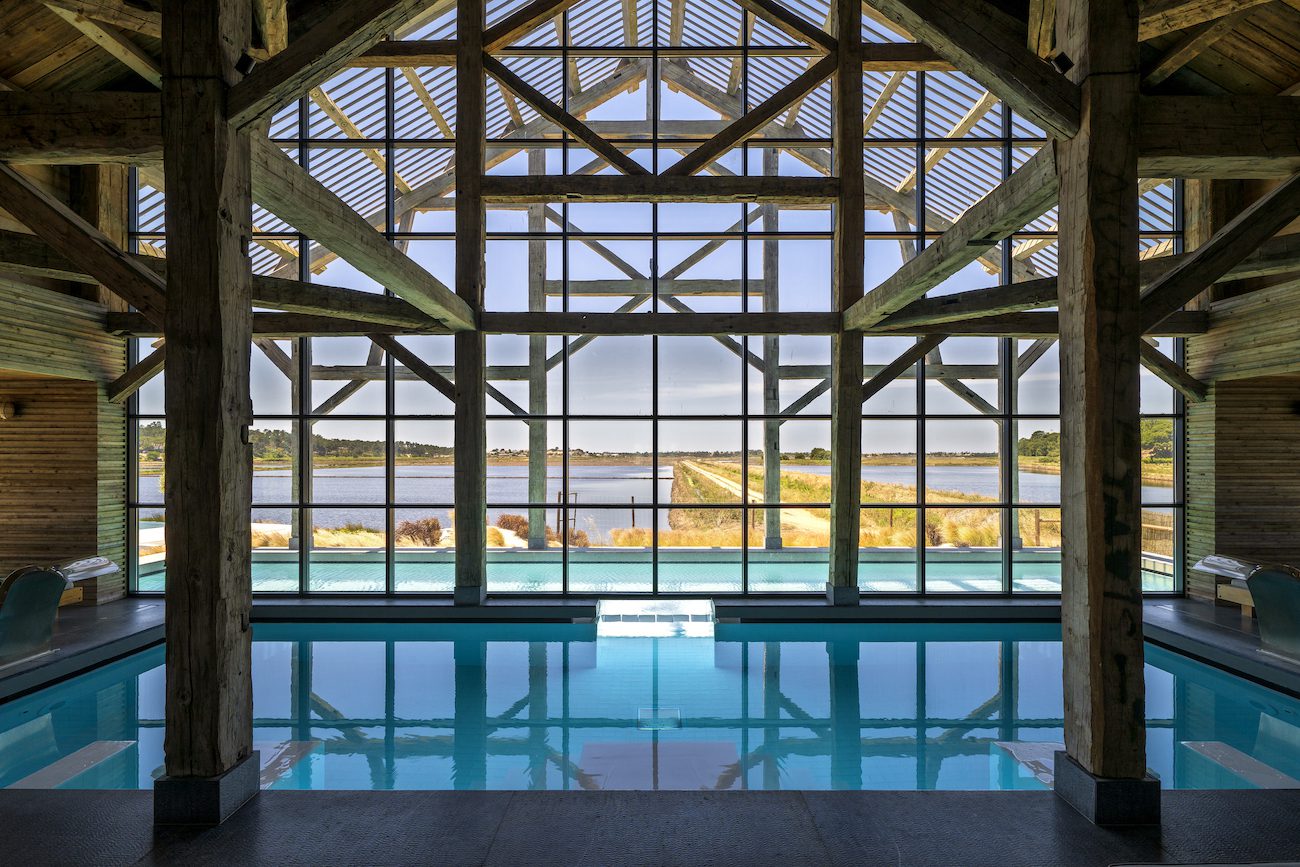 Features
Couples
Destination Spa
Going Solo
Outdoors
Retreat
Wellness
Spa
Hammam
Pool
Thermal Facilities
To Do
Bootcamp
Gymnasium
Personal training
Pool – Indoor
Pool – Outdoor
Yoga
Located on a coast full of white sandy beaches, between acres of pine trees and lush green rice fields, Quinta da Comporta is a place of authenticity and simplicity.
The ideal place to enjoy a cleansing wellness break, wood, wicker, glass and stone worked by local craftspeople characterise the interior and outdoor spaces. This home-spun quality and back-to-nature feeling continues throughout the resort's exclusive accommodation offering, which includes a choice of rooms, suites, townhouses and pool villas appointed to stylish perfection.
Encapsulating the power of its surroundings, the beautiful Oryza Spa incorporates its own brand of rice-based beauty and treatment products that are used in rituals designed to help you find balance and empower your wellbeing. An architecturally striking creation, the spa offers a wealth of wellness-improving facilities in a nurturing and calming environment.
And with many ingredients for the restaurant's seasonally distinct menus being harvested from its own 1.5-acre horta, or vegetable garden, you can be sure to leave feeling equally refreshed and replenished.
Oryza Spa
Oryza Spa is an striking 800sqm converted barn structure made from 100-year-old timber that provides guests at Quinta da Comporta with a rustic yet cutting-edge offering designed to offer a new horizon of wellbeing.
Drawing from the resort's natural resources as a rice plantation, Oryza Lab is the spa's proprietary scientific skincare brand and uses active ingredients from rice as a core element in formulas for its cleansing and beauty oils, lotions, creams, serums and masks.
Submerse yourself an indoor-outdoor heated pool, relax in the hammam and sauna or work up a sweat in the gym before indulging in a selection of bespoke rituals in one of six private treatment rooms. Restorative body massages and scrubs, harmony-inducing aromatherapy rituals, reviving facial treatments and a range of holistic therapies including acupuncture and fire-cupping will work to align your energetic flow with your state of mind.
Spa Facilities
Indoor-outdoor pool
Hammam
Sauna
Gym
Yoga studio
Spa Products
With the intention of maintaining a connection to nature, the rooms, suites, townhouses and pool villas at Quinta da Comporta feature calming neutral tones and bespoke textures of wood, wicker and stone.
Offering access to the resort's 40m-long solar-heated infinity pool as well as the Oryza Spa and Mar D'Arrozal restaurant, Deluxe rooms have floor-to-ceiling windows connecting to a terrace, while Eira rooms have views of the rice fields and beyond with private balconies and elegant interiors.
Junior suites brim with charm and character, offering cosy seating and a kitchenette, while Rooftop suites (also available as a Junior option) have priviliged panoramic views, elegant decor and separate master bedroom and living areas.
One and two-bedroom townhouse accommodation offers a home-away-from-home experience and the perfect setting for relaxation. These cosy hideaways with unique handmade fittings are set over one or two floors and offer en suite bathrooms, communal dining spaces, fully equipped kitchens and private terraces and balconies.
Four exclusive three-bedroom pool villas are designed with high-end comfort in mind while delivering laid-back beachfront-style living. Each villa includes a luxurious living room with a cosy fireplace, two ground-floor and one first-floor bedroom sleeping up to six people, a private pool and exterior lounge area.
Another welcoming barn-like structure houses the culinary delights of Quinta de Comporta's restaurant, Mar D'Arrozal. Incorporating ingredients grown on the quinta's own 1.5-acre horta, or vegetable garden as well as the bounty of the nearby Atlantic Ocean, Mar D'Arrozal's menus are rich in diversity, heritage and, most importantly, flavour. Chef João Sousa takes a seasonal approach to his creations and each attractive dish is said to honour a local ingredient that can be savoured in its indigenous environment.
The resort's Eira Bar can be found alongside the infinity pool in the building which was once used to thresh, dry and stir rice from the surrounding paddies. Here light dishes are served to complement original cocktails and beverages that capture the quinta's distinctive charms.
---
Getting There
Rua de Alto de Pina 2, 7570-779, Portugal
Quinta da Comporta is approximately a 1.5 hour drive from Lisbon airport.
Deluxe Rooms
Eira Rooms
Junior Suites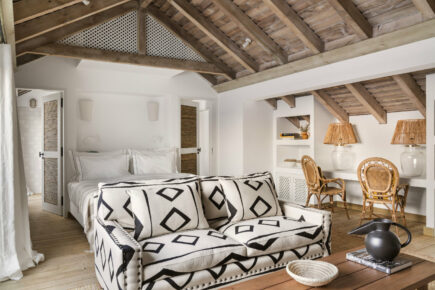 Rooftop Junior Suite
Rooftop Suites
Townhouses – 1 Bedroom
Townhouses – 2 Bedrooms
Pool Villas