Four Seasons Resort & Spa, Koh Samui
Koh Samui, Thailand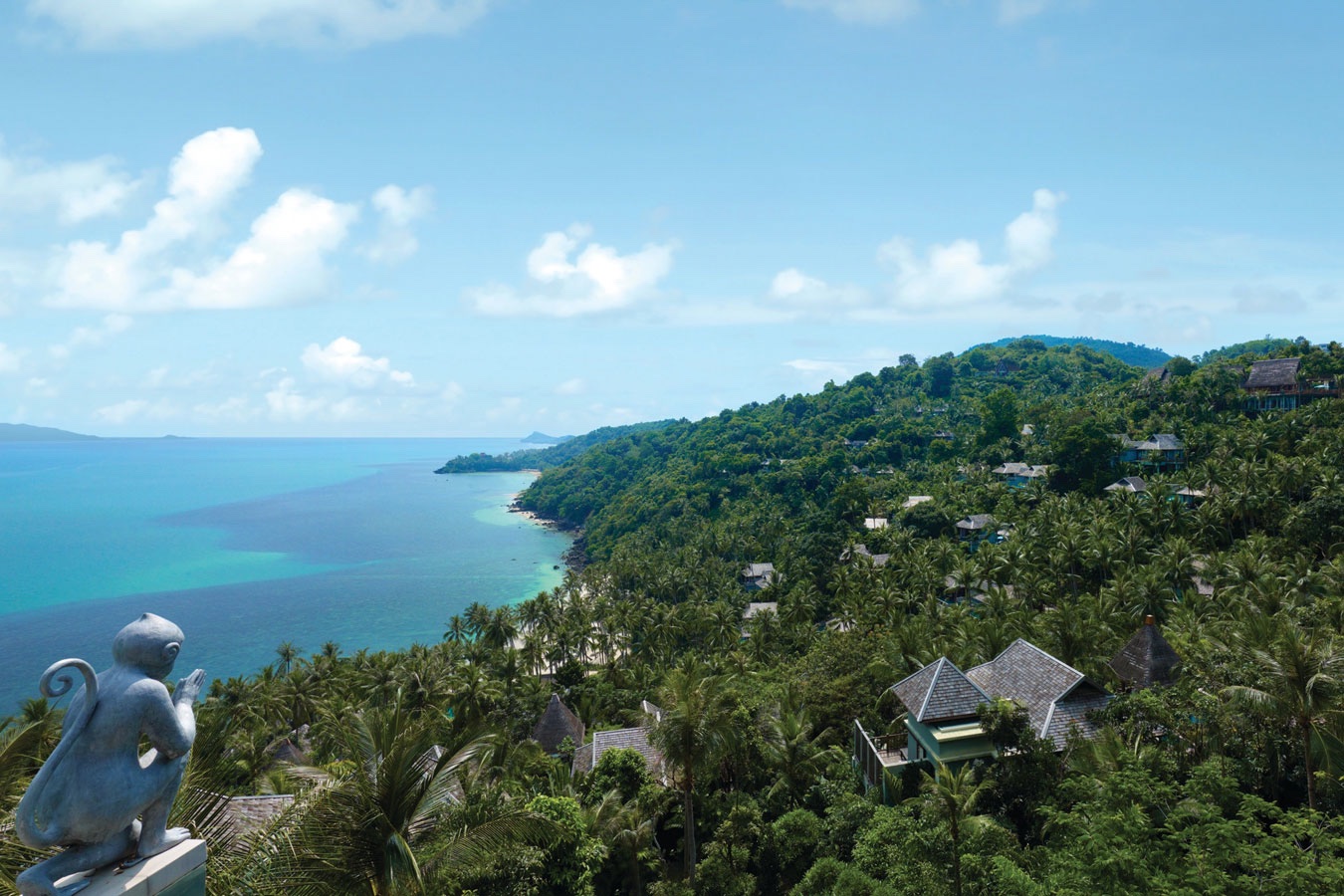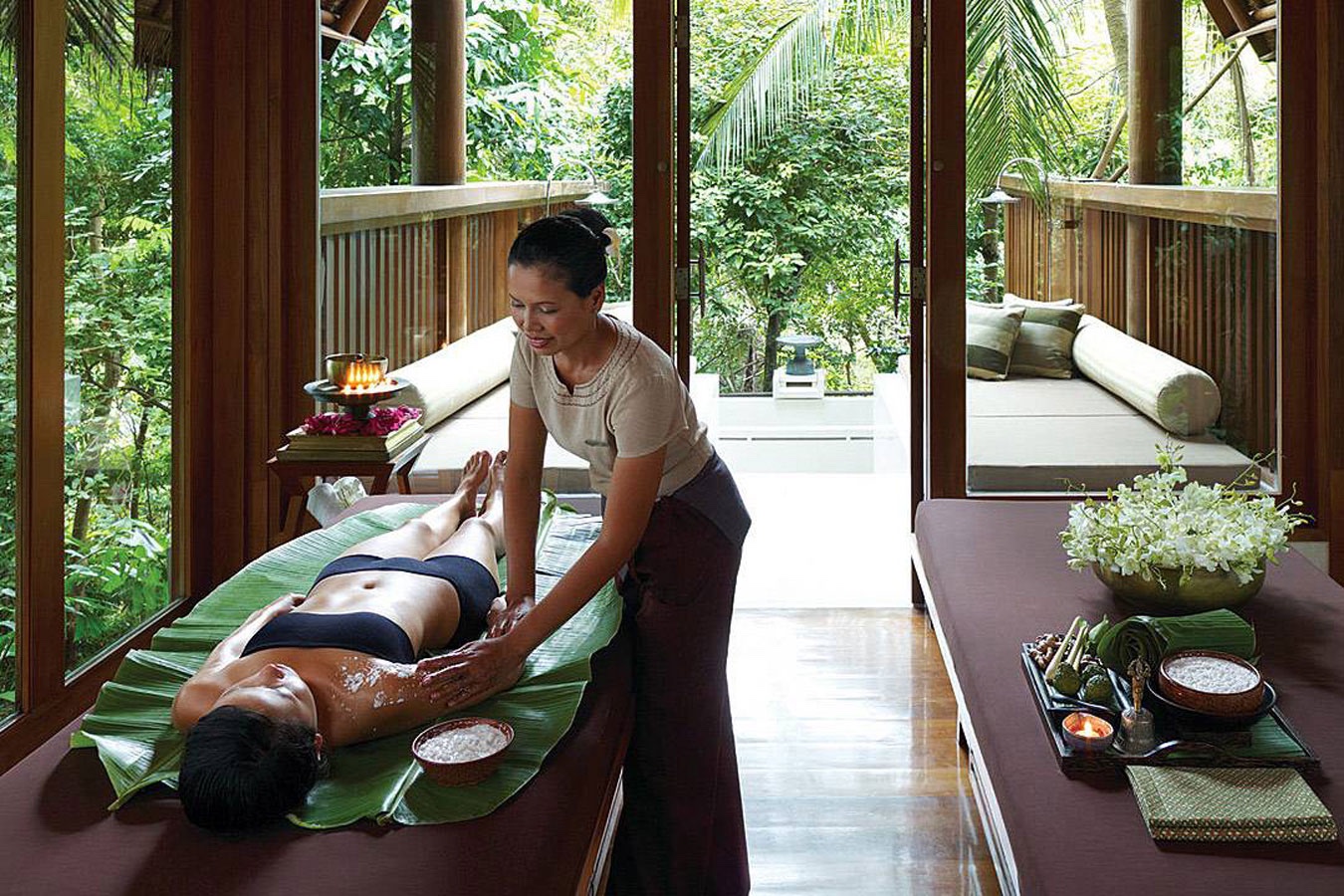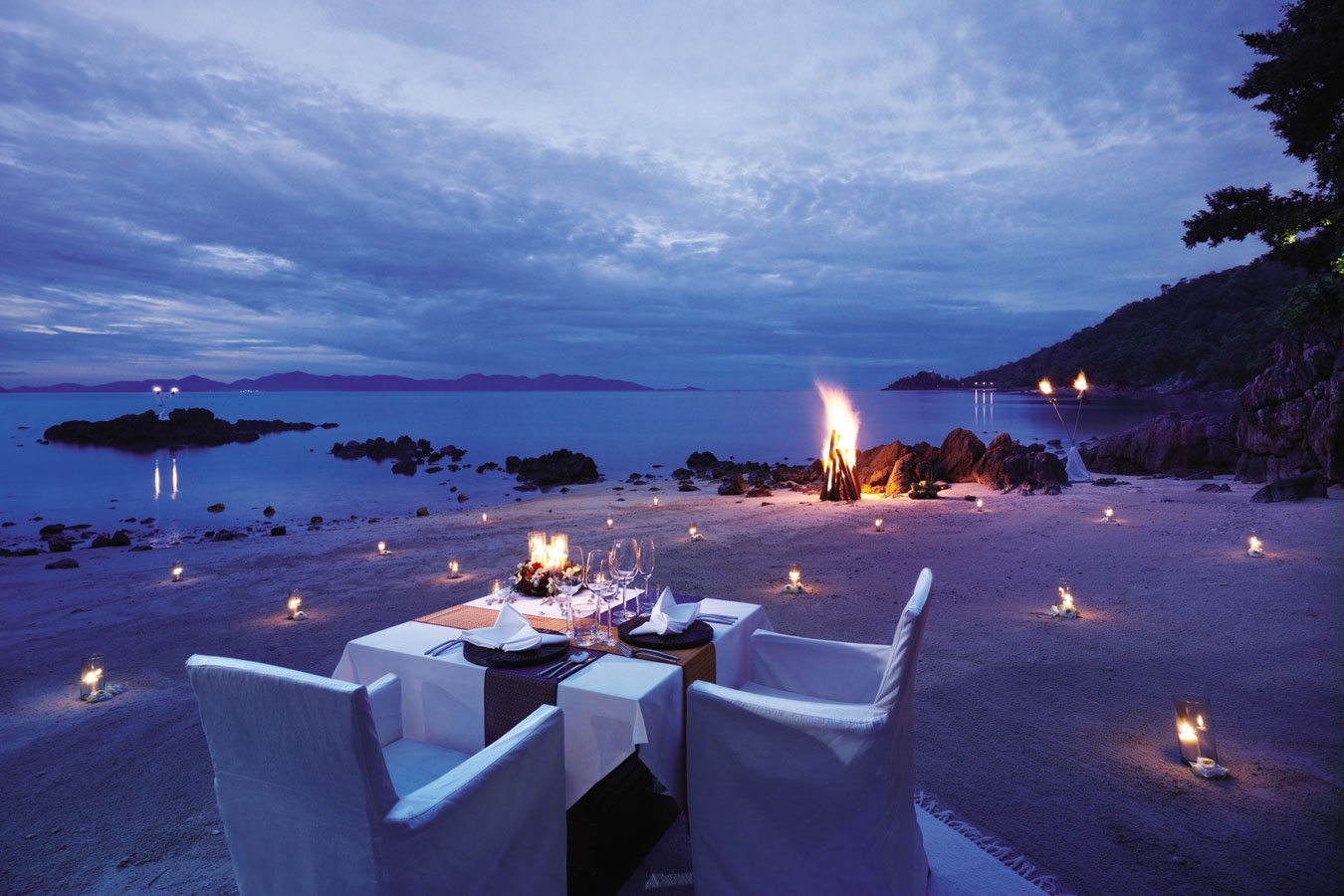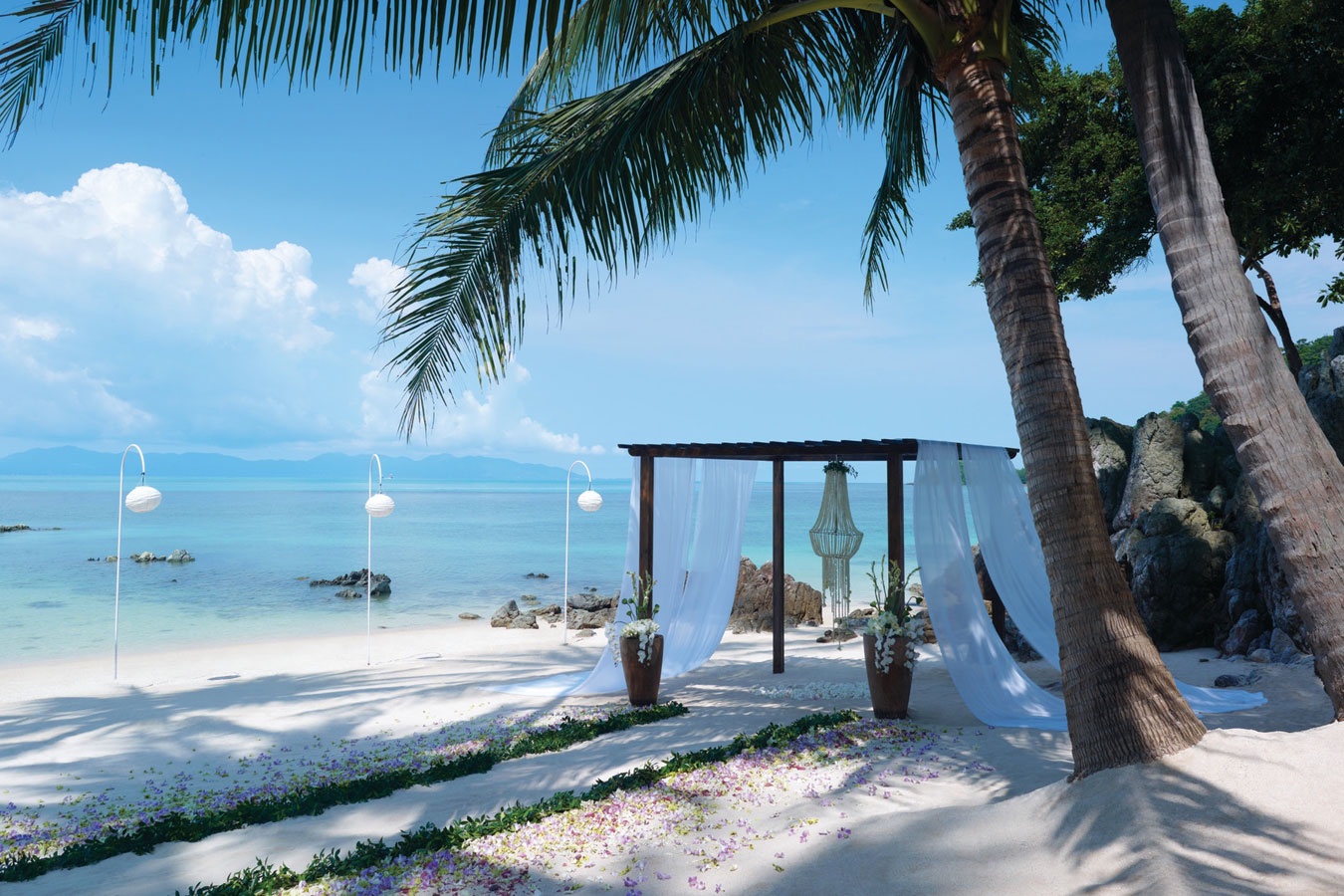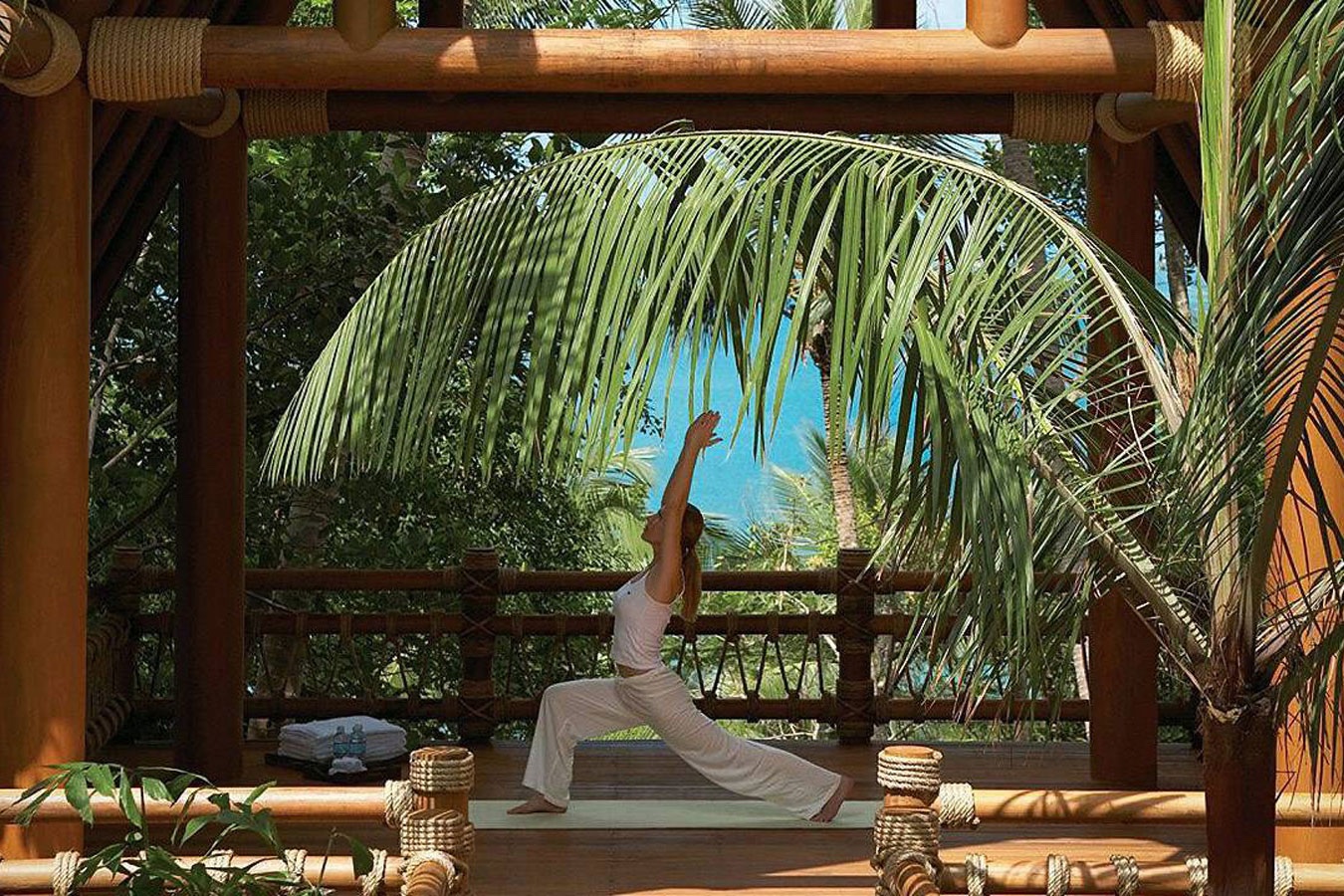 Price Guide
Features
Family Friendly
Fine Dining
Outdoors
Super-luxe
Wellness
Spa
To Do
Gymnasium
Hiking/walks
Kids club
Personal training
Pool – Outdoor
Snorkelling
Watersports
Yoga
Cascading down a verdant hillside on the north west tip of Koh Samui, Four Seasons Resort Koh Samui is the perfect place to discover the idyllic bliss of Thailand's island life.
Super-luxe villas and residences sit amongst forested walkways – each accommodation featuring private pools and spacious outdoor decks. As well as in-villa dining guests have the option of high-end Thai and seafood eateries.
The Spa at Four Seasons Koh Samui offers a revitalising menu of treatments including island-inspired massages, facials, scrubs and holistic rituals. Experienced practitioners are on hand for yoga, pilates and meditation classes.
The Spa at Four Seasons Koh Samui
The Spa at Four Seasons Koh Samui is a sanctuary of purity devoted to healing body and wellbeing.
Hidden in the forest, bamboo-fringed walkways lead to 5 spa salas, with indoor and outdoor treatment beds, double bathing tubs and private relaxation areas.
Treatments options include holistic rituals, Thai coconut massages and revitalising facials. There's also a great selection of wellbeing therapies such as magnesium treatments and traditional Chinese medicine.
Yoga, pilates and meditation classes are also available at the resort.
Spa Facilities
Treatment suites
Steam rooms
Sauna
Rain showers
Beauty salon
Relaxation areas
Beach Spa
Spa Products
Own brand made from local ingredients
60 one-bedroom villas and 14 residence villas span the resort.
Highlights at each accommodation includes al fresco living spaces, private infinity pools and breathtaking views of Laem Yai Bay and the Gulf of Thailand.
Perched on a breezy hilltop amid a plantation of coconut palms, KOH serves up innovative Thai cuisine – including slow-cooked curries and seafood specialities – and offers stunning views of the verdant island and aqua ocean. .
Located right on the beach, with fabulous ocean views and a barefoot luxury ambience, Pla Pla serves both Thai and international cuisine and is the perfect place for a laid back lunch.
---
Facilities and Activities
Private cruises
Spa treatments on the beach
Library offering a wide selection of books and DVDs
Tropical drink and cocktail classes at the Beach Bar
Fruit and vegetable carving in Lan Tania
Resort garden and landscaping tour
Coconut pétanque on the beach
Beach soccer
Beach table tennis
Beach volleyball
Water sports
---
Getting There
219 Moo5, Angthong, Koh Samui, Suratthani, 84140, Thailand
Samui International Airport is around a 30 minute drive from Four Seasons Koh Samui. Transfers can be arranged.
Beach Villa with Pool
Beachfront Pool Villa
Family Pool Villa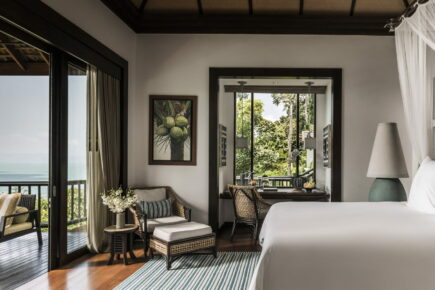 Panoramic Ocean-View Pool Villa
Premier One Bedroom Pool Villa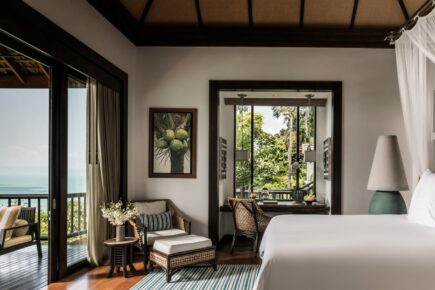 Deluxe One Bedroom Pool Villa
One Bedroom Pool Villa
Visualisation is a powerful tool and, used in meditation or as treatment for anxiety and depression, it can work miracles. Some believe, if you visualise something enough, it will become reality.
I visualise – for relaxation, sometimes during yoga, to get to sleep or if I'm just feeling a bit fed up. I've got a few places I go to. Sometimes country hills or mountains, more often somewhere near the sea; a white sand beach with crystal clear waters – one of my favourite places is the reception terrace at Four Seasons, Koh Samui.
Reception areas aren't most people's paradise but this one, like the rest of Four Seasons Samui, is a little bit different…
Driving up the steep hill at the back of the resort we're unaware of what lies ahead. A smiling lady greets us then escorts us through a door to a private check-in area. There's a subtle citrus aroma, fresh lemons I think. We're given some coconut milk and a flower garland. We're shown through to the waiting area. "If you'd like to wait here someone will escort you to your villa." I gasp. I don't want to go to my villa. I want to stay here. This waiting area isn't like any I've seen before. It's like the gates to heaven.
Perched on what seems like the top of the world, the hillside terrace looks out on to one of the most incredible panoramic views I've ever seen. Directly below us is the resort; a dream of coconut trees, tropical forests and torch-lit walkways with hidden pool villas. A vast treehouse spa sits halfway up a hill, with a snowy white sand beach and clear turquoise ocean beyond. It's just breathtaking. Four Seasons, Samui is literally in a world of it's own. It really is heavenly.
The Spa
Hidden in the jungle, candlelit bamboo fringed walkways lead to scattered tree-house style, super luxe spa suites, with indoor and outdoor treatment beds, double tubs and private relaxation areas.
The Spa at Four Seasons Resort Koh Samui offers a delicate balance of refreshment for mind, body and beauty. Centuries-old healing techniques, summoning the secrets of herbal and holistic remedies, are deeply rooted in Thailand's rich spa heritage.
Individual treatment rooms are housed in five salas (covered verandas) each with two indoor and two outdoor Thai-style massage beds, an outdoor shower, an outdoor bathtub and a steam room or indoor rain shower. A separate treatment sala is available for facials, waxing and manicures.
The Treatment
My Tibetan 'Ku Nye Massage' began with a natural foot scrub using a blend of oils, Himalayan salt and eucalyptus leaves from the forest. A chime of the Tibetan bell was followed by a relaxing aroma inhalation. A kneading back massage using warm salt poultices infused with marigold and lavender soothed and opened my energy channels. Warm lavender oil was then poured onto my skin as a full body relaxing aroma massage soothed away any knots. This was followed by a gentle yogic stretch, and then a marma-pressure point head massage, before a second chime of the Tibetan bell brought me back from my state of bliss.
Other Treatments
Full Moon Ritual: The waxing phase of the moon up until the full moon is the ideal time to nurture and calm body and mind. The blissful experience re-awakens the body and spirit while promoting a sense of calm. A body scrub using rose, jasmine and sandalwood oils prepares the body and mind for an energy-balancing Chakra Crystal Massage. The ritual concludes with a luxurious Bliss Facial.
The Biorhythm Restoring Ritual: The treatment aims to rebalance the body's natural biorhythms and deeply relax the nervous system. A mineral-rich Energy Scrub and Bioenergy Mud Wrap help to charge and restore the body's biomagnetic energy field through the release of negative ions. A Kundalini Back Massage using warm poultices and chakra-balancing techniques relaxes and balances the nervous system, and the ritual concludes with a gentle rose oil marma-point facial massage to stimulate the flow of energy.
The Programme
The Mini Boot Camp package offers the perfect combination of health and luxury – in signature Four Seasons style.
The highlight of the weekend is the Muay Thai adventure – a morning run on the beach, followed by a lesson in the traditional Thai sport of kickboxing from a professional fighter, in a panoramic open-air training ring. Afterwards, a restorative treatment at the spa soothes away the aches and pains of the day.
Boot Campers can also enjoy an invigorating morning hike up to the K2 peak, take their paddleboards out for a spin in the Gulf of Siam, learn the basics of strength training or enjoy a customised Kinesis workout with an in-house expert. The package includes daily breakfast and a healthy yet delicious dinner and lunch especially created by the Executive Chef.
To Stay
All of the villas that dot the vast resort are uber-luxe, each villa having it's own private entrance. Golf buggies will transport you up to the hub, restaurants and spa or down to the beach at a moment's notice. We stayed in a Hillside Villa, a lavishly furnished Thai-style suite with his and hers dressing rooms, a sea view bath and a HUGE terrace; complete with double daybed, outside dining area, outdoor bar and a private plunge pool overlooking the jungle and sea below.
To Eat
Perched on a breezy hilltop amid a plantation of coconut palms, KOH offers stunning views of the lush green island and blue ocean. Chef Jeab and her team go back to the roots of Southern Thailand's food, reinterpreting old favorites with a fresh twist. Creative delights served up include clear fish soup, banana blossom salad with prawns and sautéed pork loin with curry paste. The menu also features authentic Thai classics like spicy prawn soup, slow-cooked beef curry, and green papaya salad. For a truly memorable meal try Chef Jeab's signature menu for dinner.
Located right on the beach, with fabulous ocean views and a barefoot luxury ambience, Pla Pla is the perfect place for a relaxed lunch. The daytime menu features fresh seafood and handpicked favorites: from yellowfin tuna tartare with wild rocket and tomato granite; to steamed sea bass with broccoli cream and lime; to house-made rigatoni with slow-braised beef cheek, tomato sauce and parmesan shavings.
Set on the edge of the new 50-metre-long infinity lap pool at the resort's private beach, CoCoRum enjoys stunning views of the Gulf of Siam and the lush green tropical hillside. It's the perfect location for a refreshing dip between decadent cocktails. The menu features fresh interpretations of classic rum cocktails. With an emphasis on fine artisanal spirits and fresh local ingredients, each drink is handcrafted and presented with elegant and playful touches.
In-room and experience dining options also available.
For the Kids
Children aged 2 to 12 years old may participate in the Four Seasons popular Kids For All Seasons programme, which takes full advantage of the tropical environment and lovely grounds. Run by trained staff, the wide range of indoor and outdoor activities includes creative crafts, beach activities, swimming lessons and cooking with the chef.
Don't Miss
Discover a lesser-known side of Thailand's fascinating culture during a full-day immersion in the "Art of Eight Limbs." Step into the training ring for a private lesson with a Muay Thai pro, who will tutor you in the basic moves and techniques of the traditional Thai sport or help you refine your skills. Afterwards, restore tired muscles with the Spa's Muay Thai Recovery treatment, which includes a stimulating Thai herbal steam, a soothing cool-water leg massage, and a full-body massage with black pepper, clove and ylang-ylang essential oils. You'll be refreshed and ready to join your pro in VIP seats at the Chaweng Boxing Stadium, where you can see the skills you've learned put into practice right before your eyes!