Almar Jesolo Resort & Spa
Venice, Italy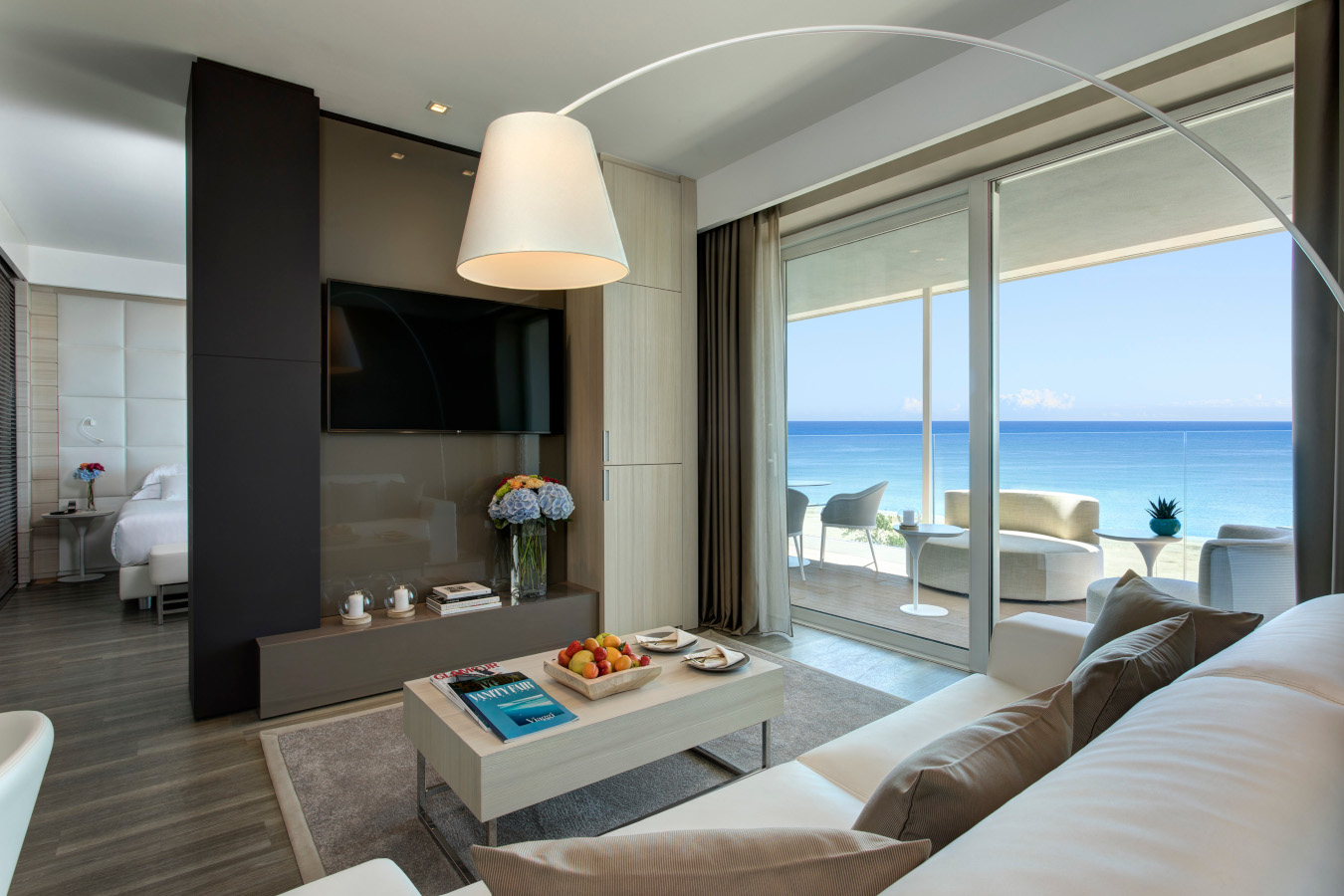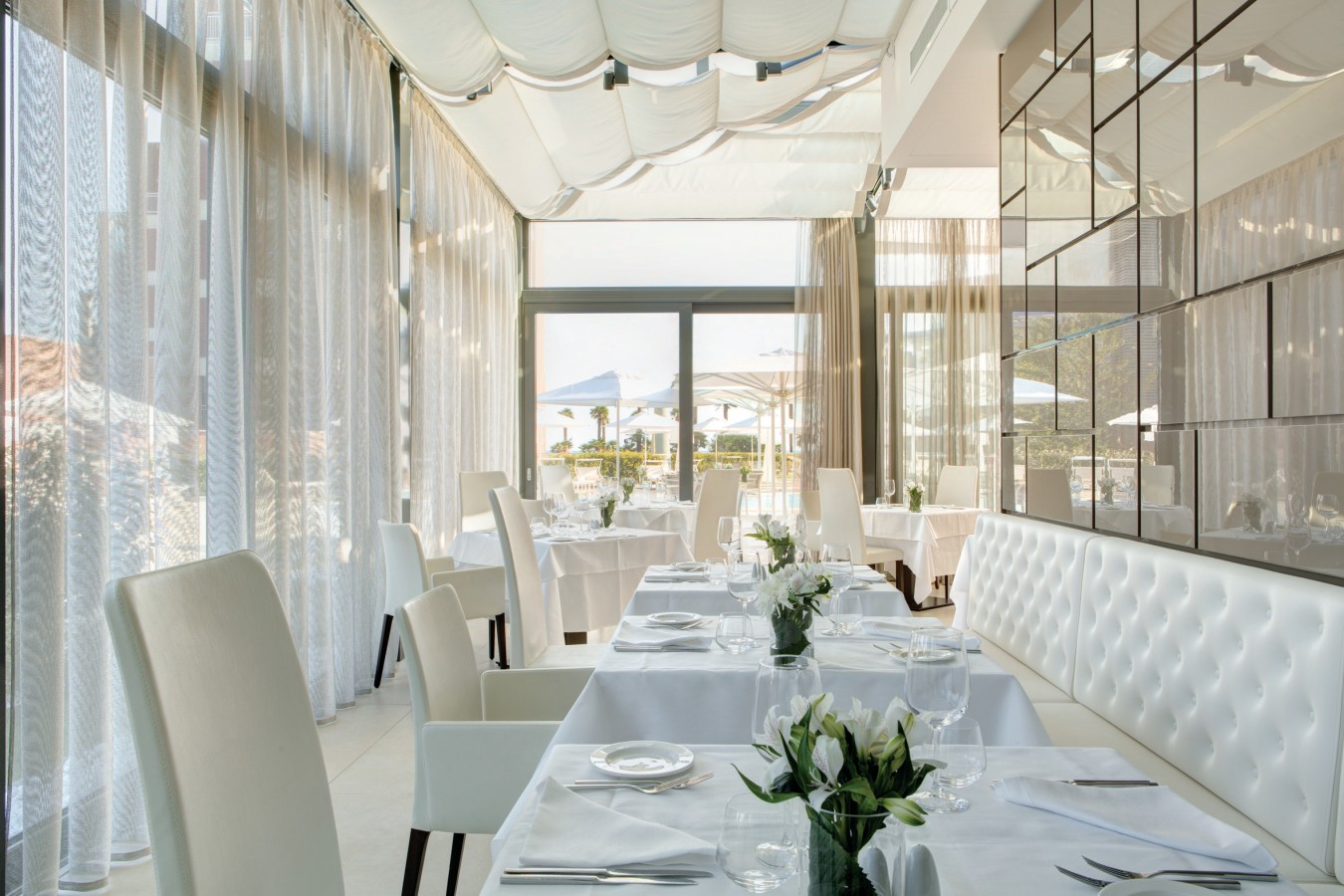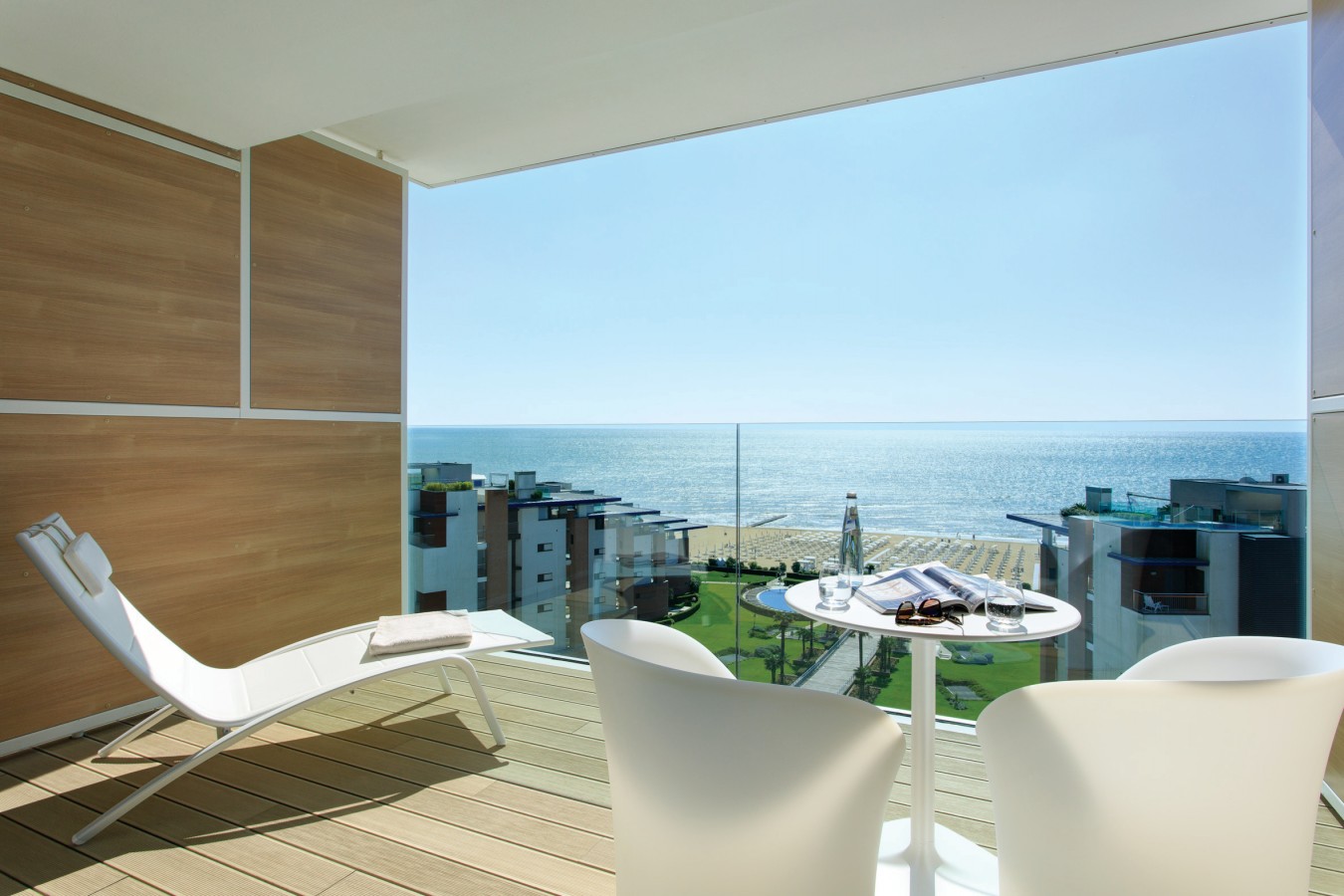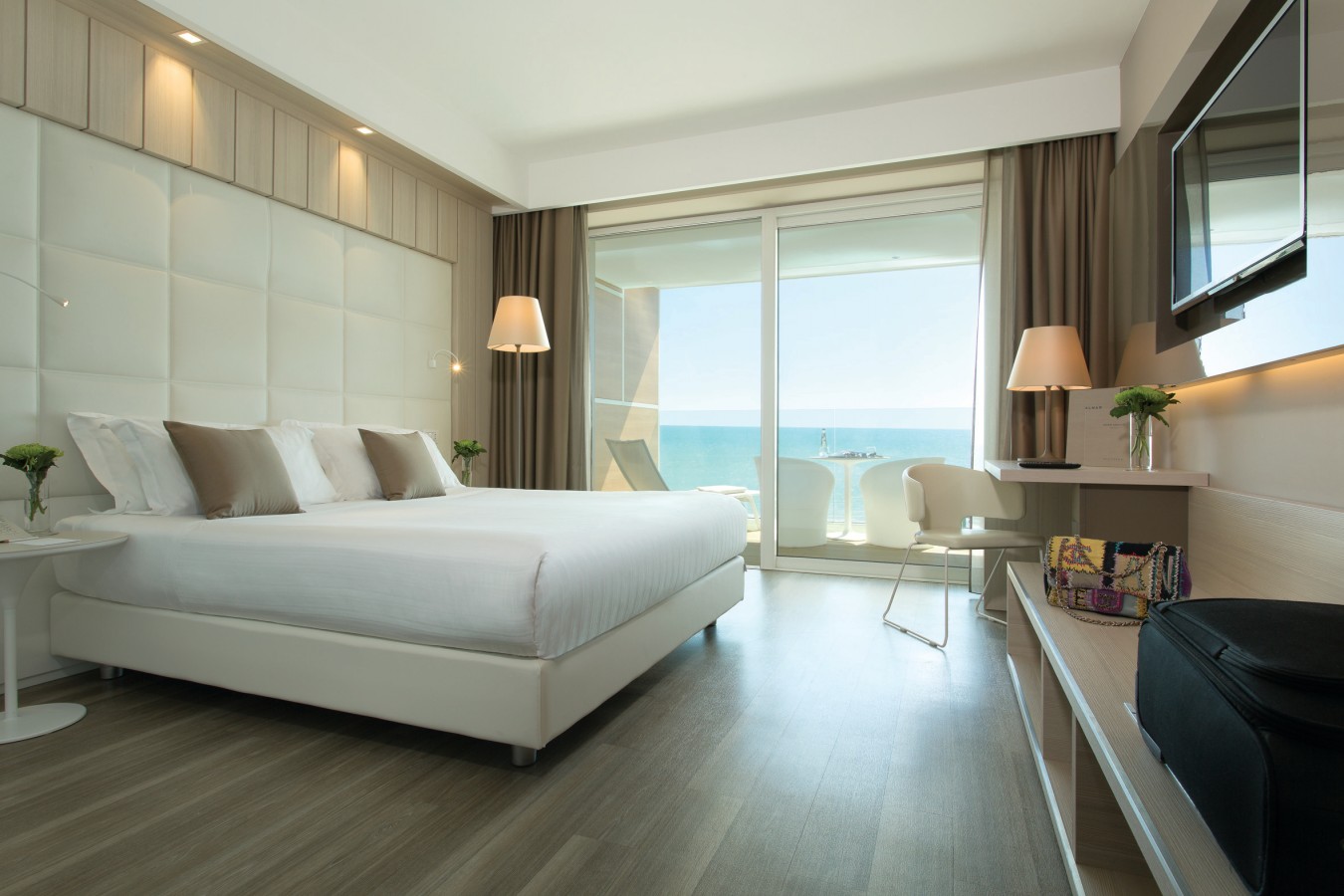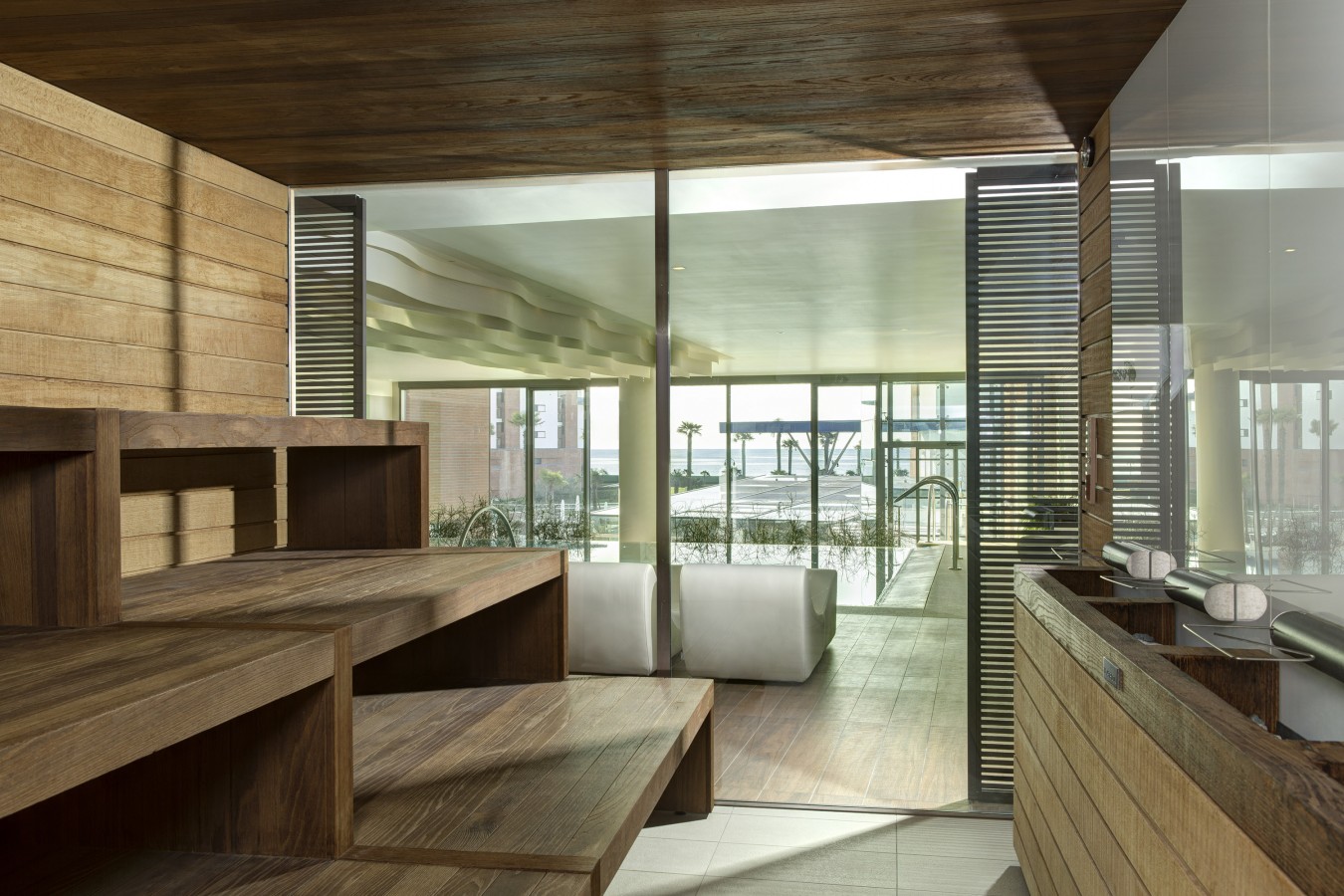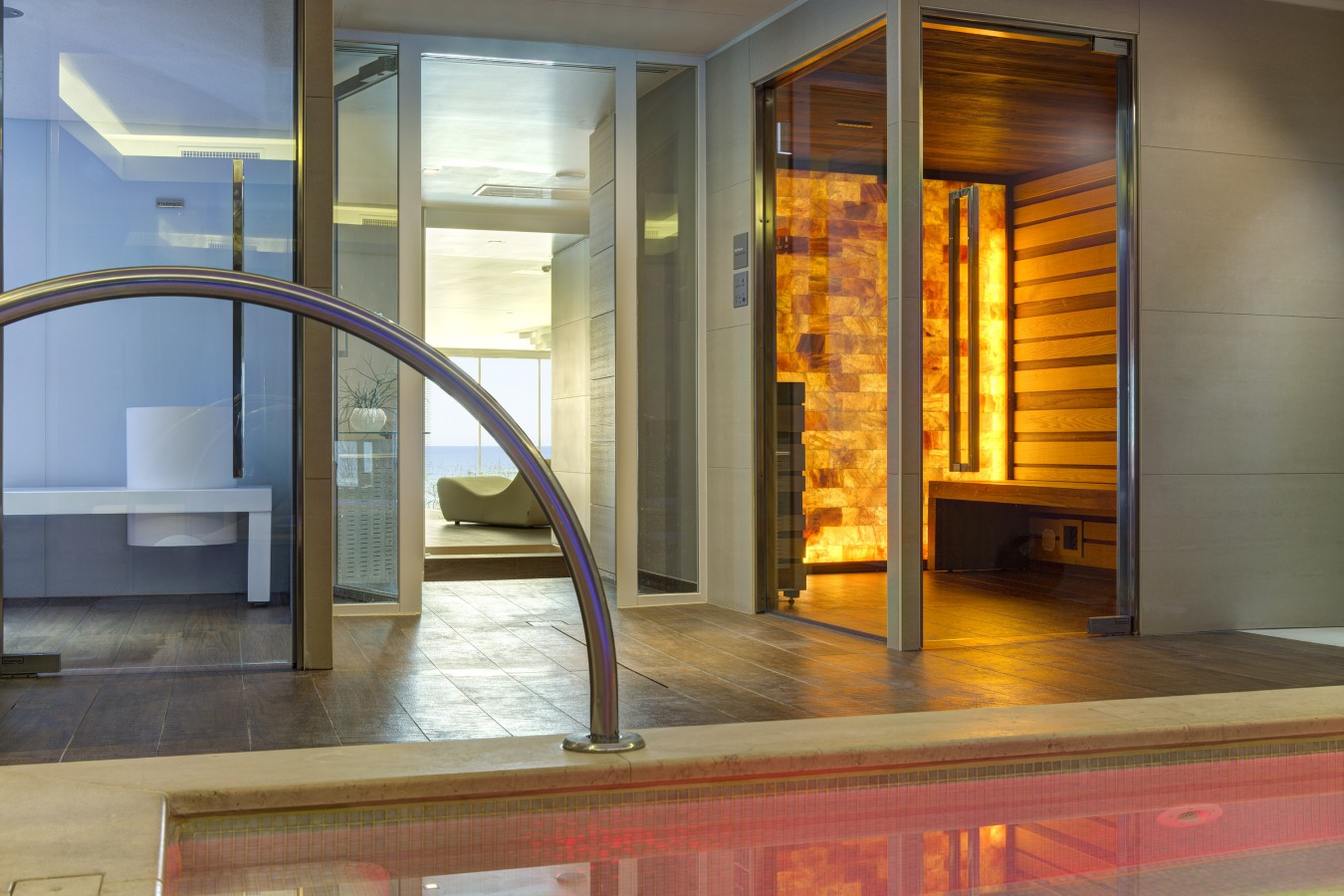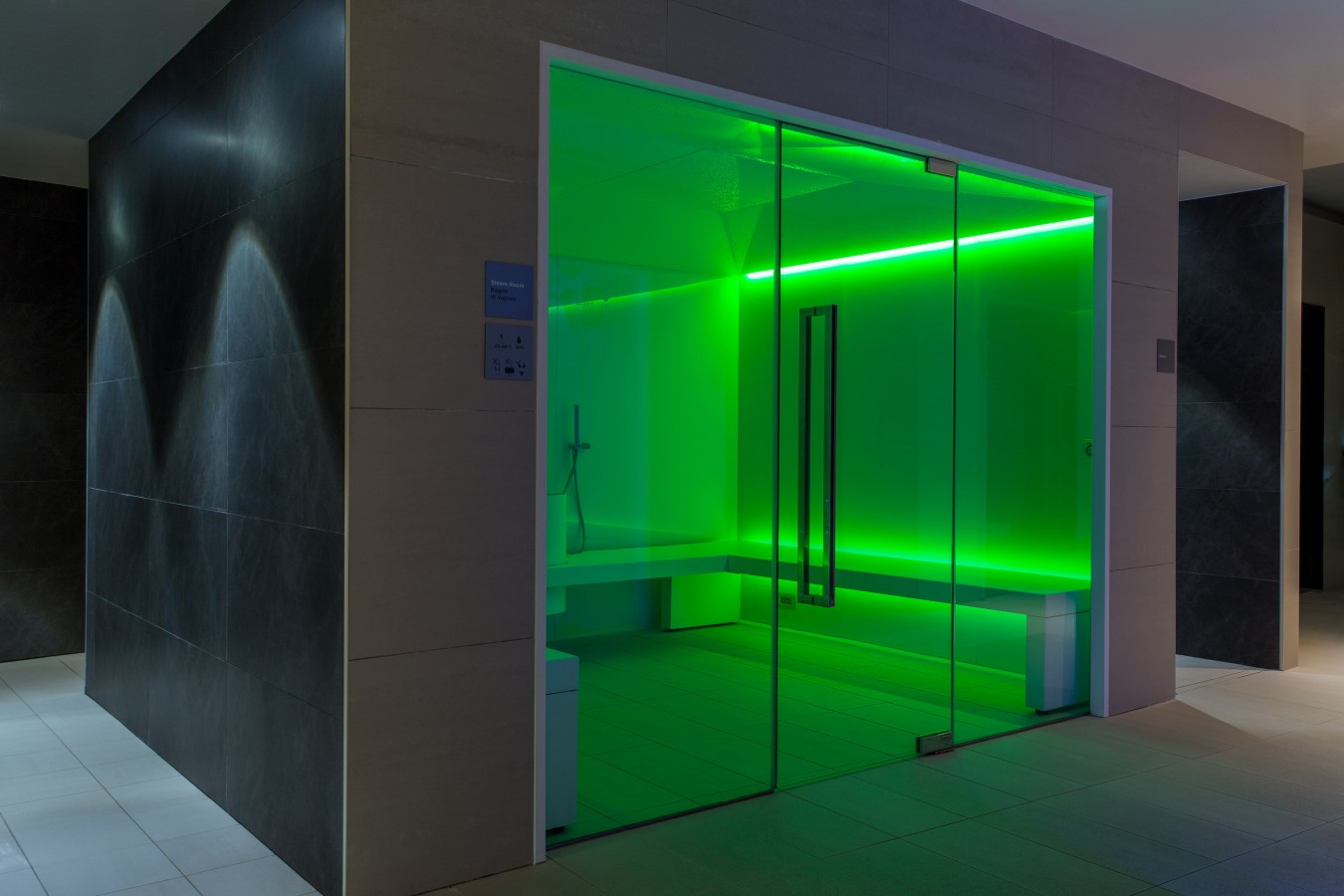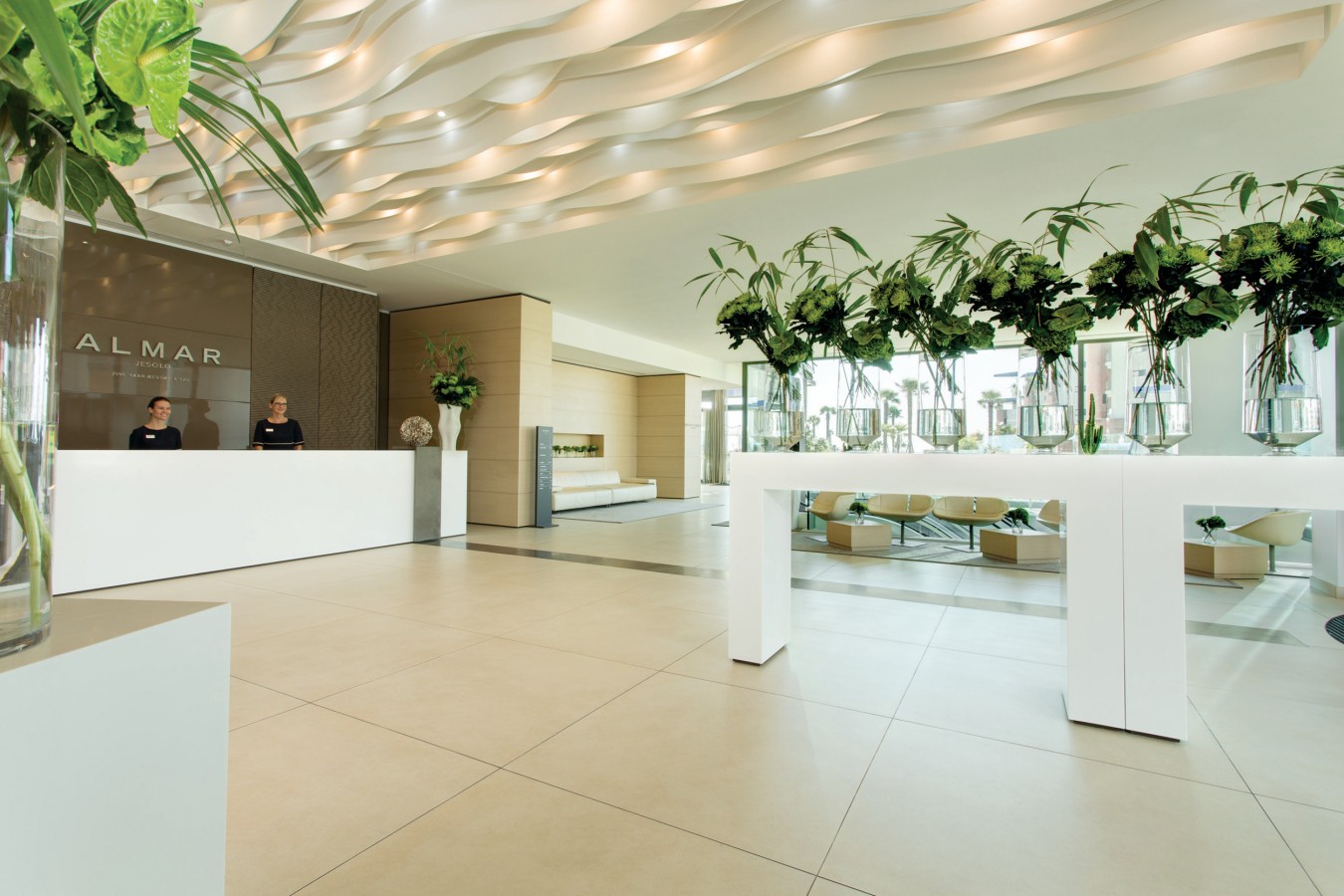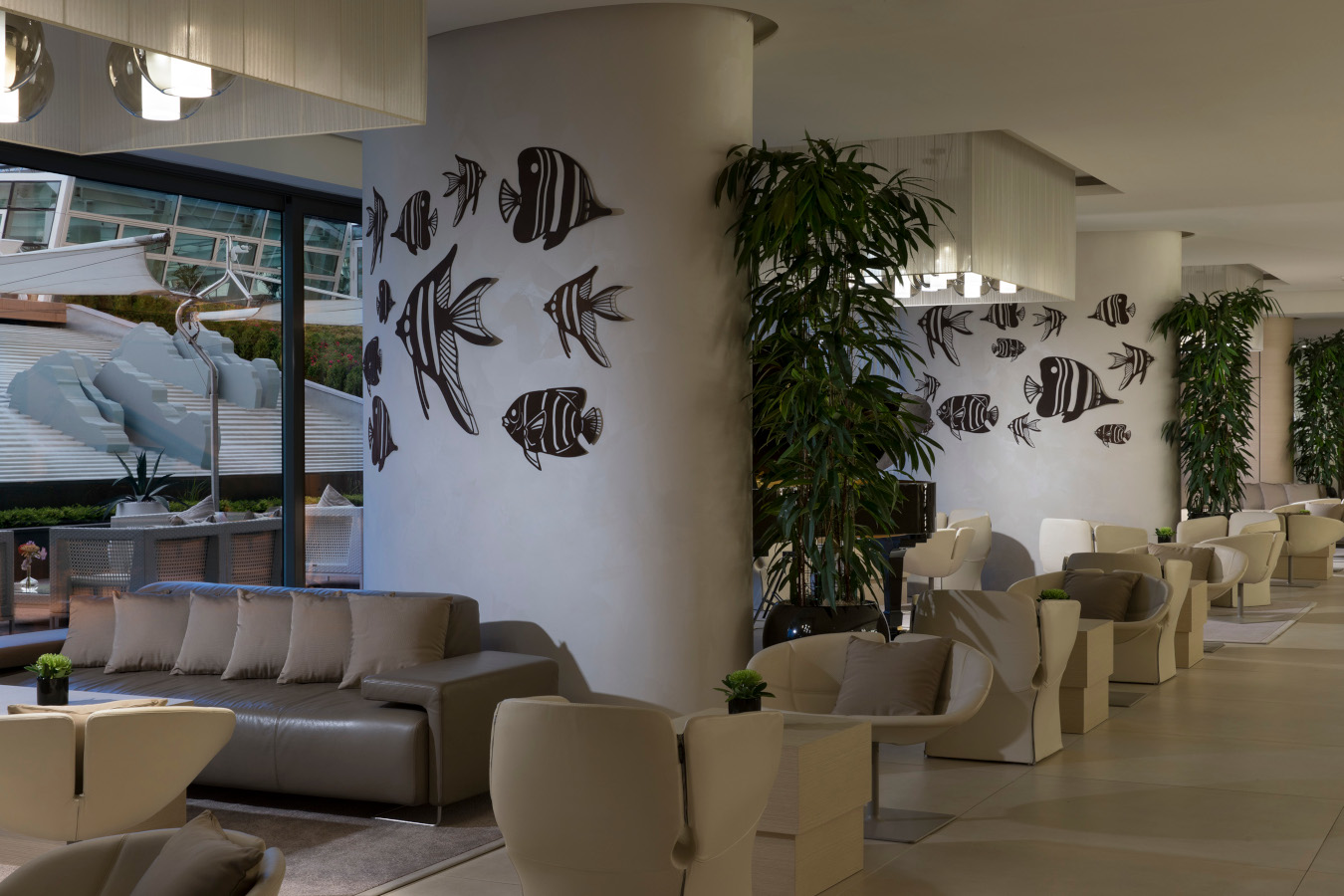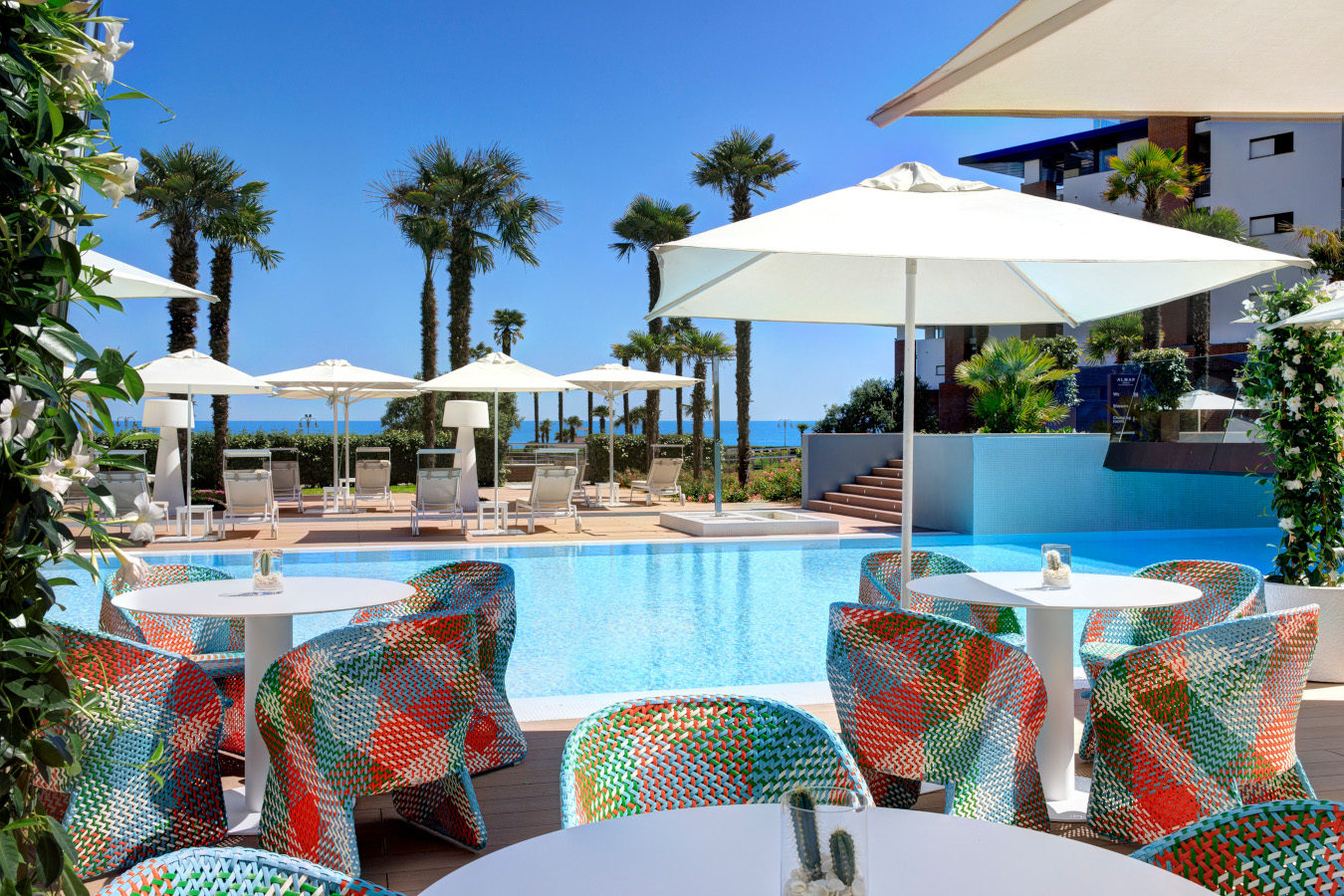 Price Guide
Features
Day Spa
Detox
Family Friendly
Going Solo
Wellness
Spa
Hydrotherapy
Pool
Thalassotherapy
To Do
Cycling
Golf
Gymnasium
Kids club
Pilates
Pool – Indoor
Pool – Outdoor
Watersports
Yoga
Established in 2014, Almar Jesolo Resort & Spa, a 5-star property featuring elegant rooms and suites and an award-winning spa, has already become a touchstone for luxury accommodation in Lido di Jesolo – a seaside resort just 50 minutes from one of the most beautiful cities in the world, Venice.
Contemporary design is enhanced by refined finishes, which contribute to creating an atmosphere that combines elegant luxury with ultimate wellbeing.
The Almar experience is derived from three distinctive souls which, through spaces, colours, scents, flavours and feelings, are at the heart of the resort. The Leisure component blends with Mediterra – the Soul of Taste – and with the stylish rooms.
Almablu Spa – which won several Awards – is the Soul of Wellness, where time stops to help rediscover self-beauty. The third Soul, Vitality, finds its expression in the spaces dedicated to Almar Jesolo's Events and develops into the concept of "Edutainment", a new way of experiencing Business through relaxation, entertainment and well-being.
The spas philosophy considers Time and Space as limitless dimensions, these three souls represent different paths that blend with and complement each other to make the stay unique. The vacation becomes an invaluable moment because real Luxury is making the best use of one's Time, life's most precious commodity.
Almablu Wellness & Spa
Almablu is the award-winning Spa of Almar Jesolo. In its philosophy, which considers time and space as limitless dimensions, holistic paths are proposed to design a unique experience through spaces, colours, scents and feelings.
Tailor-made programs, rituals, Energy Massages and treatments have been created exclusively through ancient methods that blend together the East and West. Their goal is to eliminate physical and mental stress, offering true moments of wellbeing that go beyond a momentary indulgence.
Set in a unique seafront location on Lido di Jesolo, Almablu is an escape to awaken the senses and reach the soul's hidden depths, thanks to state-of-the-art facilities and the exclusive Almablu skincare line.
Spa Facilities
9 treatment cabins
Finnish sauna
Soft sauna
Himalaya salt sauna
Steam bath
Turkish salt bath
Mediterranean steam bath
Kneipp therapy pools
Ice room
Geysers
Multi-sensory showers
2 relaxation areas
Panoramic fitness area
Outdoor swimming pool, measuring 70 meters in length – heated at different temperatures: between 28 and 30 degrees – and partially covered by a glass enclosure
1 seafront Private Spa with private hot tub and steam bath
Seafront fitness studio with group fitness classes: Pilates, Postural training, Tai Chi, Hatha and Asthanga Vinyasa Yoga
Seafront hot tub of over 48 cubic meters and heated to 32°C
Spa Products
Almablu skincare line
Thalgo
Eau d'Altitude
Covering 12,000 square meters on the beachfront, Almar Jesolo Resort & Spa features 197 bedrooms that boast exclusive services, sea views and generous spaces, redefining the luxury benchmark with state-of-the-art equipment and amenities.
Suites come in seven categories, each designed to meet the different needs of guests and offer a tailor-made experience.
Loft Suites boast a panoramic terrace and Jacuzzi. Oversized windows open onto a balconies to enjoy the spectacular sea view in complete privacy.
Decor evokes the nuances and materials used in the common areas and blends harmoniously with the surroundings. Bathrooms feature panoramic windows to enjoy the magnificent views – even from the shower.
Check in: 3:00 pm
Check out: 12:00 pm
Culinary offerings range from traditional Italian cuisine to creative blends between the abundance of the sea and Veneto's fertile lands.
Mediterra is the main restaurant – the spacious, light-filled dining room overlooks the outdoor pool, and marries seasonal ingredients with a selection of the finest wines to make each meal a moment of pure pleasure.
A special dinner menu is entirely dedicated to wellbeing, with dishes combining light and fresh flavours. Each dish is preceded by a fresh-pressed fruit and vegetable juice, which prepares the palate to appreciate natural flavours, almost unaltered by cooking. Dishes include ingredients of the highest quality, with locally grown fruits and vegetables, with particular attention paid to food associations as suggested by natural medicine.
At The River Lounge Bar, guests can enjoy a chic and informal atmosphere, overlooking the 'river' waterfall feature. The River is an ideal location to enjoy an aperitif – from mocktails to a traditional italian Spritz. Light lunches are also on offer and it's the setting for Almar's exquisite Detox Tea Time ceremony.
The LightBlue Bar, punctuated by turquoise accents, is a quintessential summer environment. A stylish and informal spot where guests can cool down with refreshing drinks and cocktails and chomp on tasty sandwiches, delicious snacks and creative salads.
---
Facilities and Activities
Beach
2.000 sq. m. of Spa
Private garage with valet service
Postural training
Pilates
Ashtanga Vinyasa Yoga
Hatha Yoga
T'ai Chi
70 meters long outdoor pool heated at 3 different temperatures and partially covered
Mini Club during summer period
Mediterra Restaurant
The River Lounge Bar
LightBlue Bar
Exclusive energy massages
Sleep-improving energy massages
Treatments and massages for golfers
Reduction on the main golf courses of the area
Moxibustion
---
For the Kids
Spending quality time and sharing special moments: this is the concept behind the services created by Almar exclusively for families.
Alma & Five welcome little ones to the Mini Club, where everyday children aged 4 to 10 will star in a brand new adventure; in the meanwhile, parents can enjoy a relaxing time pampering themselves and restoring their energy. The Mini Club is open during bank holidays and in the Summer period.
---
Getting There
Via Dante Alighieri, 106, Lido di Jesolo, Metropolitan City of Venice, Italy
Almar Jesolo Resort & Spa is easily accessible by car from the A4 and the A13 motorways by following the indications to the East zone of Jesolo Lido or by setting the following GPS coordinates 45.509076, 12.654584. Upon arrival, parking for guests at the resort is available in our large underground garage.
Marco Polo Airport is approximately 35 km from the Resort and can be reached by taxi or by the convenient shuttle service; Canova Airport in Treviso is 45 km from the Hotel and is served by taxis and a private shuttle service to Jesolo Lido. The stations of Mestre Venezia (45 km) and San Dona' di Piave (25 km) are the rail hubs closest to Jesolo and can be reached by taxi or simply by booking the resort's private transfer service.
The stations of Mestre Venezia (45 km) and San Dona' di Piave (25 km) are the rail hubs closest to Jesolo and can be reached by taxi or simply by booking the resort's private transfer service.
Superior Room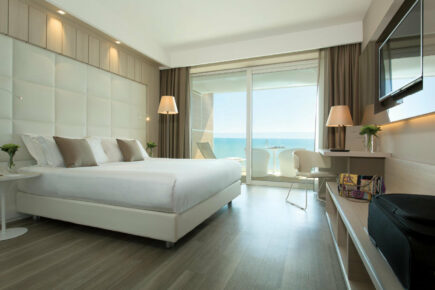 Deluxe Room
Family Deluxe Room
Junior Suite
Prestige Suite
Sundeck Suite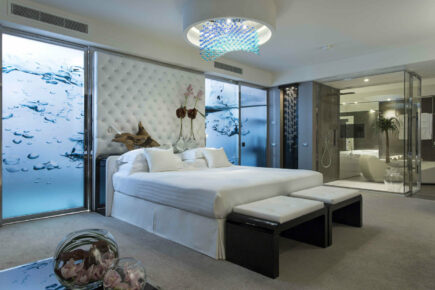 Loft Suite Aqua
Loft Suite Aria