Nopi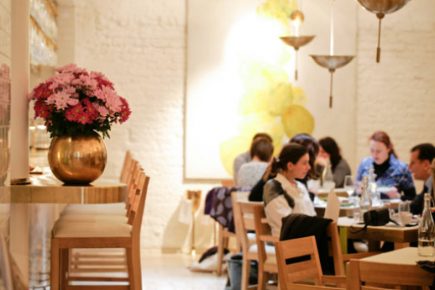 21-22 Warwick Street, London W1B 5NE, United Kingdom
020 7494 9584
Visit Website
Send Email
Nopi (an abbreviation of North of Piccadilly) is the Soho restaurant from the team behind the Ottolenghi cafes. Nopi retains some of the Ottolenghi trademarks: platters full of salads greeting customers as they arrive, a menu celebrating bold flavours – but Nopi has a different feel to the Ottolenghi delis. Designers were briefed to create a brand for a sophisticated environment with a warm, human persona. It had to look cool, not cold.
With white marble, golden brass and breath-taking art, Nopi's design is just as exquisite as its food. Nopi's menu changes according to the seasons, but the signature dished by Ramael Scully include courgette and manouri fritters, coriander seed-crusted burrata with slices of blood-orange and twice-cooked baby chicken with lemon myrtle salt and chilli jam.
Nopi serves breakfast, lunch, pre-theatre and dinner menus.