Mildreds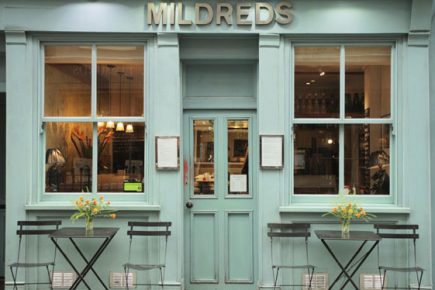 45 Lexington St, London W1F 9AN, United Kingdom
020 7494 1634
Visit Website
Send Email
Midreds offers fresh and colourful vegetarian and vegan food cooked daily on the premises, having served the veggie masses for more than a quarter of a century.
Where possible, organic ingredients are used across their three London sites, which all have their own style and personality. Often surprising and even seducing hardened carnivores with many of their dishes, Mildreds is situated throughout London at three locations and remains on the hot list of every vegetarian.
Mildreds Soho is set within a stylish yet informal 18th Century townhouse in Lexington Street, Mildreds Camden features a lunchtime takeaway bar and Mildreds Kings Cross features a blend of casual dining with industrial chic, with a mix of sharing and individual tables.
Mildreds has a no-booking policy (except groups at Camden and Kings Cross), so expect a lively queue, but you may enjoy a cocktail at the bar whilst you wait to be seated. Once inside, the welcome is warm, the service is friendly and the menu inventive, drawing impressively on Asian and Middle Eastern dishes. Desserts are also worth making room for and, just like the mains, include vegan and gluten-free options.