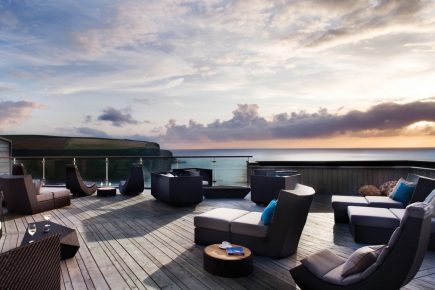 Wellbeing Escapes
The Scarlet Hotel & Spa, England
From £1174.50 per person
Each escape is different, genuinely personal and designed to get mind and body back on track. Drawing on the wisdom of Ayurveda and of our specialist team of therapists, we'll create your escape with the ancient Indian philosophy of wellness in mind. Calm your mind, develop your capability to cope with the pace of life or simply refresh your spirit; we will support your continued wellbeing throughout your stay and beyond.
A three-night wellbeing escape includes:
Three-night stay in a sea view room with breakfast each morning.
Dinner each evening in our restaurant or enjoyed in the comfort of your room.
A cliff top hot tub session.
A Scarlet Journey: four hours to completely unwind during an individual consultation, a bathing ritual, a guided meditation, a therapeutic massage and deep relaxation recovery time. We'll match the specialities of your therapists to your Ayurvedic dosha type, your body and mind constitution
Two privately tutored activity sessions of your choice to inspire your wellbeing: this could be a wellness workshop for inspiration, nutrition or meditation tips, mindful movement practice such as yoga, pilates, tai chi or somatics; outdoor fitness, a surfing lesson, dance tuition or guided relaxation. We'll find the activity and tutor to suit your needs (you can choose a different activity for each session).
90 minutes of treatment time to follow on from the therapeutic benefits you've begun to discover.
Before you leave, we will offer you some homecare recommendations, plus you'll take with you some selected products to continue your wellbeing after your stay.
The Wellbeing escape is available until 20th December 2019 and starts from £1174.50 per person based on two people sharing a room for three nights.
Offer expires: 20th December 2020