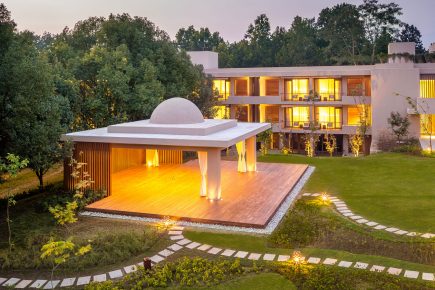 Vana Ashram
Vana Retreat, India
From INR 30,000
Feel at home at Vana, consider it your refuge. While you rest your mind and body, find ways to just be. Enjoy Vana's stillness and silence. Benefit from our repertoire of wellness traditions and participate in group sessions. Enjoy nature, music and meditating. Learn and assimilate. Encounter, discover and engage in ways that you may not experience back home. Live life fully and mindfully at Vana.
Minimum 5 nights. One wellness weight per night.
Minimum 14 nights. Three wellness weights per night.
Includes:
A Retreat Program with yoga, meditation, cuisine lessons, functional fitness, talks, music and more.
Arrival and departure wellness consultations.
All cuisine including breakfast, lunch, afternoon tea and dinner.
Private treatments/specialist consultations/sessions based on 1 – 3 wellness weights per night per guest.
Attire to wear within and outside Vana, footwear, summer and winter accessories.
Airport transfers from Dehradun Airport.
All taxes included. No service charge or gratuities added. The team does not expect tips as appreciation for their work.
Private treatments and sessions are valued in wellness weights, mostly between 1 and 2. À la carte wellness weights may be taken while at Vana, if required. Retreat Program activities, free time and personal practice are just as beneficial as wellness treatments.
Offer expires: 31st December 2020