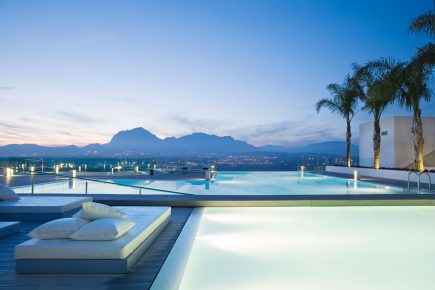 SHA Healthy Ageing Men
SHA Wellness Clinic, Spain
From 7.500 (excluding accommodation
Goals:
To enable the individual to achieve an optimum state of health by delaying the signs of aging, so that he not only lives longer, but has greater vitality and a better quality of life. To measure the indicators of biological age and the differences in relation to the patient's biological age, as well as factors likely to have a negative impact on his quality of life – which may include lifestyle, nutritional, environmental and/or genetic factors. To combine expertise in natural therapies, oriental medicine, nutrition and the latest medical advances, in respect of both diagnosis and treatment, in order to reduce the effects and symptoms of aging in men. To teach new, healthy lifestyle habits to enhance the individual's general state of health and well-being.
Length: 7 days
Recommended For:
· Men who are interested in improving both their physical appearance and their vitality, using innovative tools and disciplines to delay the aging process
· Individuals whose biological age is older than their chronological age (because of genetic causes, poor habits or pathological processes) and who would like to slow down their biological clock from a holistic perspective, focusing on achieving an improved quality of life
· Men who realise that, because of their age, they are beginning to be affected by certain health problems caused by the natural aging process – and who would like to draw on expertise, techniques, eating habits and supplements in order to delay the aging process and to live longer while enjoying a better quality of life.
Includes:
· General health examination
· Healthy Ageing Biological Profile: complete personalised test that includes the 88 key determinations to understand male premature aging, including extensive hematology, biochemistry, heumatic, hormonal, deficiency signs, immunology and vascular risk, among others
· Oxytest, oxidative stress test to determine the level of
oxidation in the body
· Consultation with an expert in genetic and anti-ageing medicine
at the beginning and at the end of the programme
· Spirometry test
· Electrocardiogram
· Consultation with a cardiologist
· Regenerative medicine consultation
· Consultation with the urologist
· Urologic ultrasound
· Liver ultrasound
· Psychotherapy coaching consultation
· Derma-aesthetic consultation, with the most advanced technology for the non invasive diagnosis
· 1 four seasons bio-stimulation treatment
· 1 facial mesotherapy treatment with a DNA cell protector
· Dental health diagnosis by digital imaging with an X-ray analysis
and thorough dental cleaning
· Neurocognitive assessment
· 1 neurofeedback session
· Polygraph for the diagnosis of sleep at night
· Revitalising medicine consultation
· 2 ozone GAH therapy sessions
· 1 session of lung detox nebulization
· Capillary health assessment
· 1 physiotherapy session
· 1 dietary supplement according to medical prescription, to be
determined between the following: Immun Age dietary supplement treatment (fermented papaya preparation-FPP to help prevent oxidative stress and boost the immune system), NADH treatment to increase energy levels and the production of cells or antiageing supplement
· 1 dietary supplement Younger Skin
· 1 dietary supplement Berberina Gold
· Consultation with an expert in nutrition and natural therapies
· Nutrition plan adapted to your needs
· Natural therapeutic drinks, according to the prescription
· Nutritional follow-up during the stay
· Personalised health plan
· 1 book "The SHA Recipes to Live Longer and Better" or
1 range of tea from our SHA Tea Collection
· Traditional chinese medicine consultation, according to the
prescription: acupuncture, laser acupuncture or moxibustion
· 1 traditional chinese medicine treatment session,
according to the prescription
· 2 colon hydrotherapy sessions
· Energy health assessment with bioenergetic mapping and
evaluation
· 1 energy health treatment, according to prescription
· 1 osteopathy session
· 1 SAHO ritual treatment for men
· 1 Eyebright facial
· 1 Indiba scalp therapy session
· 1 SHA Detox massage
· 1 traditional massage or oriental therapy session, according to
your needs: deep tissue massage, cranio-cervical massage,
relaxing massage, shiatsu or thai massage
· 2 lymphatic drainage masages
· 1 Dermio Care session, negative ions therapy
· 1 hydroenergetic detox cure treatment, consisting of
hydroaromatherapy, fitomudtherapy and hidrojet
· 1 cryotherapy session
· 1 oxygen bar session
· 1 body & mind session, according to your needs: yoga,
meditation, mindfulness, chi-kung or pranayama techniques
· Access to the Hydrotherapy Circuit, according to the prescription (sauna, Roman baths, Turkish baths, cold plunge pool, hydrotherapy pool, lap lane, foot baths, bithermal showers, ice fountain, therapeutic water jets)
· 1 introductory evaluation and advice session with a personal trainer
· 1 session with a personal trainer, may include some of these
disciplines: stretching, power plate, kinesis, cardio-tone circuit,
aquagym, pilates mat, hiking or outdoor sessions
· Free access to group activities: talks, holistic activities, training
and physical conditioning sessions, walks and healthy cooking
classes, among others
Offer expires: 31st December 2019