Three Top Treatments for a Party Season Preen
The party season is back! We look at some of the best treatments.
Jo Hansford, Keratin Straightening Treatment
The Low Down: Colour queen Jo Hansford's Keratin Straightening Treatment contains a rich concentration of the primary protein in hair (keratin) amino acids, antioxidants and essential oils, improving the hair fibre, eliminating frizz and enabling a quick and easy home blow-dry.
The Treatment: The process takes around three hours – first my hair was washed three times using a keratin-rich shampoo, then Barney – Jo's King of Keratin – painted the keratin lotion on to each strand of hair in tiny sections. A blow-dry follows then straightening irons are used to lock the lotion into the hair. After the treatment you're advised not to wash your hair for three days – I found this really difficult – the lotion made my hair feel greasy and I couldn't tie it back so I only managed two… I was AMAZED with the results. My usually fizzy hair was much more manageable – a blast with the dryer created a smoother appearance and a quick go with the straighteners achieved the glossy look promised – the results lasted around eight weeks.
The treatment is suitable for most hair types including colour and chemically treated hair. A split end solution is also available using the same process to treat split ends.
Price: £300
Time: 2.5 hours
Atmosphere: Relaxed luxury, friendly buzz. Great coffee, juices and lunch options. Book an appointment or the week before Xmas and you may get a free glass of festive fizz.
Other services include: Colour, cutting, blow drys, manis & pedis.
Shellac Pedicure at The Dorchester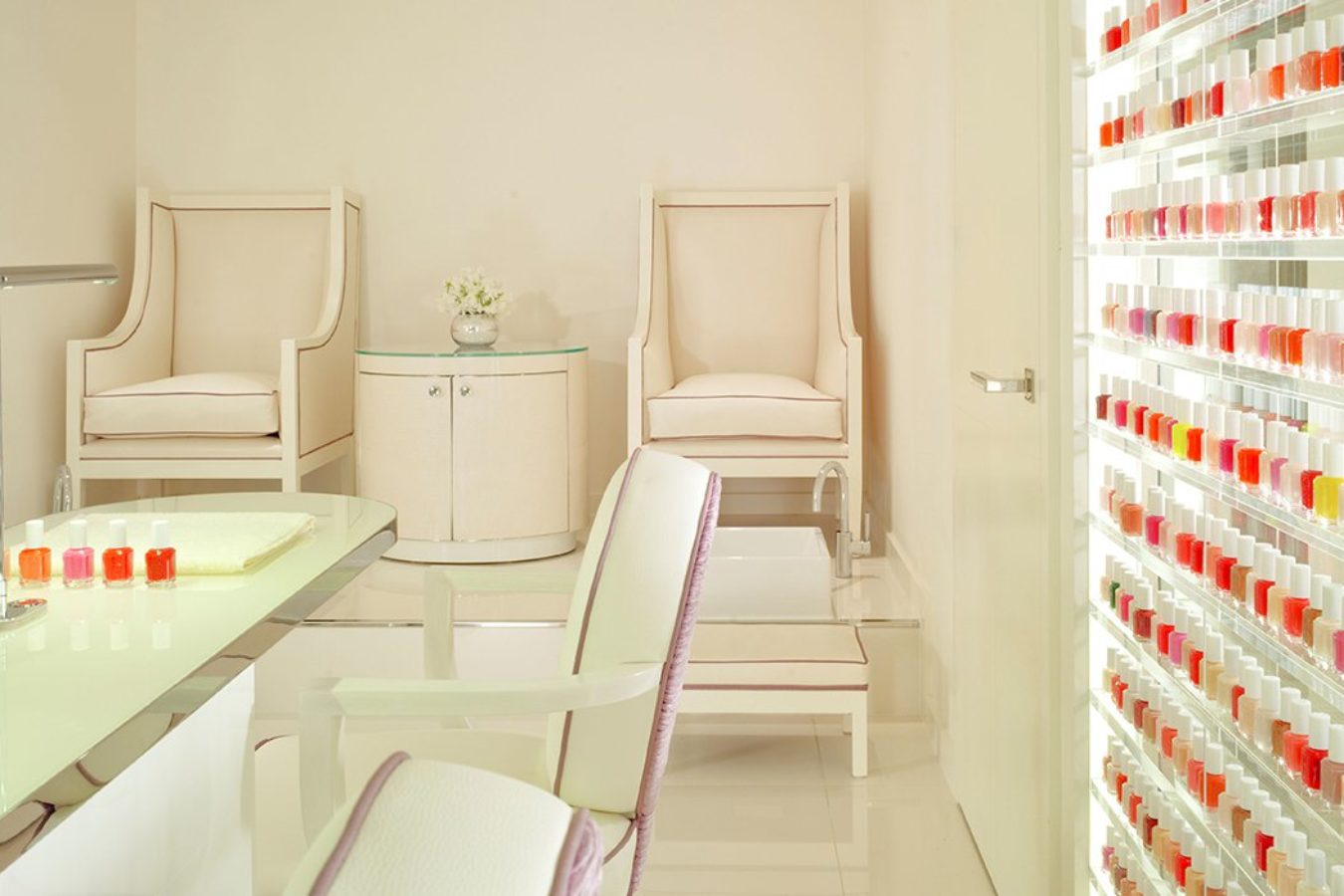 The Low Down: The Dorchester's signature pedicure is infused with anti-ageing ingredients formulated to cleanse, exfoliate, treat and hydrate, leaving your feet smooth and refreshed. Specially designed to energise and invigorate, the treatment is completed with a beautifying shellac polish and relaxing pressure point foot massage.
The Treatment: I'm obsessed with spa smells. Walking down the stairs to the basement of the Dorchester, I'm hit with an aroma of uplifting eucalyptus, I take a deep inhalation and feel instantly relaxed – like I've had a mini treatment before I even step through the door.
The shellac pedicure is performed in reverse to a general pedicure so the scrub etc comes at the end of the treatment. My treatment begins with a tidy, file and buff then the shellac application. (The Dorchester Spa offers over 1000 nail colours choices from Essie & OPI including a large selection of shellac.) An exfoliation and soak in the foot bath with refreshing oils, my dead skin is effortlessly removed – usually my least favourite part of a pedi, somehow therapist Jess managed to make it bearable. A wonderful pressure point foot and calf massage with an aromatic and energising Keratin Florian eucalyptus and mint lotion completed the treatment. My feet felt light smooth and energised. Bliss.
Price: £90
Time: 75 mins
Atmosphere: Instantly welcoming and relaxing. Stunningly beautiful surroundings – white flowing corridors and pearl chandeliers – post treatment, chill in the sleek relaxation lounge or treat yourself to a glass of champers or an afternoon tea in the pretty Spatisserie.
Other services include: An whole array of luxury treatments from acclaimed British brand, Aromatherapy Associates, and fab facials from Dr Barbara Sturm, Carol Joy and Valmont.
Dr Prager, The Rejuvenator Facial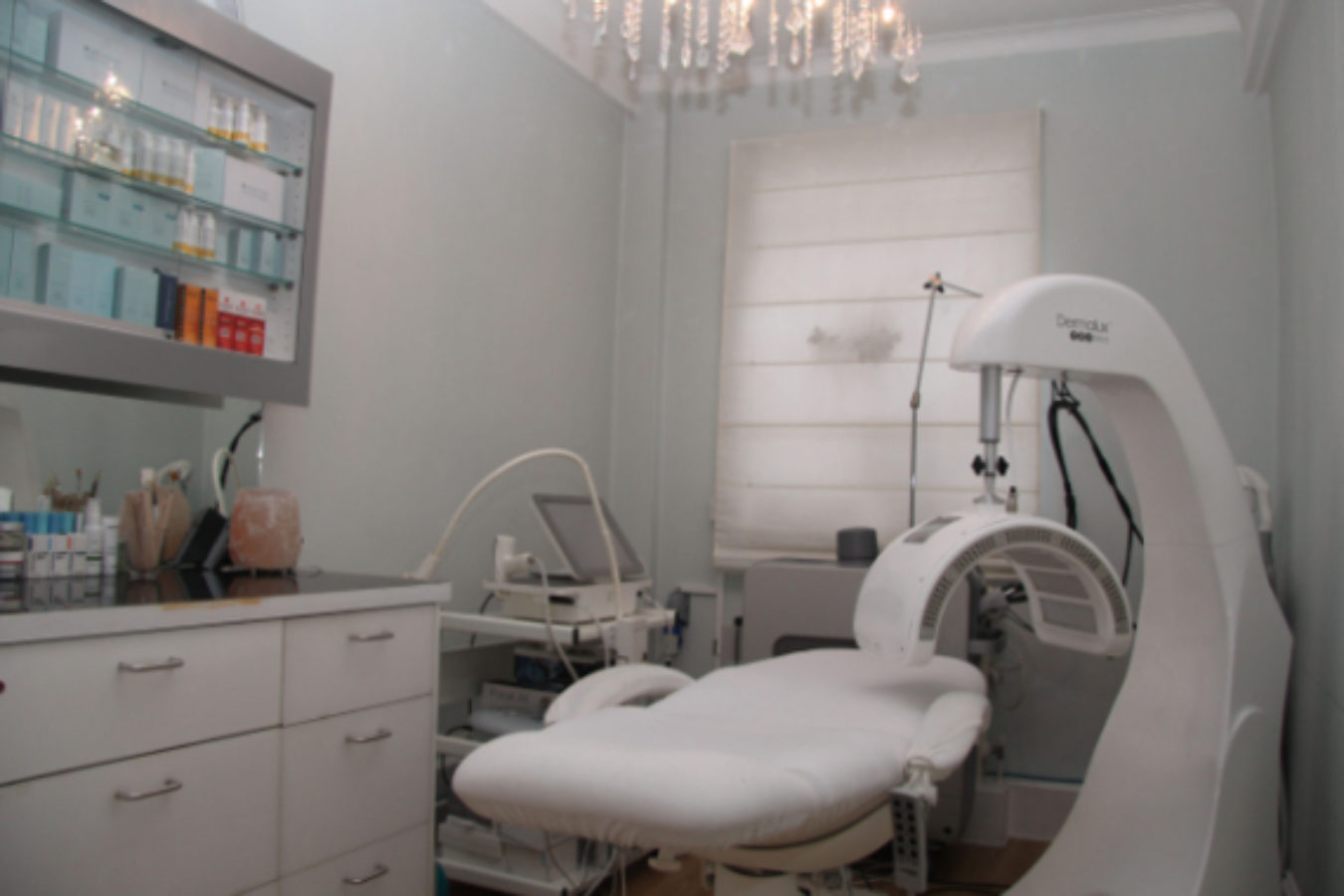 The Low Down: Following his popular 'a-lister favourite' Red Carpet and Illuminator facials the UK's boxtox guru has designed an instant pick me up 'ready to wear' facial. The Rejuvenator combines a mild peel, vitamin infusion and light therapy to create firmer, radiant skin.
The Treatment: Dr Prager's skin guru Sam whisks me into the treatment room, gives my skin a once over and immediately spots my hormonal outbreak "We'll have a go at treating that with 10 mins under the blue light" I already know that the 'blue' light works on congested skin and acne and suddenly feel safe in her hands. The Rejuvenator begins with a cleanse and 'mild' peel. Remember you're in Prager's world – here nothing is mild in the normal sense of the word. Lets put it this way – I feel the peel. A few minutes later its removed, my eyes are covered and I'm encased in the LED machine – ten minutes red, ten minutes blue. LED therapy works using colour wavelengths of light that penetrate the skin at various depth – the light energises cells to produce collagen and increase the flow of oxygen. Sam completes the treatment with an application of a hyaluronic acid lotion. I've only been in the chair 45 minutes and the difference is immediate – my skin is radiant – firm, lifted and glowing.
Cost: £180
Time: 50 mins
Atmosphere: I thought it might be a tad intimidating entering a renowned Harley St clinic, not at Dr Pragers – the unpretentious, laid back atmosphere, chatty receptionist and hypnotic aquarium banish any pre-treatment fears.
Other treatments include: Botox, Red Carpet and Illuminator Facial, Micro Mesotherapy.