The YUVA Facial Massage – An Uplifting Experience for the Face & Mind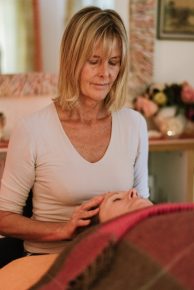 The YUVA facial massage is designed by Lucinda Wallop, who after a full and varied working life was looking for a new challenge that didn't involve a computer. After treating herself to an Ayurveda-face massage, she was inspired to train at Champissage International in London and founded Yuva.
She describes the treatment as uplifting for the "face and mind," and explains that a regular face massage is very different from a facial: A massage stimulates the muscles and lymphatic system and each area of the body responds. We have 300 pressure points on the face, which relate to every part of the body so it can impact every organ.
Lucinda emphasises the importance of keeping hydrated and encouraging blood to reach the face between treatments; for example, by standing in the down dog yoga position, or on your head if at all possible. I sipped a few glasses of her delicious cucumber-infused water while we talked and promised myself I would do some regular down-dogs!
I lay on her comfortable treatment couch in her peaceful London studio (she also practices in Somerset) while she worked on me for about an hour and a quarter. She practices tiny, soft, pinch-like strokes, all over the face; but the movement was so subtle and peaceful, that I literally floated in and out of consciousness, becoming more alert at the end of the session when she gently spritzed my face and massaged in some serum.
The results were excellent: My face was glowing, plumped and lifted for about a week after the treatment.
Prices:
£100 London
£65 Somerset
Review by Kate Morris