Seven of the World's Most Luxurious Detox & Wellbeing Retreats
From stress-busting yoga retreats to gut-cleansing detoxes, a beauty overhaul to a mind and body MOT, The Luxury Spa Edit shares the world's best luxury retreats to refuel your mind and body.
VIVAMAYR Altaussee, Austria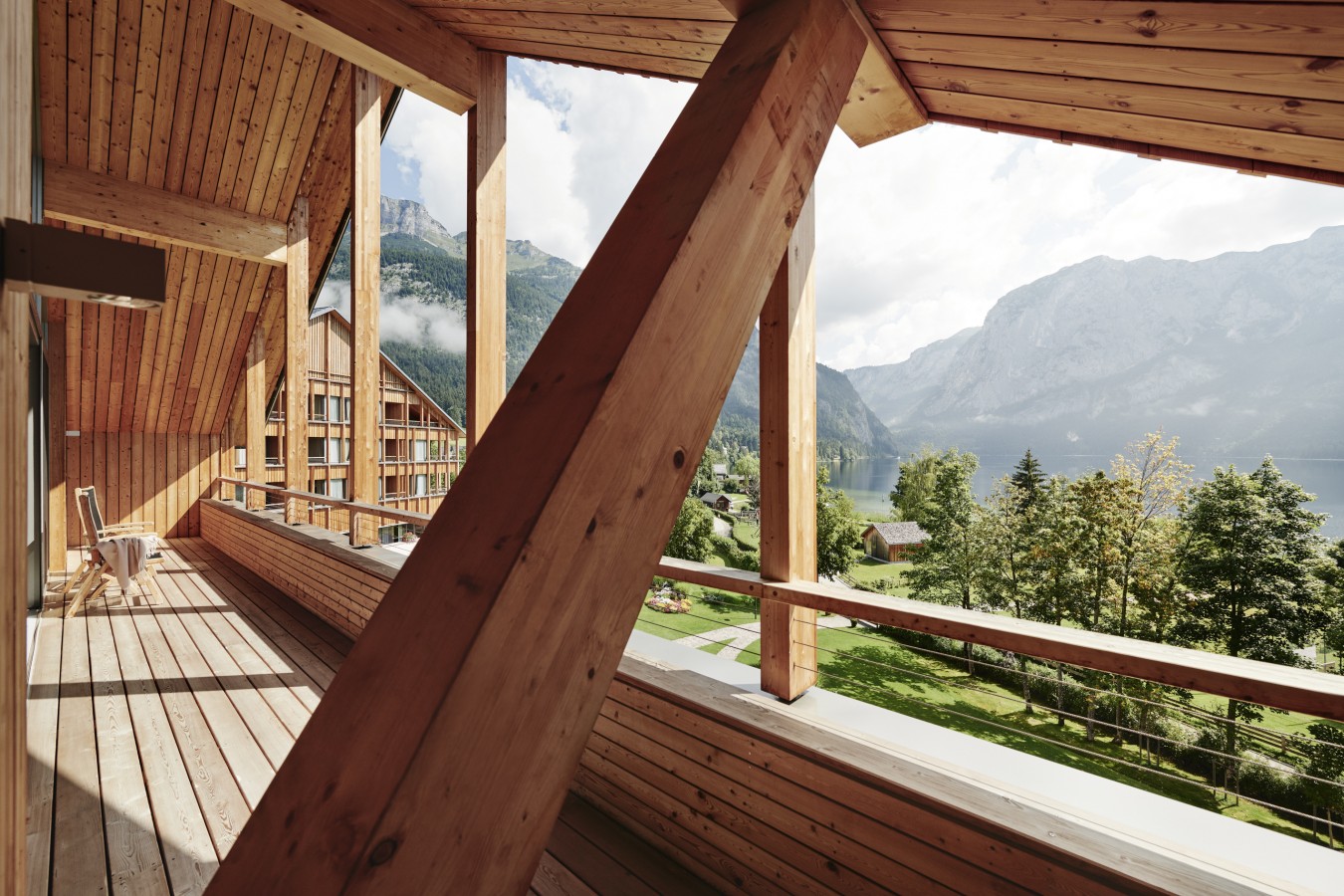 VIVAMAYR Altaussee is one of the world's leading detox retreats and sits in an idyllic location directly on the shores of Lake Altaussee – a place naturally blessed for re-discovering your inner self. The house marries the comforts of a 5* hotel, with a state-of-the-art medical centre. All 60 rooms come with breathtaking views of the surrounding mountains of the Styrian Salzkammergut region.
Programmes are based on the principles of Modern Mayr Medicine. Each guest receives a medical check-up with a doctor on arrival, then a tailored regime of exercise, diet and treatments is prescribed. Focusing on re-activating the body's self-healing powers and restoring energy levels, VIVAMAYR's goal is to achieve a sustainable change of lifestyle, both preserving guests' health and preventing the onset of diseases in the future.
A big part of the Mayr Cure is gut health, and mornings begin with a tonic of warm water mixed with local salt from the Altaussee Salt Mine to cleanse the gut. There's no getting away from the fact that food is sparse, but the morsels you do get are delicious – so much so that you happily chew away on them at least 30 times as recommended by the doctors. Treatments include everything from colon cleansing to nasal reflex therapy. Days are spent gliding between treatment rooms, fitness and yoga classes, strolling by the lake or just relaxing and taking in the views.
The Mayr Cure can be challenging – but after three days you'll start to feel the benefit and by the end of the week, you'll feel like you've had a complete mind and body MOT.
Facilities include a medi-spa, fitness and hydrotherapy areas and a skin clinic by celebrity facialist Teresa Tarmey.
Ananda in the Himalayas, India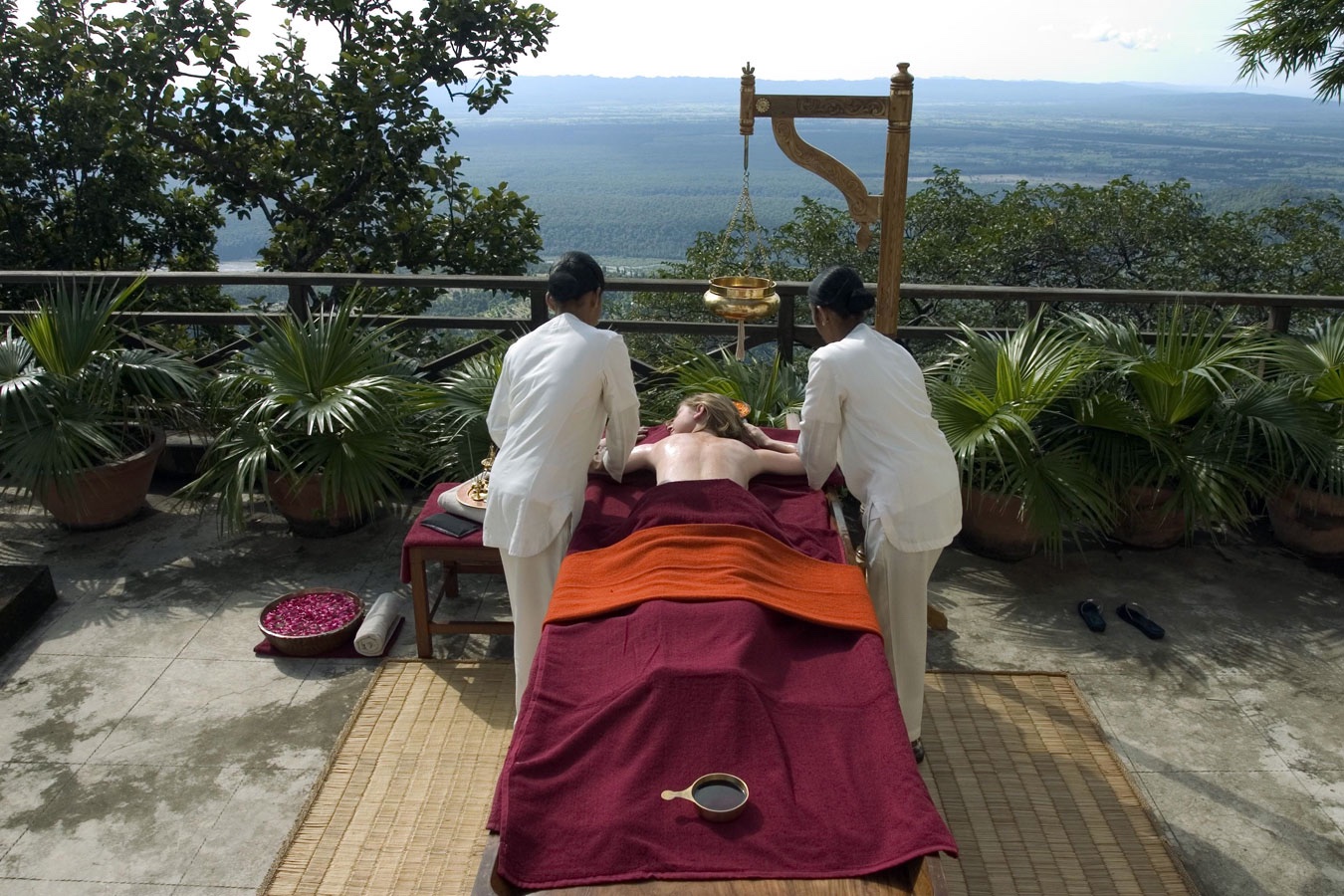 Ananda is an award-winning luxury destination spa resort in India situated at the Himalayan foothills. Located on a 100-acre Maharaja's Palace Estate, the resort is surrounded by Sal forests and overlooks the spiritual town of Rishikesh and the Ganges river valley.
Renowned as one of the best luxury Ayurvedic retreats in the world, Ananda integrates traditional Ayurveda, yoga and Vedanta with international wellness experiences, fitness and healthy organic cuisine to restore balance and harmonise energy.
Personalised yoga, treatment and activities programmes are designed to meet individual needs and health goals. A team of qualified nutritionists, Western & Ayurvedic physicians, spa therapists and yoga and fitness experts all gently guide you towards a better lifestyle. Days begin with sunrise yoga classes and are filled with a choice of holistic treatments, one-on-one meditation classes, cookery lessons, Vedanta talks and breathtaking hikes – an evening trip to Rishikesh to experience the Ganga Aarati ceremony is a must.
Programmes include Ayurvedic Rejuvenation, Stress Management, Yogic Detox, Weight Management and Dhyana Meditation.
Chenot Palace Wellness Hotel, Azerbaijan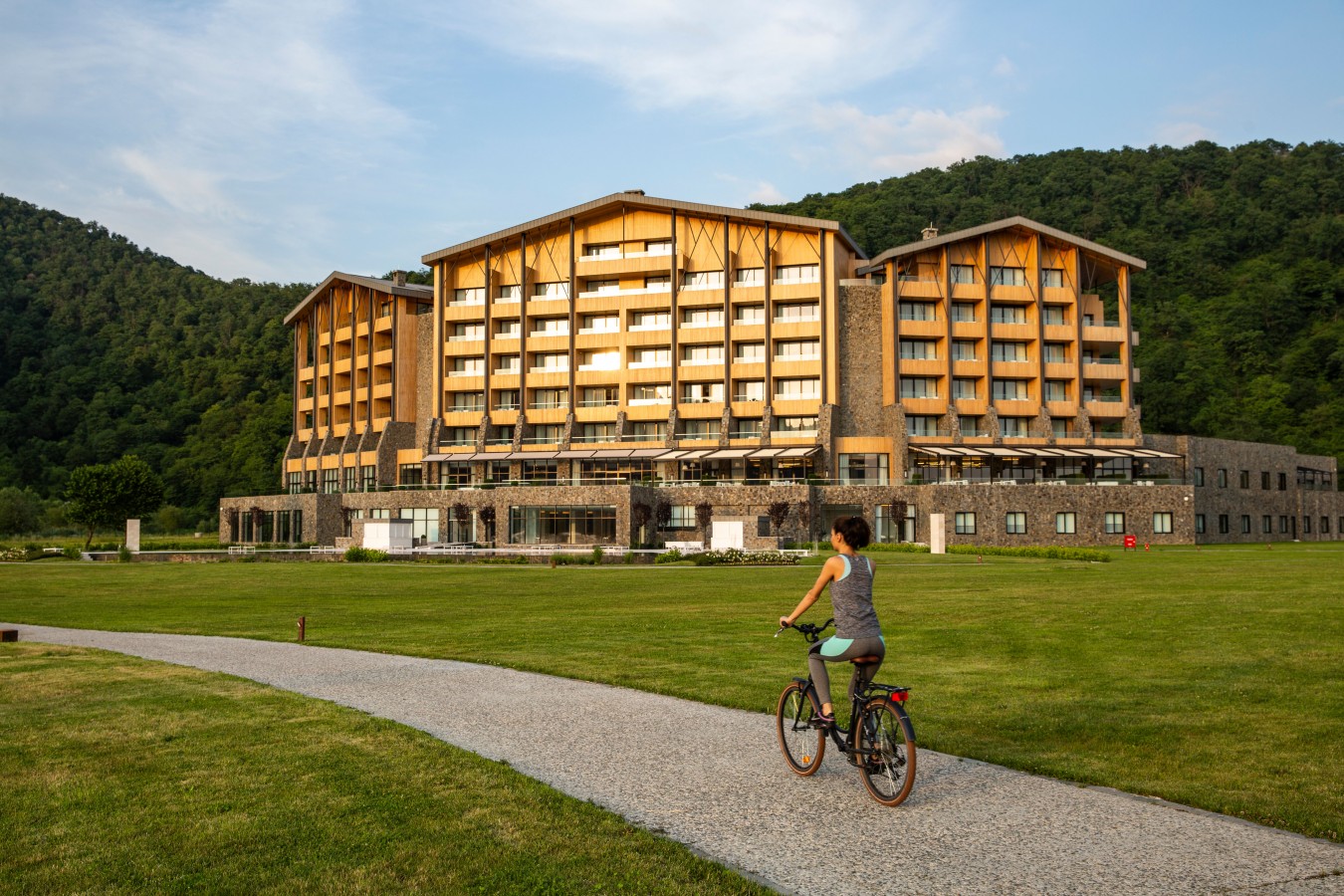 Surrounded by the tranquillity of magical woods, and overlooking the peaceful Nohur Lake, the Chenot Palace Hotel represents a new concept of a health and wellness retreat in the heart of the rolling forest.
Individual Wellness is what Dr Henri Chenot has been committed to for more than 45 years and The Chenot Method focuses on providing guests with a holistic view of the body, mind and emotional life as a prerequisite for a sense of harmony. Each guest on the Chenot programme receives a medical check-up, a fitness and nutritional plan and high-end treatments within a luxury haven. The intention is to detox and refresh the body and the mind.
Accompanying guests on their path is a highly qualified team of medical professionals in internal medicine, cardiology, aesthetic medicine, nutrition, osteopathy, physical therapy and fitness. Medical check-ups and state of art diagnostics are used to assess individual needs and create tailored regimes.
Advanced medical aesthetic treatments are also available – with a top-class metabolic laboratory, a cryotherapy chamber, antigravity technologies and an altitude chamber for physical wellness.
Programmes include Prevention and Ageing Well, 3 Day Active Detox, Recovery From Stress and Re-Energising.
Kamalaya, Koh Samui, Thailand
Centred around a monk's cave that once served Buddhist monks as a place of meditation and spiritual retreat, Kamalaya's essence is expressed in its name, 'Lotus (kamal) Realm (alaya)', an ancient symbol for the growth and unfolding of the human spirit. One of Thailand's leading wellness sanctuary and holistic spa resorts, here you can experience a truly life-enriching healthy holiday.
Wellness programmes at the award-winning retreat offer solutions for detox, stress and burnout, healthy lifestyle and yoga. If you are looking for a more personalised wellness experience, a team of international naturopaths can work with you to create your own health program from an extensive range of holistic medicine, spa and healing therapies. The cuisine here is a strong reminder that healthy food can be delicious! The 'Detox' plan, for example, takes a more holistic approach – organic food excludes the usual suspects of dairy, meat, fish, poultry, egg and wheat and are served up in the restaurant, in your room or on the beach.
The spa at Kamalaya is set amongst an abundance of nature. Treatment rooms overlook the beach and the therapists offer everything from stress management to Reiki – each is carefully handpicked for their skills. Spa facilities include lap and plunge pools, infrared saunas, foot massage stations and Ayurvedic treatment rooms.
Programmes Include Healthy Lifestyle, Detox, Stress & Burn Out, Emotional Balance and Yoga.
Vilalara Longevity Thalassa & Medical Spa, Portugal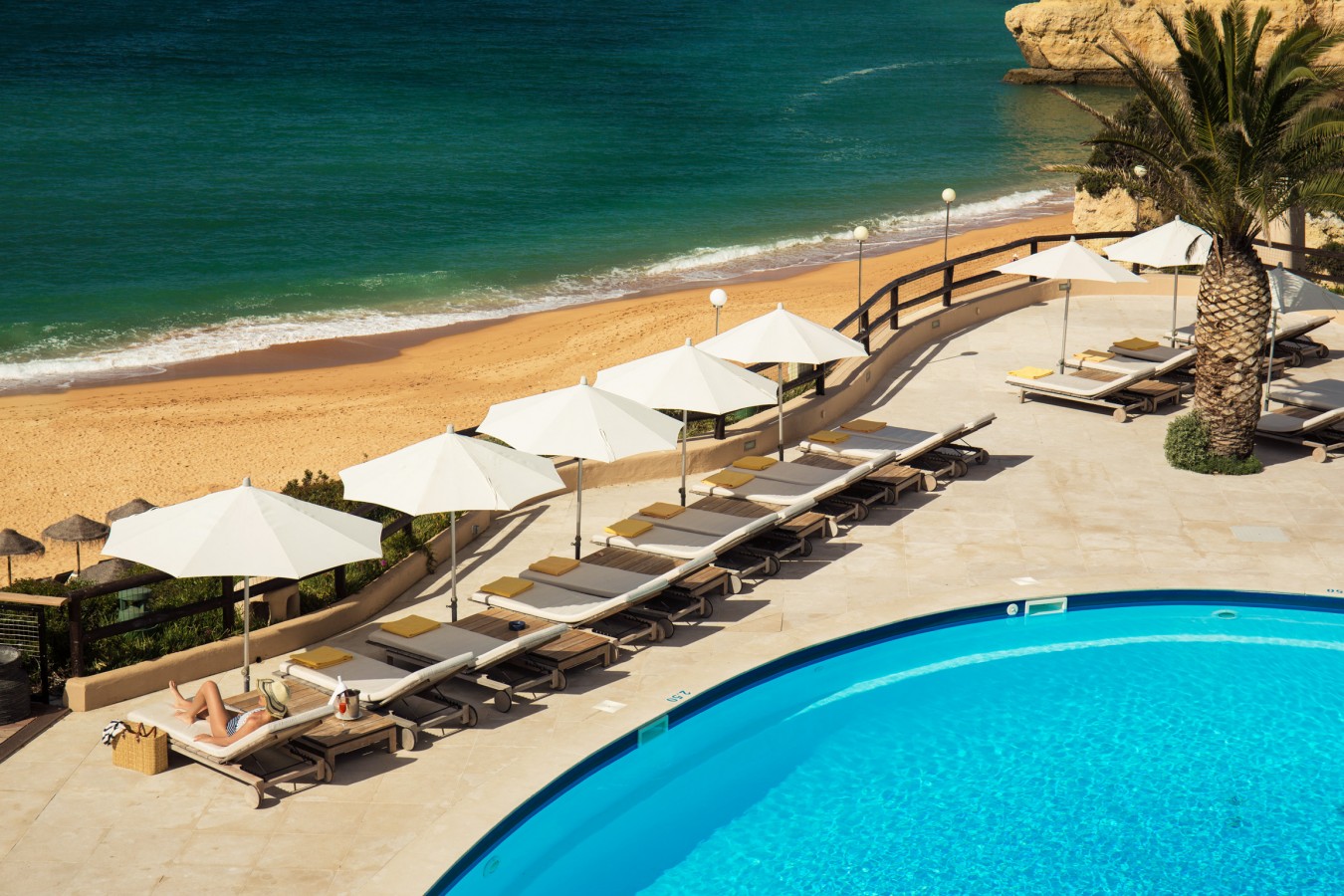 With an exclusive location on the breathtaking Algarve coastline, the Vilalara Thalassa Resort is the perfect setting for anyone looking for a health & wellness overhaul. Set within 11 hectares of verdant gardens, fringing a secluded golden sand beach, the luxury resort offers one of the best Thalassotherapy centres in the world as well as five fresh and seawater pools, four tennis courts and two healthy eateries.
Through a synergy of diagnostics and assessments, anti-ageing therapies, postural realignment, monitoring of the physical condition and correct nutrition habits, Longevity promotes a deep understanding of the causes of imbalances and offers individualised strategies to improve health and well-being.
The Vilalara Longevity Thalassa & Medical Spa offers a unique fusion of Thalassa, spa and state-of-the-art wellness and anti-ageing solutions within exotic landscaped gardens surrounding a secluded beach.
Programmes include Detox, Fitness, Weight Loss, Anti-Ageing, Mindfulness and Stress Management.
SHA Wellness Clinic, Alicante, Spain
Perched on a beautiful mountainside overlooking the Mediterranean Sea and part of the Sierra Helada Natural Park, (recognised by the World Health Organisation as having one of the world's best climates) SHA Wellness Clinic combines western medical expertise with proven, eastern alternative therapies.
Everything from Chinese medicine and Thai massage to cosmetic dentistry and stem cell therapy is on offer here and dotted around the clinic are anti-ageing, Energy Health and Regenerative Medicine units. The wellness area offers a plethora of facials and a whole range of massages, body treatments and water therapies. If you fancy a dip there's a stunning outdoor rooftop pool and the wellness area boasts a complete hydrotherapy circuit with two indoor pools. Rooftop relaxation areas with day beds allow you to take in the spectacular views or hunker down with a novel.
At the clinics SHAMADI eatery three types of diet are adapted to the seasons, making an effort to use cereals, legumes, vegetables, fish and cooking methods that are best suited to each season. None of the menus include meat, eggs, dairy products, sugar or other artificial sweeteners. It's a very laid back eatery with a friendly atmosphere, so dining here alone doesn't feel uncomfortable.
SHA is renowned as one of the best wellness clinics in the world so well-heeled wellness fans flock here and take full advantage of all its offerings. From morning yoga and organised group walks to fitness classes and wellness seminars there's a plethora of activities to fill your days and evenings.
Programmes include SHA Discovery, SHA Fitness, Sleep Well, Rejuvenation, SHA Detox and SHA Cosmetics.
Mandarin Oriental, Marrakech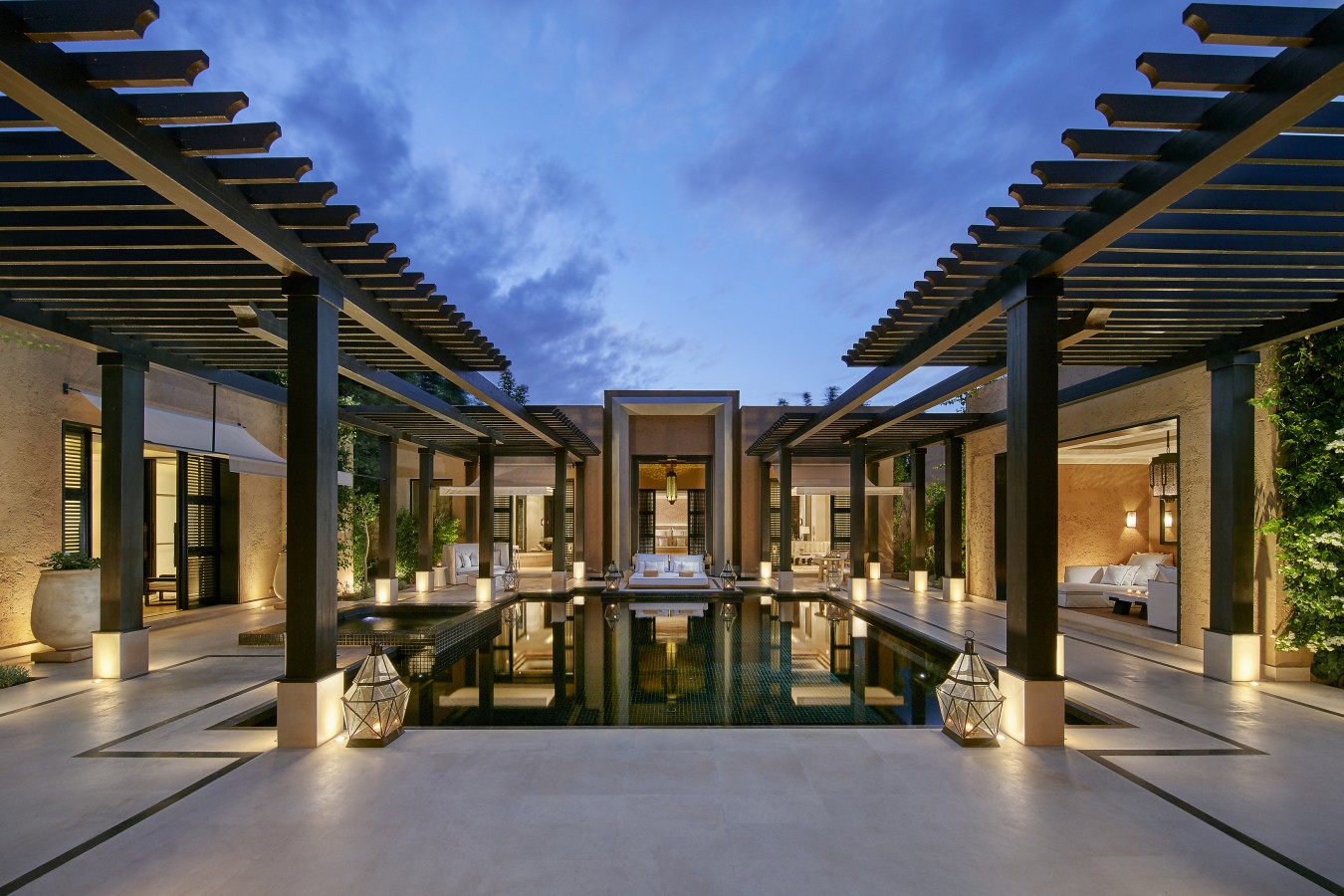 Lying in 20 hectares of fragrant gardens and olive groves, Mandarin Oriental, Marrakech is a five-star luxury resort only minutes from the city centre. With excellent facilities, world-class dining and state-of-the-art spa and wellness facilities, it makes for a tranquil and luxurious escape. With the snow-capped Atlas Mountains forming a breathtaking backdrop, Mandarin Oriental, Marrakech is surrounded by majestic gardens filled with olive trees and more than 100,000 fragrant roses.
The Spa at Mandarin Oriental, Marrakech is spread over 1,800 m2 and features six spa suites including one for couples. Each suite has a terrace and private garden for outdoor treatments. The Spa also includes two luxurious hammams, an indoor heated pool, a fitness centre and a yoga studio, as well as hair and beauty salons. Inspired by ancient traditions and designed for guests personal needs, unique treatments have been created to bring equilibrium to the mind, body and spirit. Treatments range from traditional Asian and Moroccan rituals and scrub and wraps to oxygen facials and high-end anti-ageing treatments.
Villas at Mandarin Oriental Marrakech are some of the best in the world – each sporting a private pool, steam room, hot tub and outdoor shower. Surrounded by a private garden, these uber-luxe living spaces also feature outdoor dining.
The resorts Detox Programme includes a luxury stay in private villa or suite, a tailored fitness programme, a meditation class, yoga classes, a PT session, an invigorating Hammam, cookery classes, and a daily healthy menu plan with detox drinks.
Clinique La Prairie, Switzerland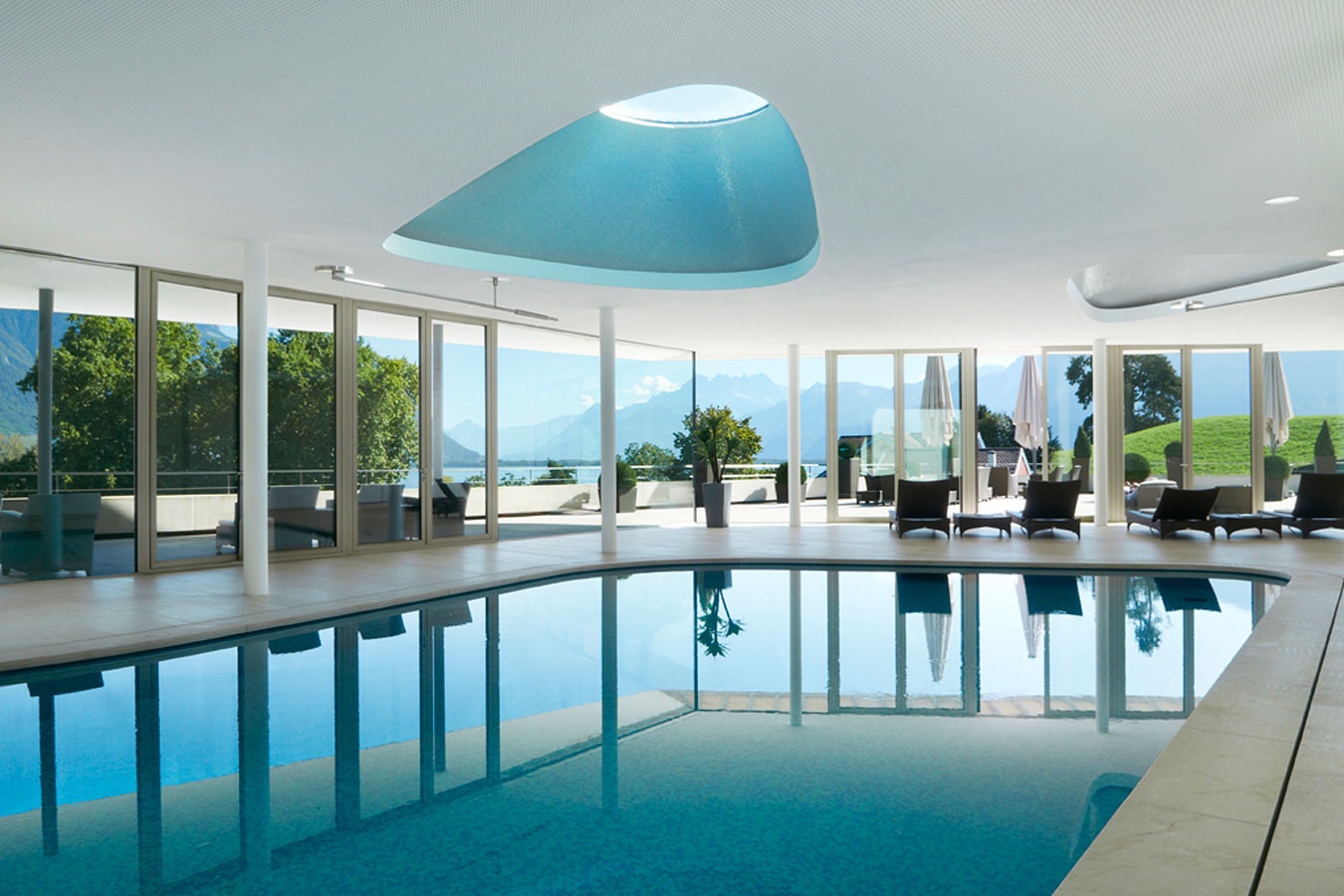 Perched in a tranquil spot on the shores of Lake Geneva, Clinique La Prairie first opened its doors in 1931: a pioneering medical retreat that combined the innovative science of cell therapy and holistic wellness, with the traditions of luxury Swiss hospitality. Since then, the clinic has continued to be a world leader in medical wellbeing, offering a unique and exclusive experience to generations of international guests.
The medical spa at Clinique La Prairie has recently undergone a complete renovation to provide state-of-the-art technology and design. Facilities include 17 treatment rooms, a spa suite with a private Hammam and Jacuzzi, a Kneipp and hydrotherapy circuit, ice fountains and sensorial showers.
The clinic is renowned for its anti-ageing, rejuvenation and weight loss programmes. CLP's world-famous Revitalisation Programme is recommended from clients aged 40 plus. The complete health & wellness experience aims to renew your body, reinvigorate your mind and restore vitality. Its complete cell regeneration program combats the negative effects of ageing and rejuvenation results can last up to 24 months.
The Weight Management Programme offers a multidisciplinary approach with the assistance of a nutritionist, dietician, personal fitness trainer, psychologist, massage therapist and aesthetician.