The Dermapen – The Age-Defying Treatment that Naturally Stimulates Collagen – At BEA Skin Clinic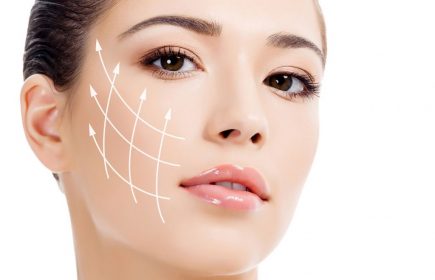 Bianca Estelle Aesthetic's (BEA) unassuming clinic, tucked away down a leafy west London side street, is easy to miss.  Inside the decor is equally restrained; the only sign that this is something other than an ordinary health clinic is that my fellow patients look anything but under the weather.
In fact they look positively glowing. Whatever they've been taking, it's clearly good stuff. I am shown through to meet director and founder Bianca, a specialist in clinical aesthetics, ranging from non-invasive skin-enhancing treatments to botox and the like. Her USP is that she has developed a science-based beauty line to be used as a foundation for her treatments, an area that aesthetic practitioners often overlook. (Side note: Bianca is a vision of luminous line-free skin with the whitest of teeth. Next to her, I feel like a grubby extra in an Oliver Twist production.) Today I am opting for the milder end of the BEA clinic spectrum: The Dermapen, a treatment that naturally stimulates collagen production through tiny micro-needles rolled across the face. Bianca describes it as a 'pick me up'. It's not lost on me that after three children and ten years of sleep deprivation Bianca might think I may be in need of more than a pick me up, but still, I'm excited.
The Treatment
Bianca talks me through the treatment with the soothing tones of a counsellor. Today I will be sampling the most lightweight micro-needles at just a fraction of a millimetre. After an astringent cleanse, my face is rolled with the Dermapen, a mesotherapy solution of multi-vitamins applied, then the process repeated. The tiny pinpricks ensure the solution sinks deeply into my skin.  It feels a little tingly, but a long way from painful, and the mental image of my ancient collagen being massaged back into production is positively pleasurable.
Afterwards, I am given LED light therapy, which uses the body's own natural processes to prolong the effect of treatments. It's like an old school sun lamp, but with none of the guilt. I emerge twenty minutes later, feeling like I've been on a mini holiday. Plus I'm amazed to discover I already look revived, and yes, even younger. Bianca presents me with a regime of products, containing pharmaceutically active compounds including current beauty darling hyaluronic acid and other impressive scientific ingredients to aid the magic 'pick me up' I came for. I skip out into leafy Marylebone, ready to bat off passers-by commenting on my youthful glow.
The Aftermath
I use Bianca's skincare regime diligently for the month following my treatment and the results are incredible. My skin feels plumper and glowing and my fine lines do feel less obvious. Even better the results seem to grow week by week. Bianca has told me that the Dermapen treatment only needs around 6 sessions before skin gets the message and starts producing more collagen, so it becomes enough to use beauty products alone.
I return the following month for a follow-up, this time with standard needles of 1mm that require a numbing cream applied to the face. With the cream, the sensation feels just as mild as the first, and the redness that Bianca warns me I may have is barely noticeable. Again the results are immediate and impressive. I feel like I have discovered the holy grail of skin maintenance: A treatment that, importantly for me, feels within the realms of 'natural' yet gives concrete results. I don't doubt that Bianca's beauty range also plays a huge part, and while I am not ready to take the step into more invasive treatments, it feels like at the hands of someone as skilled as Bianca the gap between skincare and aesthetics can be bridged naturally. In the meantime, it's Dermapen forever for me and my youthful glow.