A Different Kind of Bootcamp at The Body Camp, Ibiza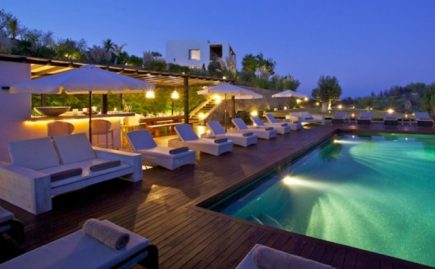 While days at The Body Camp are taken up with fitness activities, motivational talks and super food cookery classes the evenings are yours to indulge in a more gentle kind of self-development with pampering sessions and holistic therapies like Reiki, reflexology, acupuncture or even counselling available.
Yes, you will be doing burpees before breakfast and nursing sore shoulders after the third press-up challenge of the week. And while the food is clean and absolutely delicious, portion sizes are very well policed.
BUT there are also Voguing classes, fancy dress boxes, kitchen karaoke sessions, water polo games, poolside trampolining and teeny house Chihuahua Rebel to keep things light-hearted.
Exercise certainly doesn't feel like exercise when you're laughing so hard you cry.
And the energy that comes from being part of a group intent on improving their lives is the ultimate motivation, I discovered on my week's retreat in the healing hills of San Juan.
Head trainer Rick Parcell (ex-Navy star and one of the world's top transformation coaches) likes to refer to The Body Camp as the 'hot tub', a place where reality is suspended for a while and guests live in a bubble of frothy, friendly positivity and support as they are driven to achieve things they never thought possible: a 20km hike up often vertical cliffs, mountain climbers and planks in bikinis, life-changing conversations with strangers over quinoa toast and Friday evenings without sugar or wine for starters.
And while it IS a results-driven programme, and you will see a difference in your stats and fitness (I lost six inches off my body, and six years off my metabolic age in one week) it's the holistic, immersive experience that sets The Body Camp apart from the rest.
One idea that was drummed into us at Can Batista was that the body and life you have are a direct result of the decisions you make. And if you're serious about making positive changes in your life and are willing to get involved and be pushed out of your comfort zone, then a decision to book a week here will be one your future self will certainly thank you for.