Terre Blanche Hotel Spa Golf Resort – A Super-Luxe Retreat Nestled in the Hills of Provence
At the height of their reign as the planet's most famous couple, Brad Pitt and Angelina Jolie had their pick of the world's most exclusive resorts to escape the prying eyes of fans and paparazzi. 
One of their favourites was the five star Terre Blanche Hotel Spa Golf Resort in the beautiful Provencal hills above France's Cote D'Azur  – and having been lucky enough to spend a few days there myself, I can totally see why. 
The place oozes class and is the ultimate in peace, tranquility and discreet luxury.
The Resort
Put simply, Terre Blanche is stunning. An eco-friendly resort at one with the environment, Terre Blanche comprises of 115 luxury villas and suites nestled into the forest with none overlooking each other, for the ultimate in leafy privacy where you can really feel at one with nature.
Terre Blanche is huge too, at 750 acres, it's bigger than nearby Monaco. It features two 18-hole championship golf courses, (it was named Best Golf Resort in France 2019 by Golf World), tennis courts, four restaurants including the Michelin-starred Faventia, a kitchen garden growing vegetables and herbs for use in said restaurant, one of the biggest and most luxurious spas in Europe and even an apiary where they harvest their own honey.
And in those vast grounds containing waterfalls, lakes and sympathetic landscaping and planting maintained by a team of 40 gardeners, there are also more than 200 incredible sculptures and works of art dotted around both inside and out, with pieces by the likes of Anthony Gormley, Joan Miro and more. It's like staying at an art gallery.
Within easy reach of both Cannes and Nice (it's just 45 minutes from the airport), you can see why the glitterati choose to stay here to get away from the more hectic coastal spots – and as Terre Blanche has a helipad, it's easy for them to stop by. You could stay here for weeks and never need to leave the grounds, with the incredibly warm, friendly and helpful staff catering to your every whim (and a golf buggy driver always on call to ferry you around). If you do fancy getting out and about, staff are happy to organise e-biking and horse riding excursions in the surrounding countryside and local vineyards or kayaking on the nearby duck egg blue 7km long  Saint Cassien Lake, a wild, beautiful body of water surrounded by forested hills.
There are two huge and incredibly beautiful outdoor swimming pools (as well as a massive indoor pool at the spa), each heated to 28 degrees, so even when I visited in October, it was toasty enough even for an early morning swim. And because I was there late in the season, I was privileged enough to have the pools all to myself and bask alone under clear blue skies in the glittering autumn sunshine. Sheer bliss.
The Spa
The sumptuous spa is housed in a separate building perched in the hills surrounding Terre Blanche. At 35,000 sq ft, it's one of the biggest in Europe, while still maintaining that all-important intimate and personal feeling, helped by a wonderfully warm welcome from the staff.
Services on offer include massage, body and facial treatments, multiple classes in the gym including pilates and cardio circuits, as well as the use of the opulent indoor white-pillared 20m pool, steam room, sauna, sensory shower, vitality pools, laconium, relaxation room and a spa shop.
The spa uses iconic superluxe Swiss beauty brand Valmont, renowned as featuring the best ingredients known to science, as well as Kos Paris, the 100% organic plant-based facial treatments. Kos works exclusively with perfumers in the south of France to develop signature scents that make it a perfect fit for Terre Blanche Spa too.
Surrounded by fragrant shrubs, outdoor pools, jacuzzis and a garden that embraces well being, Terre Blanche Spa is simply out of this world.
The Treatment
I had the Terre Blanche Signature massage, which used heated aromatic muslin pouches filled with herbs from the Provencal countryside and the resort's own kitchen garden  – lavender, chamomile and vervain. The treatment is all about creating deep relaxation and to reduce stress, helped by the plants releasing their essential oils, while draining your lymph glands and toning the body too so you feel energised afterwards.
Julie Bauer, the treatment manager at the spa who invented it, told me afterwards that it's meant to be a reflection of Terre Blanche – to mirror the serenity, space and sensual smells from the surrounding vegetation. Well, she nailed it – and it also passed my test of a top massage treatment, that I didn't just fall asleep in a Zen-like state, I dribbled too. Sorry, Julie.
But you could have chosen the signature 90-minute facial treatment, the Valmont Energy Ritual Signature Treatment, with double cleanse, double massage and double mask to completely hydrate and rejuvenate the skin, leaving it soft, radiant and glowing.
Or you could plump for the Albatross Terre Blanche signature massage using golf balls for a deep tissue sports massage. Frankly, any treatment you choose will be a winner at this spa.
To Stay
I was staying in Suite 1418 surrounded by verdant evergreen firs, pines, olive, oak and cypress trees and with wonderful views of the nearby mountains. Sitting out on my private terrace with my morning cup of coffee in the sun, gazing out at the beautiful scenery, all I could hear was birdsong.
All suites and villas are built in sympathy with their surroundings in local stone, wood and terracotta, and the elegant and relaxed interior decor reflects nature too – soothing tones of pale buttercream yellow and beige, with tasteful art on the walls.
The accommodation comprises of a spacious living room with a smart TV, DVD player, wifi, Nespresso machine and minibar (which was stocked with the delicious Whispering Angel rose, which is made at a nearby vineyard), as well as a large bedroom with a divinely comfortable king size bed with high thread count bedding, large dressing room, and a huge bathroom with underfloor heating, twin sinks, an enormous walk-in rainforest shower plus bath, all stocked with luxurious Fragonard toiletries.
There were even dried lavender sprigs plucked from the grounds bunched next to the bathroom mirror, which was a lovely touch and a perfect example of Terre Blanche's attention to detail and obsession with its natural surroundings.
To Eat
There are four restaurants to choose from – the Michelin-starred gastronomic experience Le Faventia (opens for dinner from 29 April 2020), the elegant and convivial Le Gaudina, a chic but cosy brasserie-style space offering refined Provencal cuisine, Le Tousco Grill (the summer restaurant open from May until the end of September) and lunch spot Les Caroubiers, with stunning views over the golf courses.
Whether it was breakfast or dinner in Le Gaudina or lunch at Les Caroubiers, the food (virtually all locally sourced) is magnificent.
The gourmet buffet breakfast (served from 7am until a very civilized 11am) majors on local produce. When the weather allows, you can enjoy Provencal tomatoes roasted in local herbs, local cheeses, eggs and charcuterie, amazing freshly squeezed juice and impeccable bread baked by Terre Blanche's award-winning in-house bakery and patisserie sat out in the sun on the Guadina's patio surrounded by greenery.
For lunch or dinner, Le Guadina's food is sensational with an amazing wine list – I particularly loved the traditional soupe de poissons with rockfish, the pan-fried hake with locally foraged wild forest mushrooms and salsify, served with watercress sauce and a rich jus, as well as the steamed cod with seaweed, cockles and sea urchin butter.
Les Caroubiers meanwhile specialises in a raft of lunchtime classics elevated gourmet style, with a constantly changing dish of the day, including the likes of croque-monsieur, omelette aux fines herbes and panini au pistou provençal.
Truly, Terre Blanche feeds your soul in every way possible. It really is heaven on earth.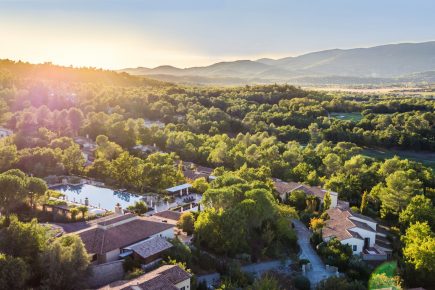 Terre Blanche closes from mid-November to February for a refresh and for staff to brainstorm how to make an incredible resort even more out-of-this-world.
A deluxe suite costs from €350 a night breakfast included in low season and up to €820 in peak season.
A deluxe suite spa package costs €560 a night in low season and up to €1,030 a night during peak season.
Terre Blanche Signature massage: 60 mins  €155.