Swept off Our Feet by Antigravity Yoga at Bali's Four Seasons Jimbaran Bay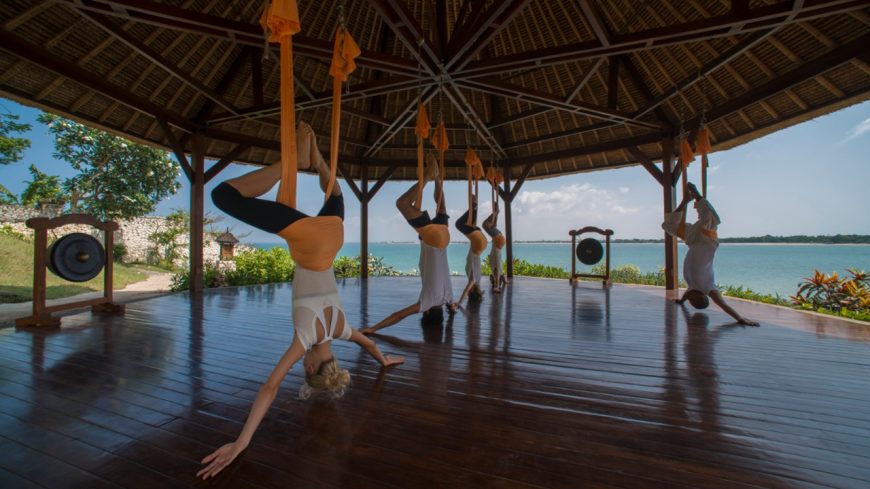 Hour-long hammock-yoga sessions leave Juliet Kinsman inverted, introspective and quite possibly, elongated.
Silky orange hammocks hanging from the beams of the yoga pavilion looked more like oversized unfurled zucchini flowers than exercise accessories. Here at Bali's very southern tip, I was delighted to discover I was on my own for my AntiGravity Yoga class in the ocean-view Nirvana Shanti Bale. It's always a treat to have the practitioner's advice all to yourself, but especially so when it's your first time trying an innovative fitness technique — in particular when the session soon has you dangling like Miss Piggy at a Cirque du Soleil audition.
Signing up for a course of sessions must work wonders — I'm sure I'd have walked away an inch taller with a few more classes. It's at times like this when the Four Seasons reminds you why more deep-pocketed international travellers prefer five-star resorts to quirky guest houses or budget Airbnbs. Polished properties such as Four Seasons Jimbaran Bay promise not only form and function but also first-class spa facilities with expert teachers.
Thank you, Kenneth, for getting me to try my hand (and every limb, actually) at this dynamic type of 'flying' yoga. Gently swaying in the sea breeze, while supported by soft, stretchy fabric, overlooking that huge sweep of Indian Ocean, and I could physically and mentally feel those AntiGravity inversions reach parts that other yoga moves simply never have before.
AntiGravity Yoga was developed by a Broadway choreographer, and the practice is an interesting contrast of feeling demanding and relaxing at the same time — with a splash of circus performer. Cocooned in the hammock, I was out of my comfort zone and yet it was entirely cosseting. What's so satisfying is knowing that it's getting your blood to circulate in ways that your oxygen-starved extremities have been crying out for. My lower back immediately felt looser. I could sense my compacted spine stretching in a way that made it articulated again. As someone whose vertebra are usually hunched over a laptop I'm sure I heard them cry for joy as though finally released from solitary confinement and taken on a trip to the seaside.
These bespoke hammocks are made to support all ages and body types, but this all-villa Bali resort promises other fitness and spa firsts to experience. Another route to improved flexibility is restorative hot-stone yoga. Heated stones relax the muscles while long-held postures and the sound of the ocean rebalance breathing and your body. A deeper way to loosen the ligaments is Yin-Yoga, a slow-paced practice that is different to the usual resort yoga classes. Taoist traditions where 'yang' refers to movement, and 'yin' relates to calming the body, inspire the name.
Four Seasons Jimbaran Bay is, for some, as close to perfect as luxury resort hotels get — it received a 10/10 review from The Telegraph newspaper. This sprawling island resort not only gives guests all that they need from comfortable villas (as well as excellent food and drink), but they also stretch you that little bit more than other stays — especially when it comes to your spine.