Suzanne Duckett on Health, Happiness & the Future of Wellness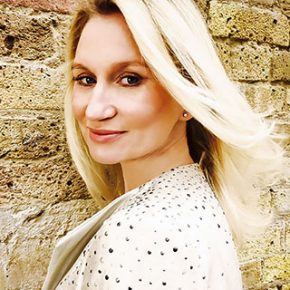 As editor of This Is The Antidote and Tatler Spa Guide, Suzanne Duckett is a highly regarded authority in the spa and wellness sector. Juliet Kinsman chats to her about health and beauty trends and how it's as much about the mind as the body and soul.
What trends are you're noticing in spas?
Mind fitness — we are all living longer, so mental health is a big issue, particularly around Alzheimer's. I'm seeing a lot more emphasis on having an agile mind, taking up a hobby, singular focus and disciplines which are like Yoga for the mind.
Emotional intelligence training and a combination of everything – nutrition, therapy and self-awareness – so that you are considering your emotions and how you feel in the same way you do your muscles, and how you want to look. Having a healthy mind and being cognitive is one thing and having healthy emotions sit alongside each other. Neurology and psychology are becoming more important. Therapy and counselling when you need it will start to come into spas.
Gut health is increasingly important; it's like your second brain. Facials and massages are still the biggest selling points, but psychology and gut specialists are dovetailing. It's all about cognitive behaviour and thinking and feeling and going deeper than topical therapies. Some spas have always been taking about this – Austrian and German spas such as Lanserhof and LANS Med Concept and Parkhotel Igls in Innsbruck have always been about the gut: that's always where they started.
Personalised medicine and accessible affordable DNA testing is the way forward, too – many of us are prepared to seriously change our ways when we know it is genuinely, personally effective. Results are don't just show what we have a pre-disposition for, it's what exercise is best for us, what foods are most suitable and what is to be avoided. Basic things that prevent years of barking up the wrong tree.
Wellness is a feature of most luxury resorts, but what makes an exceptional spa experience?
The therapists and the journey – it should be a seamless experience from start to finish that involves the understanding of spa hospitality every step of the way. The best training for treatment therapists combined with slick, simple operational ability to the highest standard – even in a small spa.
It doesn't have to be a £20-million spa with marble everywhere… 'Journey' is a cliché as a word now but as long as from the minute I get there someone is attentive and welcoming and it is clean, simple and the right temperature with a great menu that fits with that location, it works for me.
Is society growing more health-aware than image-conscious? In a stressful and fast-paced world is demand moving away from aesthetic and anti-ageing towards more holistic or scientific mind- and body-focused treatments? 
Absolutely. But the secret is to incorporate both needs in the spa offering – vanity and sanity services!
Chinese want intense bodywork Tui Na and cupping, deep massage quite painful; Russians want slimming and cellulite bashing, Brits want anti-ageing, and Swedish massages and Americans want the grooming.
Whether we like it or not, millennials want perfection and the treatments which are like real-life PhotoShopping; the blow-dries, the instant honing and toning, so they can appear perfect on social media and in-person – they want their face tuned for life on and off digital platforms. They also want the fitness and wellness – it's all about health status.
What does "mindfulness" mean to you?
It means not being in un-conscious autopilot slowing down the mind and body and not rushing around in a distracted manner, jumping from one thing to another. It is about being calm, aware and disciplined and focused. It's not rocket science. We need to learn that busy busy busy does not mean successful and certainly not happy.
You recently interviewed Deepak Chopra for The Antidote – do you believe we create our own stress, anxiety and illness, and can we really learn how to shape our gene activity? 
Yes, I do, on all counts. I host salons where we get together and debate it and really look at the philosophy. I did a series with Selfridges, and that's what the industry needs – gurus who reminded most disease is lifestyle-related. I'm currently working with Grace Belgravia – discussing with brilliant in-house and guest experts at the top of their field big issues including anxiety and depression in teenagers and HRT and menopause. The info they impart in person is so powerful. A two-way conversation is the only way to get to the bottom of the thorniest issues. It's also incredibly important to discuss problems together and not feel alone in our struggles. We're so suggestible and have to check-in — raw kale for instance, the current green juice obsession, is classed as goitrogenic since it can affect thyroid function. Most expert nutritionists advise we eat them cooked to get the health benefits — even by lightly steaming, the goitrogens are deactivated. Advice especially pertinent to women since we are more likely to suffer thyroid problems than men.
Five simple everyday tips to help manage stress? 
Walking my dogs in nature.
Deep, long breaths whenever I remember to take them — at least six times a day — and lots of stretching to release physical tension.
Taking time away from the computer; writing with pen and paper.
Make a master list of everything you need to do, in order or priority. Then shave off a few manageable things and allocate into each day, with realistic timing, planning a week at a time. If you don't fit everything in for today, work out when you can next fit it in. It's called eating the elephant a mouthful at a time!
Dinner every night, or the vast majority of nights during the week, with my family.
How do you forecast the future of wellness? A demand for more sustainable spas? More wellness offerings for children and teenagers in response to an increase in obesity, depression and anxiety in younger people? A bigger focus on mental health? 
Yes, to all of the above. Being more sustainable is a must, whatever the target audience. No spa is worth its salt without mental health being at the heart of all they do — even a facial.
Finally, have you discovered the secret to happiness on your wellness journey? If so, please share!
There is no one-size-fits-all secret. I think we overestimate what happiness is and how to achieve it putting it on such a pedestal it's almost impossible to reach. Just seek to be yourself, do things that are genuinely meaningful and don't imprison yourself by surrounding with tasks and people that you don't care for. Then happiness will come along of its own accord. It's beautifully simple when we take a big step back and look at our own bigger picture.
Suzanne's Favourites
1. Best London pedicure? Margaret Dabbs Foot Clinic & Nail Spa at ESPA Life at Corinthia.
2. Most effective anti-ageing product? Sisley Hydra-Global Intense Anti-Aging Hydration.
3. Digital detox? Villa Stéphanie in Baden-Baden, Germany.
4. Favourite healthy eatery? Ottolenghi. Although I am very excited about Yeotown Café opening in Chiltern St London. That will probably become my new favourite when it opens in Julne.
5. Most loved destination spa? I don't have a favourite – I love Vana in North India; Yeotown in Devon and Schloss Elmau in Bavaria for family-friendly spa time.