Start Your Journey to Self Care With the Hayo'U Method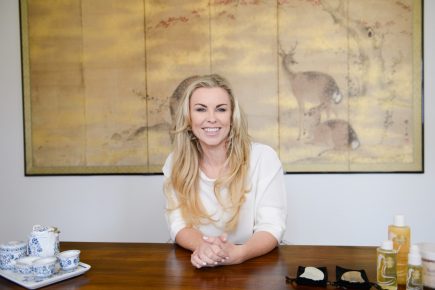 I didn't know much about Chinese medicine, but that was all set to change when I met Katie Brindle. An impressive and knowledgeable lady Katie is a Chinese practitioner and an expert in Yang Sheng (meaning to nurture life). It is a central aspect of Chinese medicine and the key to successful Yang Sheng is to implement simple self-treatment techniques. It's essentially about prevention, rather than cure. The great Chinese proverb states that 'A drop of prevention is worth a bucket load of cure'. It certainly sounds very wise to me.
Once an opera singer, an accident ended Katie's career and she used Yang Sheng to help her solve her health problems. She became passionate about championing this sustainable solution to well-being that had worked so well for her, and spent large periods of time travelling to China to learn more about Chinese medicine. This passion and thirst for learning has culminated in her developing the Hayo'u Method which has been designed to inspire people to master their own health.
One of the root causes of many modern-day illnesses is stress, and unfortunately, stress is an unavoidable symptom of modern life. Katie says that 'fast-paced modern living sends stress levels rocketing, triggering the release of adrenalin and cortisol. In excess, these can cause inflammation, disrupt our circulation and contribute to chronic health problems from a weak immune system, poor sleep and weight gain, to premature ageing, skin disorders and pain'. With the Hayo'u Method Katie believes that we can address stress by making small adjustments to our daily lives.
On the Hayo'u Method website you will find a series of one-minute rituals which have been designed to help reduce stress and inflammation on a daily basis, by relaxing the body and enabling a free flow of circulation and assisting detoxification. These include the Rescue Breath Ritual, The Reset Ritual, The Body Restorer Ritual and The Beauty Restorer Ritual. A short description, illustrations and simple to follow videos make these extremely easy to pick up quickly.
Not only does The Beauty Restorer help to release tension, it is also being hailed as a gem of a beauty product. Made from Xiuyan Jade (used in Chinese facial massage for thousands of years), and shaped to fit the contours of your face, using the product just once a day helps increase circulation, stimulate the dermis to boost collagen and elastin and relaxes muscles for a more nourished and radiant complexion. Now that's magic!
The 16th Feb is Chinese New Year, so why not celebrate this by exploring more about this age-old practice and start your journey to living well.
For more information visit www.hayoumethod.com. As well as a step-by-step guide on the rituals, you can shop product (including the most incredible scented Mineral Bath and Mineral Wash with Himalayan pink salt, frankincense and lotus flower – think spa vibes in your home) as well as seeking out advice on specific health concerns, such as how to relieve anxiety, and how to deal with fatigue.