Spa, Wellness & Romance – We Check In to Preidlhof
There are some spa hotels that are all kale juice, bamboo robes, hush zones and early starts. The Preidlhof is not one of those spa hotels, as this very happy and fully recharged guest is delighted to report.
Yes, there is green juice (you can choose from the daily house blend or DIY from a basket of fresh fruit and veg) as well as yoga and gong baths and plenty of space to get quiet in the beautiful nature of the South Tyrol mountains. But there is also cake for breakfast, a lot of pink shagpile carpet, indulgent three-hour body treatments and gala dinners complete with raucous conversation and free-flowing local wines…
The Preidlhof is a wellness resort that fully embraces the ethos of 'well-being' as anything that makes their guests feel healthy and happy, and understands that could mean sleeping, sweating, swimming, hiking, romancing, stretching, meditating, eating, sauna'ing, drinking, pampering and/or simply lounging for its guests (50% of whom are repeat visitors – always a good sign) and offering the opportunity to do any/all of these with state-of-the-art facilities, glamorously-appointed rooms and a brilliant schedule of activities.
The emphasis here is on relaxation and romance, rather than detox or total fitness, and I defy anyone not to feel rested and well-loved after a couple of nights here in the mountains with the Priedlhof team. (Detox packages are available, and there are two state-of-the-art-gyms on-site as well as doctors and nutritionists on hand to create bespoke health-giving/weight loss plans, but less than 5% of guests opt for the healthy plan, and there were zero detoxers in the house during our stay).
The Spa
Designed to make the most of the stunning views and the Mediterranean climate the original spa is part of the pretty pool complex featuring treatment and relaxation rooms overlooking the pools and gardens with daybeds galore.
There is also the option to have several of the massage treatments outside under the olive trees. Inside, treatments rooms are divided into speciality areas, including Shiatsu, Bodywork and Ayurveda, and there's an elegant Hammam – perfect for couples.
The Spa Tower
In a totally separate building, this six-storey temple to the art of the sauna is a wonderfully relaxing way to spend the day. And/or night as the beautiful space, including the rooftop infinity pool, stays open until 11pm.
Those in the know (80% of the guests here are Swiss, and the Swiss know how to sauna) spend hours dipping in and out of the 16 different saunas, relaxation areas and sun terraces, warming up, cooling down, relaxing and enjoying one of the various 'aufguss' (infusion) experiences, before doing it all again.
For those not in the know – aka most Brits – I highly recommend taking a Sauna Tour early on with one of the Tower staff who are able to advise on the who/what/how/wear of sauna-ing. (And re what to wear the answer is: 'not much'. Most of the saunas are clothing-free zones which as a reserved Brit took a little bit of getting used to, but I soon realised is entirely necessary when you are sitting for anything more than a couple of minutes in temperatures up to 80 degrees.
Producing buckets of sweat is the aim of the sauna experience, and costumes and jewellery can also heat up to a dangerous degree). Elsewhere in the hotel there are a couple of discreet sundecks and a pool area reserved for nudists.
The Treatments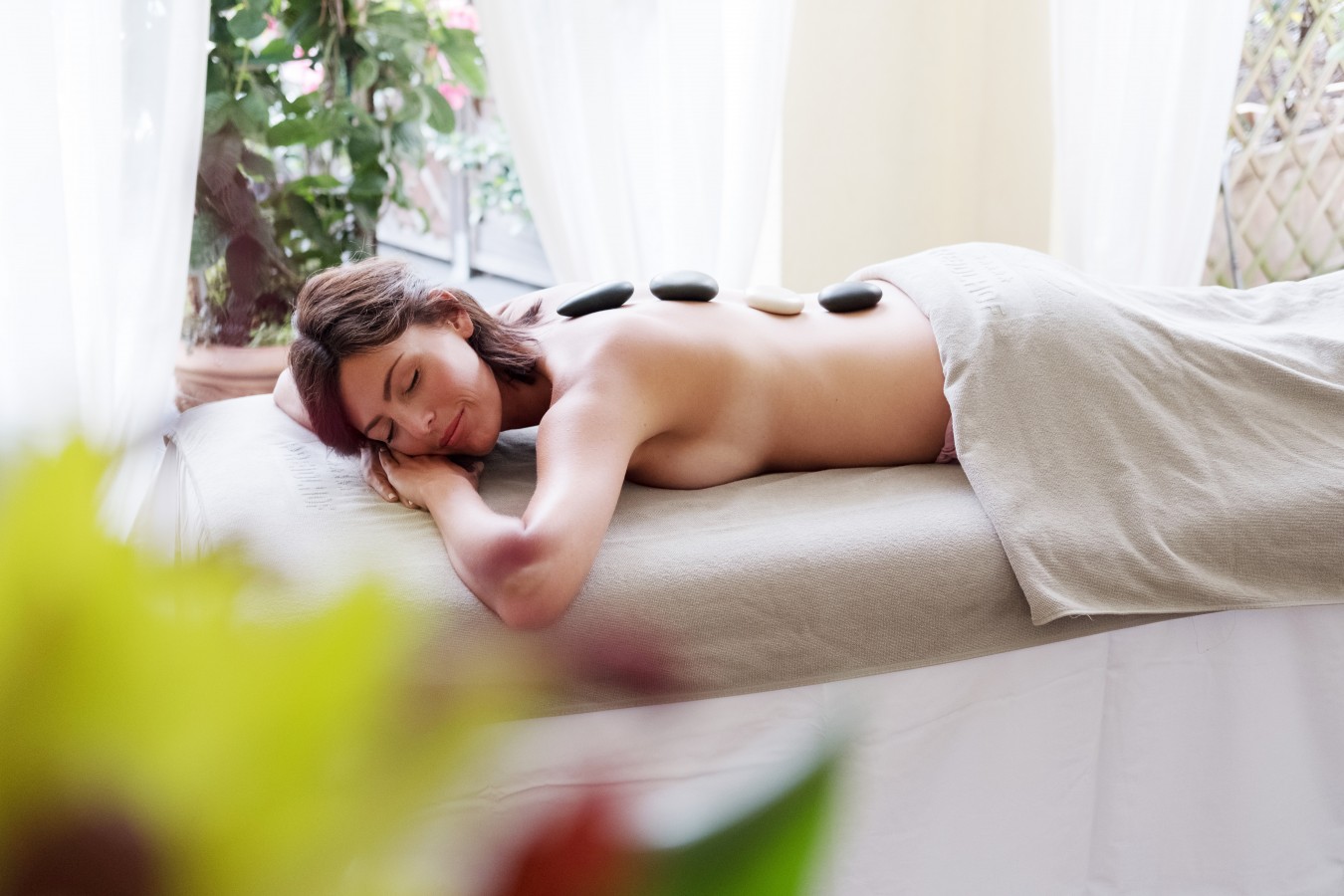 My husband and I enjoyed an utterly relaxing Harmony couples massage with semi-precious stones, including the detoxifying (and always icy cold!) mountain crystal (222euros), but it was the Phyto5 Facial that I'll be booking my return trip for: a clever combination of Swiss products and Chinese energy elements.
I loved the Quartz bed – used as part of a raft of chakra-based treatments – and the husband's favourite was the (award-winning) Deep-Sea Relaxation chamber that uses LED lights (12,000 of them!) and music to send guests into a state of deep, restorative relaxation in 15 minutes.
To Stay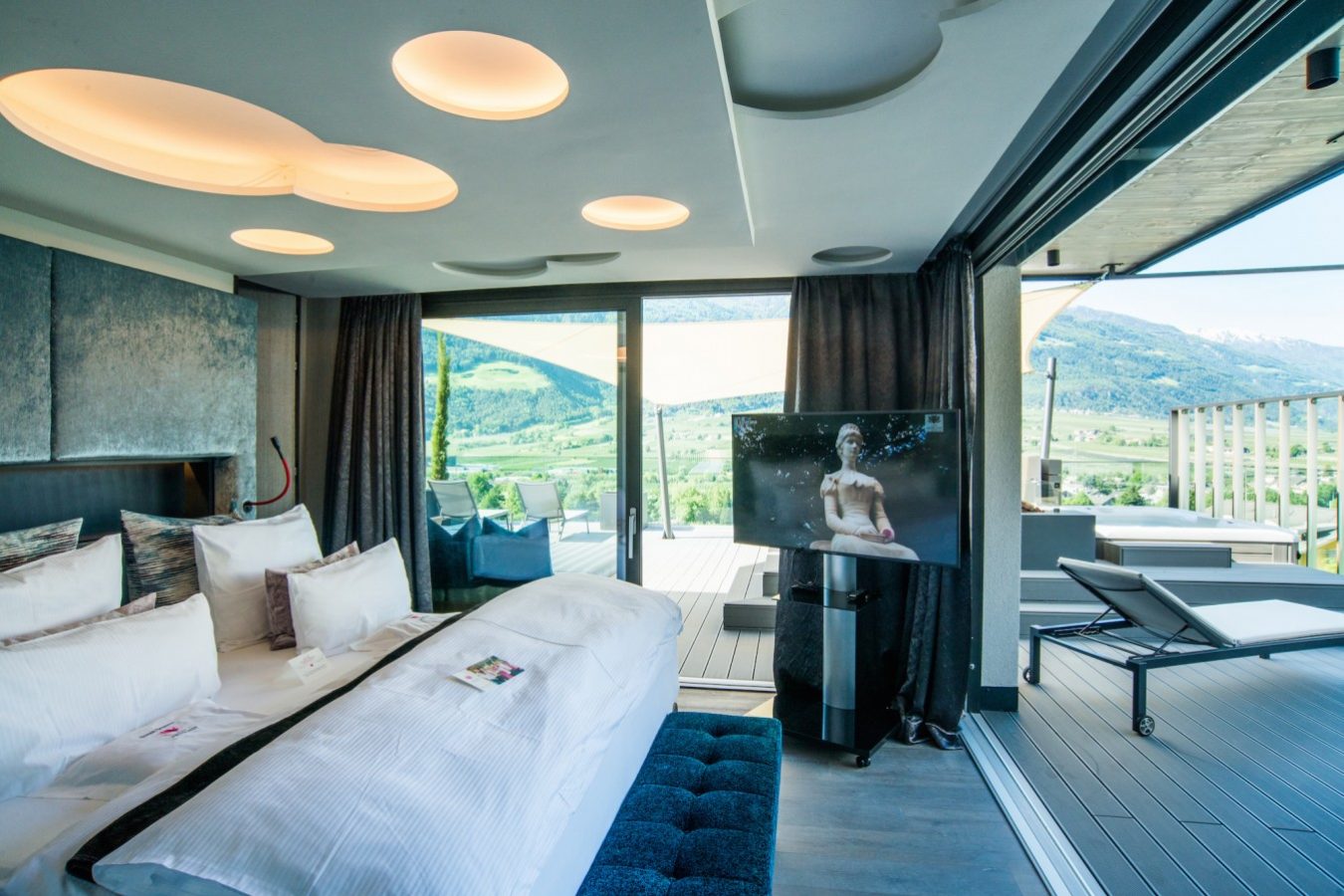 We stayed in a Romantic Suite (You & Me) in the newer part of the hotel, with beautiful views onto the Vinschgau Valley. The decor here is unusual for an Alpine retreat: it's plush, pink and very glamorous, but we soon got used to the glitz (turns out velvet and chenille = super cosy after a long day hiking, biking or spa'ing) and our favourite part of the room was actually outside: a day bed that could be turned into a proper bed for the evening, meaning we could sleep under the stars.
To Eat
Don't forget to pack your willpower. As mentioned there are plenty of great healthy options (nuts, seeds, build-your-own salad bowls, fruit everywhere and low-calorie snacks are available at all times of then day) but there are also plenty of not-so-healthy-but-totally-delicious options and so all attempts at balance will be on you.
Menus change daily, and a five-course meal (with matching wine) is the norm in the evening. A long, leisurely breakfast was a highlight (daily until 11am, champagne optional) and we were also really impressed with the vegetarian choices.
Facilities & Activities
The room amenities are a brilliant indication as to the scale of 'stuff to do' here. As well as the usual minibar and cosy gowns there are slouchy wellness bags for the sauna-goers, a cycling belt and activity backpack for the adventurers and a single pink feather for the lovers*. We also loved the 'sleep better' kit (available on request) with essential oils and burner, iPod with a spiritual soundtrack, a dreamcatcher, eye mask and earplugs to help recharge.
*A note on romance: This adults-only hotel is built for couples (gay and straight) and if you want to ramp up the romance levels there are plenty of extra ways to treat your plus one, including: couples massage and spa experiences, private dining under the stars in the garden pavilion or under the floorboards in the wood-clad wine room, a romantic room service menu featuring whipped cream, honey and ice cubes (which on day one we thought was more than a bit cheesy but by day four was sounding quite appealing – something to do with spending all that time naked in the sauna maybe?!) and, possibly the most romantic of all: an after-dinner private infinity pool and champagne session at the top of the Spa Tower (extra fee).
Don't Miss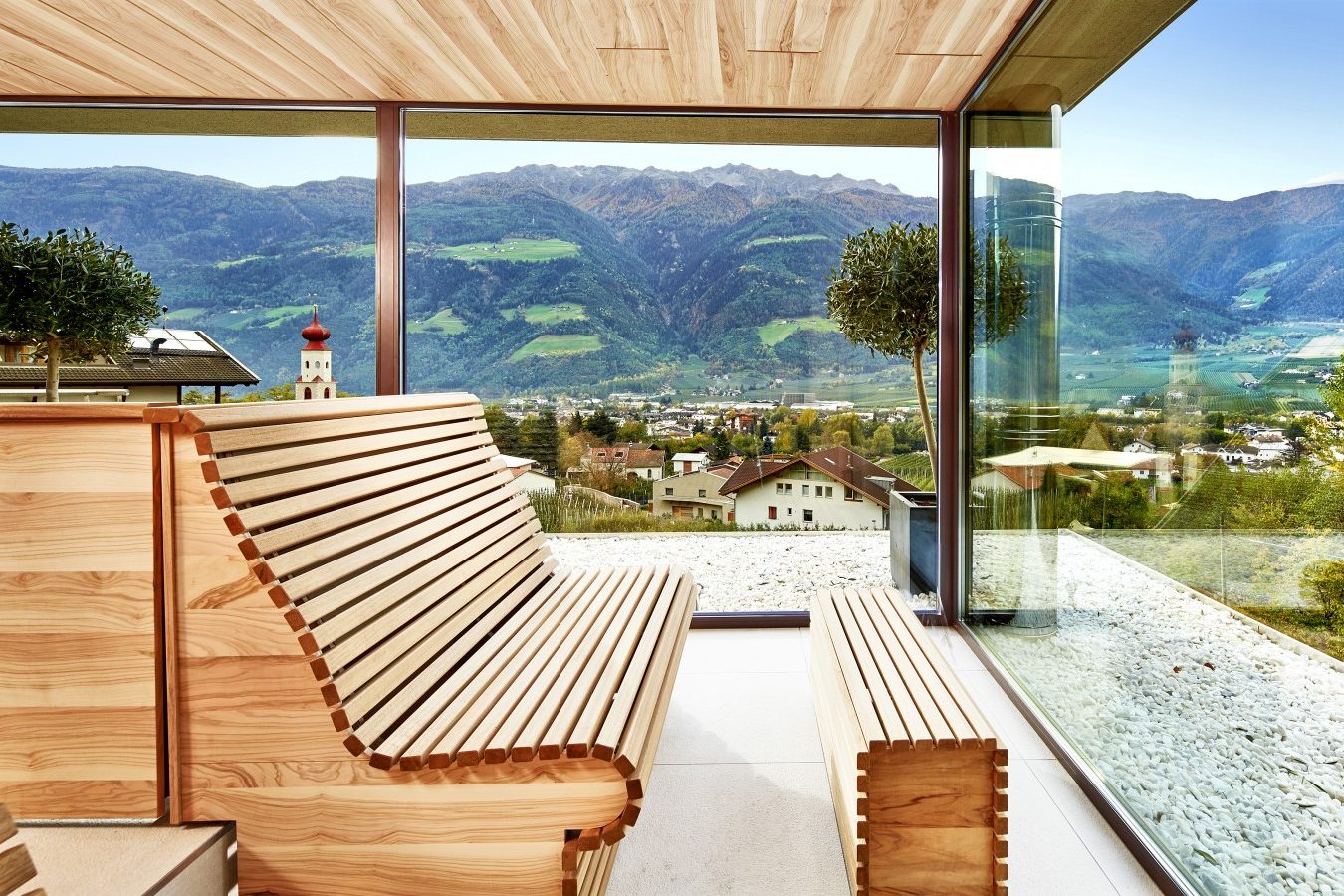 The subterranean '1950s' swimming pool: a thing of retro beauty.


The meditation room: pure peace overlooking the gardens in the spa tower.
  

The sunny yellow house Vespas: complimentary (you'll need to make a reservation) and a brilliant way to experience the mountain roads.


The infrared sauna room: a great detoxing sauna experience for beginners (clothes allowed!) in a room made of pink Himalayan sea salt bricks and overlooking the mountains. Just gorgeous.