The Geo Spa at Four Seasons Resort Langkawi Introduces a Guide to Harmony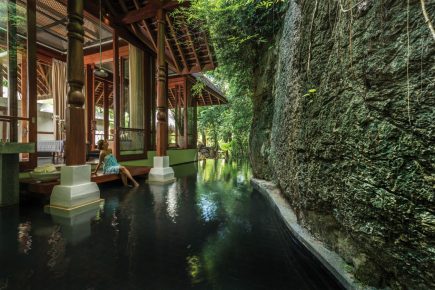 Lack of energy and even some illnesses can indicate an imbalance in our inner elements, caused by anything from emotional distress to a hectic lifestyle. Intent on restoring wholeness and connection, The Geo Spa at Four Seasons Resort Langkawi has introduced a Guide to Harmony, an energy-assessment experience to help guests identify the lifestyle changes needed to achieve optimum wellness.
Director of Spa Stephanie Cherbakow Baron explains: "The earth, water, air and fire elements present within us correspond to our physical, emotional, mental and spiritual wellbeing. In a world of increasing disconnection, balancing our inner elements helps boost our overall energy and restore a sense of harmony and unity."
The Guide to Harmony empowers guests to take control of their wellbeing through a simple-to-follow approach that they can begin at the Resort and continue back home. As part of the programme, all guests aged 16 upwards are invited to attend a complimentary 30-minute energy assessment at The Geo Spa, comprising an analysis of energy levels and a diagnosis to determine which element is most out of balance.
Supporting the diagnosis, the printed Guide to Harmony advises lifestyle changes that guests can implement to redress the balance. Its simple sections are designed to help guests identify signs of energy lows and highs; choose balancing foods; select energy-appropriate Spa treatments and activities; and incorporate wellbeing tips into their life.
The Geo Spa and Resort chefs have also devised a unique food-labelling system – present on all Resort restaurant menus – to enable guests to select dishes according to their elemental properties and restore the body's natural balance from the inside out.
"Consciously living through the four elements and in a balanced way puts us closer in touch with nature's rhythms and greater universal wellness," concludes Stephanie Cherbakow Baron. "The opportunity to do this in the Langkawi UNESCO Geopark surrounded by Southeast Asia's oldest energies is a very powerful experience."
The Geo Spa also offers Elemental Balance rituals – three-part Spa treatments comprising an energy assessment with energy test and Guide to Harmony, specially tailored treatment and an energy-balancing meal.
Did You Know?
Balancing our inner earth element has a positive effect on our physical self. It grounds and nourishes us, bringing a sense of structure, security, and wellness.
The water element represents the fluidity of our subconscious mind and inner energies. Balancing it helps soothe our emotions and enhance feelings of joy.
Balancing our inner fire element helps channel powerful forces of passion, creativity and wisdom, fuelling us to trust the spark of our own intuition.
A balanced air element helps keep us calm and focused, capable of clear thought, a positive demeanour and a good sense of perspective.