Q & A With Pure Massage Founder Beata Aleksandrowicz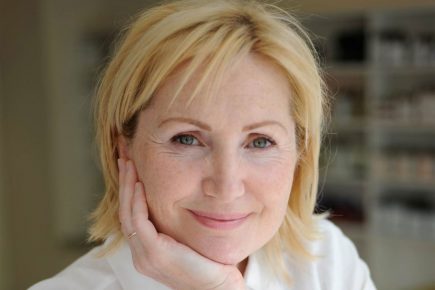 Beata Aleksandrowicz is an expert on massage and a passionate advocate of the power of touch, the importance of human connections and spiritual growth. The creator of the Pure Massage Spa Training Method®, she teaches massage in leading spa destinations around the world from Finolhu and Huvafen Fushi in The Maldives to Dormy House and Gaia Spa at Boringdon Hall in the UK. A published author, she travelled through Africa working with Kalahari Bushmen and is a member of the Mental Wellness Initiative for The Global Wellness Institute.
What are the spa trends you are seeing as you travel the world? 
Clients have an increasing awareness and knowledge of the benefits and importance of massage, healthy lifestyle, ecology of mind and they expect spas to respond to these demands by offering high-quality treatments that go beyond pampering and beauty and can be developed to much higher standards, towards relaxation, health and wellness. Trends are definitely towards guidance to healthy and fulfilling life rather than services based strictly on pampering and gimmick treatments to impress. People are looking for treatments and spa retreats that deliver long term positive change. Spa is becoming a place of support in self-discovery, self-awareness and health. Wellness offerings are booming, and there are also more spas offering medical services like tests, in-depth cleansing programmes, post-surgical recoveries, services based on integrative rather than traditional medicine. I just hope that as much as luxury spas are developing their wellness offering, there will be a steady growth of communal spas with affordable prices, serving the local communities not only through no-nonsense and effective treatments, wellness education but also through giving people chance to meet, to relate to each other, to co-exist, which in my opinion is so important in time of increasing alienation and mental health problems on a global scale.
I think that we are increasingly seeing a more environmental approach in spas (which is excellent) and the use of environmentally friendly packaging, saving water through reduction of used towels etc are all very important steps. You see this happening and more and more and it is vital in island resorts.
What makes a great massage? 
A good massage should offer much more than physical relief and relaxation. Delivered with knowledge, humanity, professionalism and commitment, you should feel cared for. You should also feel a positive change that addresses your concerns. A good massage should make you feel more positive, at peace and connected with yourself. There should be clear guidance on how to support the results of the treatment at home.
What is the Pure Massage Spa Training Method? 
Pure Massage Spa Training Method® is the result of my 20 years of work as therapist, healer teacher and business executive. It's a quest to provide therapists with all tools needed to offer highly effective, with the humanity at the core, treatment. It is a training in a modern concept of massage based on 12 Principles of Massage. It gives therapists and the clients an education about the importance of touch, massage and spiritual growth.
The Pure Massage technique combines elements of deep tissue, trigger points and myofascial release, quantum healing and energy work. It acknowledges the intelligence of the body in self-healing and protection. It teaches therapists a highly effective yet injury-free techniques and gives them also the knowledge ho to take care of physical and emotional wellness
I am proud to say that my massage concept has been referred to as "the best in the world" by the Tatler Spa Guide.
What is the power of touch?
Touch is the mother of all senses, and is the first sense that develops in the embryo. It's how we learn about the world around us and gives us the deepest connection with another human being. It brings comfort, reassures us that we are not alone, provides warmth, care and attention. We need to recognise the healing power of touch.
Why is it so important?
In today's disconnected world we avoid touch because we don't have the emotional understanding of how to respond to it. People don't know how to handle intimacy either – even a simple hug can become a problem. This is why touch can be misunderstood and misused. Positive touch is a condition of physical and emotional growth and I believe massage plays a vital role in restoring this balance.
What do you mean by the human experience in spas?
A human experience is one that considers the mind, body and soul as one. It addresses a deeper level of humanity within us and people are craving it. They want an authentic human connection in the spa because, as a society we are increasingly disconnected from ourselves and one another. I believe that the human experience is about connecting people as individuals and offering them something simple, yet profound.
Delivering this requires awareness and presence. You need to engage with clients, talk to them and truly connect. Done correctly it makes people feel welcome, special, unique and valued. By creating a human connection, you facilitate true personalisation, taking it to another level.
Why is this important in the spa industry?
Spas are faced with the necessity of delivering a wellness concept but it's not possible to deliver this without authenticity and connectivity. Wellness requires guidance, advice, education which has to be based on a personalised experience with the spa team. This is essential to create real change in people's lives.
What do spas get wrong?
They often underestimate the importance of the therapist's role in making such a positive change in a client's life. I am always frustrated at how many spa owners and operators refuse to see how important it is to invest in therapist's continuous education. They need to provide them with the ethical workplace so they can feel acknowledged and part of the much bigger picture.
What do they get right?
Spa are changing – they have to. They are opening their horizons, listening to clients, starting to understand that in order for the spa to be successful they need to invest in their people and their mission.
What advice do you have to improve sleep?
Sleep is vital for life, health and happiness. In today's digitally driven world, we rarely get enough. Hormones play a vital role in our sleep patterns and massage is an excellent way to positively influence these whilst helping to soothe the soul and calm the nerves, ensuring you get a peaceful night's rest.
Taking a warm bath and meditation, whilst reducing caffeine and avoiding all blue light can help to boost the sleep-inducing hormone melatonin.
There are other ways you can influence your sleep patterns. It's very important to close your day mentally. Don't go to bed with your problems, concerns and grudges. Read for a while, or listen to some gentle soothing music.
Do you have any top tips for adding wellness into your daily life? 
 
Beata's Best:
 
Treatment: regular massages even short ones will do much more than a once-a-year two-hour ritual
Products: Aromatherapy Associates and Elemental Herbology
Spa: Wherever Pure Massage Spa Training is – so Dormy House Hotel, Gaia Spa Boringdon Hall and Amilla Fushi, Huvafen Fushi and Finolhu in the Maldives.
Healthy eatery: I believe in intermediate fasting, eating light in the evening, avoiding eating when stressed or tired.
Interview by Mark Smith