NihiOka Spa Safari at Nihi Sumba Island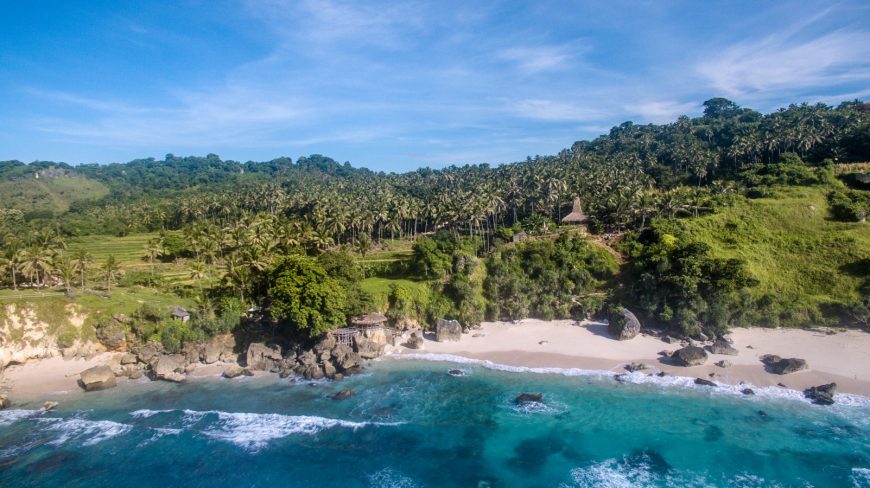 Far-flung wild-fitness spa adventures don't leave you feeling better than here on an undeveloped eastern island of Indonesia. The NihiOka Spa Safari takes guests on a journey across Sumba island's dramatic west coast for a full day of locally inspired treatments amid soul-stirring nature at its wildest.
All spa experiences should start with a hike through wilderness. Gone are the days when a little pampering on a treatment table can declare to do all that much for mind, body and soul. Here at Nihi Sumba Island, you reach for a walking stick, and set off from camp to walk up dusty hills, through farmland ending up with a whirl around an authentic village. You'll be sure to have cleared your head before you even get to any spa treatments. (Talking of heads though — they only made head hunting illegal here fifty years ago.)
Yes, it was ridiculously restorative enjoying a Mimpi Indah facial with coconut oil, red rice and Rosella tea mask to the sound of the waves crashing below. And of course the Lulur medicinal wrap with detoxifying herbs and spices from the neighbouring rice farms applied here in the open-air felt a treat. But even if the walk didn't culminate in au naturel spa therapies, and a delicious banquet of healthy gently spiced Indonesian dishes, time here would feel like a privilege.
This nature-loving luxury island resort was known as Nihiwatu until recently. It all started with an amazing wave discovered by passionate surfers, and now this wonderfully remote retreat which has its own foundation is enjoying a new chapter, with new owners. Since over a billion of us are hot-footing it around this much-explored world, Sumba provides luxury travellers with a rare travel experience. A 50-minute flight and 250 miles south-east of Bali, the Indonesian island is twice its size, yet like travelling back in time. What's special about this 580-acre land is that only a tiny fraction of it has been developed. And that's including the stables and equestrian centre.
James McBride, South African hotelier and Chris Burch bought it in 2012 after a surfing trip in the late 80s inspired an American couple to create Nihiwatu. After Claude and Petra Graves had discovered these dream surfing conditions off its coastline, their ambition was to protect and preserve Sumba's culture and empower its island communities through the Sumba Foundation. Don't worry if you're not a pro — the top-flight surf school offers beginners an opportunity to learn at this surfers' paradise, and that side of things is no longer reserved for advanced and professional surfers. My nine-year-old's surfing lesson had her upright on a board on the water in no time — resulting in a memory we'll cherish forever.
For me what leaves the best feeling of all is that Nihi Sumba hospitality makes their non-profit work possible; this supplies clean water, inoculates against malaria and aims to improve nutrition on this remote island in this South-East Asia archipelago. And not many spa treatments can say they achieve that.
Wild & Free wellness retreats with Australian yoga luminary Sjana Earp and movement guru Rod Cooper run from 7—12 October, 2017