Nichola Joss's Inner Facial at the Old Rectory, Hastings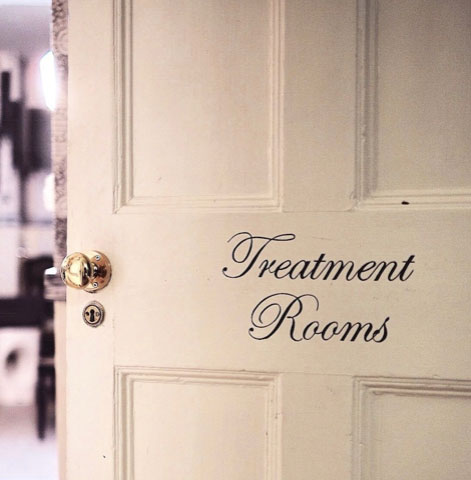 What do Meghan Markle, Margot Robbie and now lucky ol' me have in common? Well, along with the likes of Kate Moss, Gisele Bundchen, Gwyneth Paltrow and more, we've all had the fabled Inner Facial.
Invented by celebrity facialist Nichola Joss, until recently, the treatment was only available at Joss's clinic in London or at her residencies in New York and Toronto.
But now Joss's right-hand woman Charlotte Conneley, who's been personally trained in the technique by Joss, has started offering Inner Facials at the sumptuous Treatment Rooms spa at a gorgeous boutique hotel for grown-ups, The Old Rectory in Hastings.
The very charming Charlotte has worked alongside Joss as her number one assistant for almost a decade, but since the Treatment Rooms opened in November, works half the week in the capital and the other half in Hastings.
One of the most revered skincare specialists in the world,  Joss created the Inner Facial as an all-natural holistic facelift. Put it this way, if there was an Olympics for facials, this technique would be banned for having an unfair advantage. It's like a facial on steroids.
The hour-long treatment sees your face and even inside your mouth deeply massaged to tone the skin, lift and sculpt facial contours by improving the health of muscle tissue, remove stress and tension from your face, aid lymphatic drainage and reduce puffiness, stimulate skin cell renewal and ultimately, leave skin healthy and glowing.
Happily robed and toasty lying on a massage bed in the Old Rectory's beautiful bijou spa, which includes a sauna and three treatment rooms, all tastefully decorated in understated shades of cream, taupe and grey, Charlotte starts my treatment.
It begins with a light cleanse to remove make up, using rigorous, rhythmic kneading movements, followed by a deep cleanse – she's a big advocate of the double cleanse. She then exfoliates, all the while using delicious Decleor products specific to my skin type. She then continues the facial massage to work in the divine-smelling Hydra Floral Ultra-Moisturising  & Plumping mask and her fingers of steel really get to work, firmly massaging this elixir into every nook and cranny of my winter-ravaged face. It's like my skin is getting a session of HIIT when it's never stepped foot in a gym before.
Charlotte then dons gloves to work inside the mouth to address deep tension issues along the jawline and under the cheekbones. It might sound unconventional, and it's certainly a little uncomfortable at points, but the feeling afterwards is amazing. The treatment closes with toner to remove the last of the mask, then moisturiser applied with calming strokes and some clever use of a head towel to release muscles, and a thorough massage of the neck, shoulders and décolletage, all to help with lymphatic drainage and to vanquish any last vestiges of tension.
I cannot stress enough how incredible the Inner Facial is – my skin afterwards was so soft, plumptious, radiant and glowing, even my boyfriend commented. Plus the results lasted for days afterwards. I'd have one every week if I could.
Then again, I'd stay at the Old Rectory every week if I could.
An elegant 18th Century building with stunning walled gardens a stone's throw from the beach in Hasting's wonderful Old Town, it was turned into a luxurious eight-bedroom boutique hotel a few years back by Lionel Copley, former design director at Katherine Hamnett. Each uniquely decorated room is even stocked with Lionel's own bespoke 'Copley' toiletries, made in Hastings using locally sourced ingredients such as sea salt and sea buckthorn
We stayed in the Crown Room, which featured stylish decoration, a hugely comfortable bed, a romantic freestanding claw-footed bath and a secret loo hidden behind a bookshelf.
A chic, contemporary yet comfortable and cosy place to stay, The Old Rectory had wonderful open fires roaring whilst we there in the stylish communal living room. The honesty bar stocked with prosecco and more was a lovely touch, there were homemade treats to go with the tea and ground coffee in our room – together with fresh milk – and the hearty, made-to-order breakfasts utterly delicious. They're all made with locally sourced produce and even feature sausages they make themselves and smoked fish fresh from Rock A Nore Fisheries down by the beach at the end of the road. They even cure the bacon themselves and bake their own bread.
You also couldn't ask for friendlier, more helpful staff –  special shout outs to Kayleigh and Tracey-Ann who keep the place running at five-star levels and give brilliant recommendations for the best places to eat and drink in the Old Town. We loved Webbe's Rock A Nore for seafood, The Old Customs House for lunch, and drinks at The Crown and FIIL.
Other amazing treatments as well as the Inner Facial are also available at the Old Rectory's wonderful Treatment Rooms. I also enjoyed a tremendous one-hour Decleor deep tissue massage during our long weekend stay under the talented hands of Treatment Rooms' supervisor and therapist Lucy.
After filling out the prerequisite questionnaire into my medical history and the areas I wanted targeting, Lucy gave me the choice between three heavenly Decleor  Aromessence massage balms, chockfull with essential oils. I opt for the most uplifting scent. I then sink back between the softest towels known to man, with two hot water bottles placed under my feet for even more comfort, before Lucy gets to work,
Using just the right amount of pressure for me – I like it hard – using powerful, rhythmic strokes and also targeting pressure points, she deftly unkinks the knots in my shoulders (no easy task), and uncrimps crotchety muscles in my back, neck and legs. When it's time for me to be flipped onto my back for her to work on my front, a lavender stuffed mask is placed on my eyes for even more relaxation. It's a faultless massage.
The Old Rectory really does have it all and I can't wait to return, not least for an Inner Facial. After all, what's good enough for Miss Markle is good enough for me…
Double rooms for two people at The Old Rectory range from £110-£165 a night with breakfast and free wi-fi included.
The Inner Facial  (60 mins) £120
Deep tissue Decleor Full Body Massage  (60 mins) £60