Wellness in Paradise – New Pilates, Yoga, & Beauty Retreats at Niyama Private Island, Maldives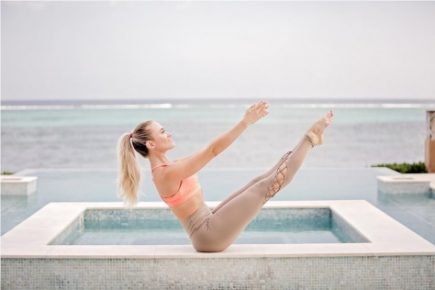 Wellness journeys and beauty retreats in Paradise – Niyama Private Island & Drift Spa, Maldives, announces three new retreats for spring…
What: Pilates & Yoga Retreat with Grace Hurry
When: 7 – 25 April 2019
Grace is set to host a series of exclusive classes at Niyama which will focus on alignment, strength and mobility through the practices of Pilates and yoga. Guests will get the chance to participate in Pilates Group Classes and Yoga Group Classes, with sessions geared to different parts of the body, as well as one-on-one sessions for those seeing to fine-tune their skills. Grace will also host Mother-Daughter classes and Pilates Play Workshops for children, highlighting how these practices are beneficial to people of all ages.
Grace trained at the Royal Ballet School as a child and found a natural transition to Pilates in her late teens. She went on to become a certified Body Arts and Science International (BASI) instructor and now owns and runs a Pilates academy in St. Ouens, Jersey. Grace also hosts regular retreats in top destinations across the globe, including Costa Rica and Thailand.
What: Beverly Hills IV Therapy with Deborah Alessi
When: Year-round
Launched in October 2018, the private island's DRIFT Spa, in collaboration with Beverly Hills IV Therapy, provides guests with a range of IV therapy formulations including Detox, Fat Burn, Hydration, Jet-Lag, Anti-Aging and Vacation Booster. IV Therapy is a safe, immediate and effective solution to many health concerns and helps to support optimal health and wellness, with benefits lasting for at least seven days post-treatment. The therapy delivers nutrients directly into the bloodstream for optimum results. Deborah Alessi, CEO of Beverly Hills IV Therapy, says that the therapy "allows guests to receive all of the vitamins they need to strengthen the immune system, clear toxins and hydrate."
IV Therapy Treatments are priced from £196, with treatments taking around 45 minutes. A free consultation and medical history review is carried out pre-therapy.
What: Non-invasive cosmetic treatments with Beverly Hills plastic surgeon, Dr David Alessi
When: 19 April 2019 – 29 April 2019
Dr David Alessi, renowned Beverly Hills plastic surgeon to the stars, will be returning to Niyama to offer his regenerating, non-invasive treatments in the tranquillity of the turquoise paradise. Dr Alessi is the founder and medical director of the Alessi Institute for Facial Plastic Surgery, Beverly Hills. Guests can experience a rejuvenating non-surgical facelift with the Maldives' only licenced cosmetic surgeon. In just minutes, faces are smoothed, tightened, lifted and revitalized through a signature combination of Botox, hyaluronic fillers, and Kybella – the first and only USFDA-approved injectable to dissolve fat cells under the chin that redefines and shapes the jawline and chin, achieving a more youthful complexion.
Book: The "Easter Chill, Play and Recharge" Package starts from £1,526 for a seven-night stay based on two sharing.
Niyama Private Islands proudly supports Face Forward, a charity founded by Dr Alessi and his wife Deborah, providing reconstructive surgery and emotional support for victims of domestic violence around the world. Along with the reconstructive surgery, Face Forward partners with local community centres to provide victims of abuse with counselling, housing, jobs and legal assistance.