Review – Nayara – The Award-Winning Luxury Hot Spring Spa Hotel in Costa Rica
Located in the Arenal Volcano National Park of Costa Rica, Nayara Springs is ideally situated for wildlife enthusiasts and adventure seekers alike. Where activities range from canyoning in the wild rainforest waterfalls, to kayaking on the tranquil lake. Followed by soaking in the natural hot-springs, heated by the third most active volcano on earth …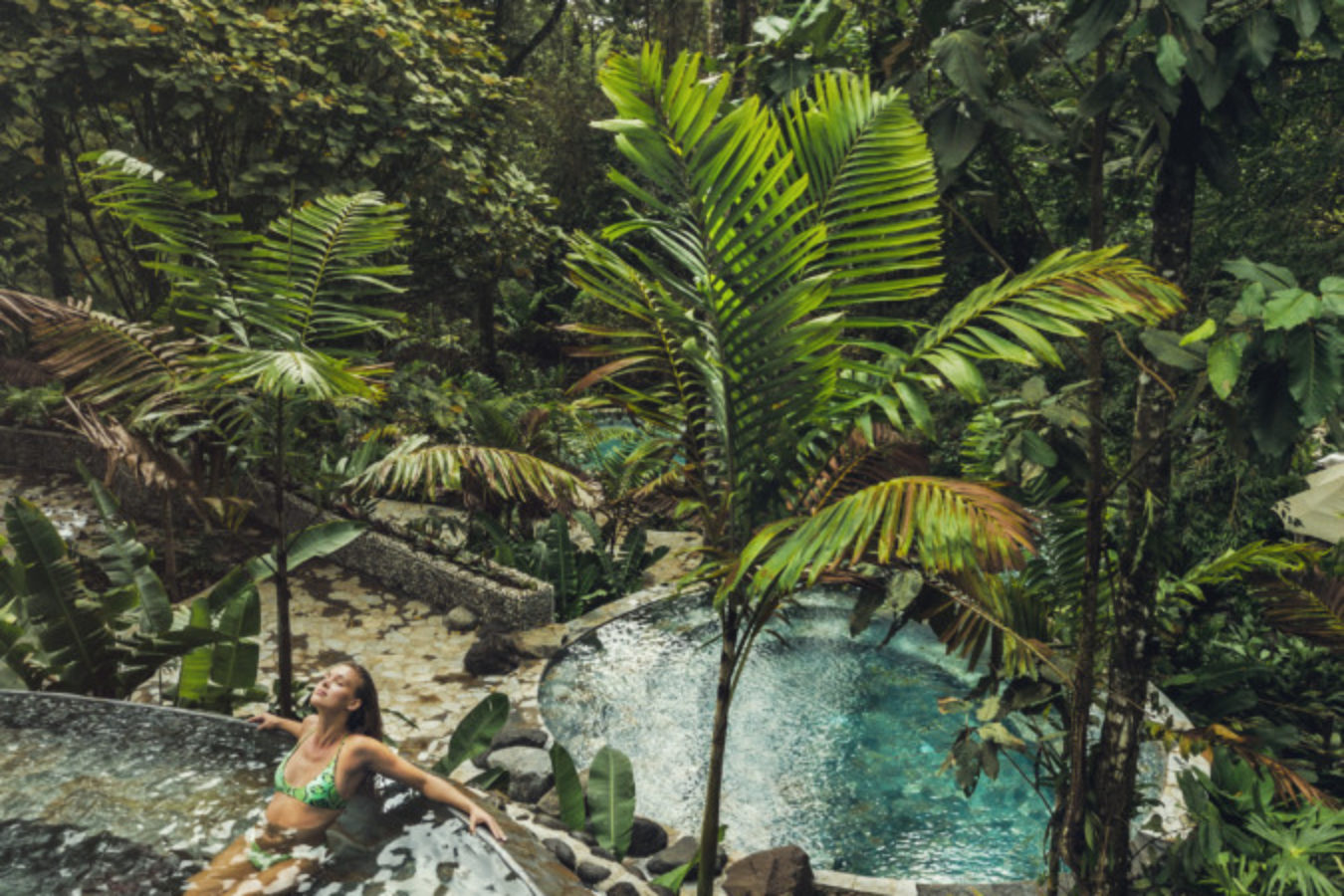 Nayara Springs is one of three interconnected sister properties, that also includes Nayara Gardens, and the latest opening – Nayara Tented Camp. And with Nayara Springs being the multiple award winning property, holding accolades including Best Spa In The World by Condé Nast Traveller, I went to find out if it lives up to the hype.
Nayara Springs is the ultimate spa hotel for hot spring lovers. With each room featuring its own private jungle nook with a plunge pool fed by spring waters flowing from the nearby Arenal volcano. Which (if you get lucky with a clear day) you can see from some of the terraces. Should you choose to venture out of your palatial villa, the property has a series of spring pools to enjoy too. Just dial your personal concierge, for a chauffeur driven electric golf cart, that quietly hums along the stone pathways and bridges. Keep your eyes peeled for lackadaisical sloths hanging from the tree branches, before arriving at a series of pools, spread over three levels and elegantly nestled in the rainforest. Where you can have a cooling plunge, warm dip or long hot soak the warmest of them all, which is 38 degrees celsius. All, again, naturally heated by volcanic geothermal energy. With waiter service right to the water's edge, creating a social atmosphere, and encouraging the (adults-only) guests to remain immersed in the womb like warmth all afternoon.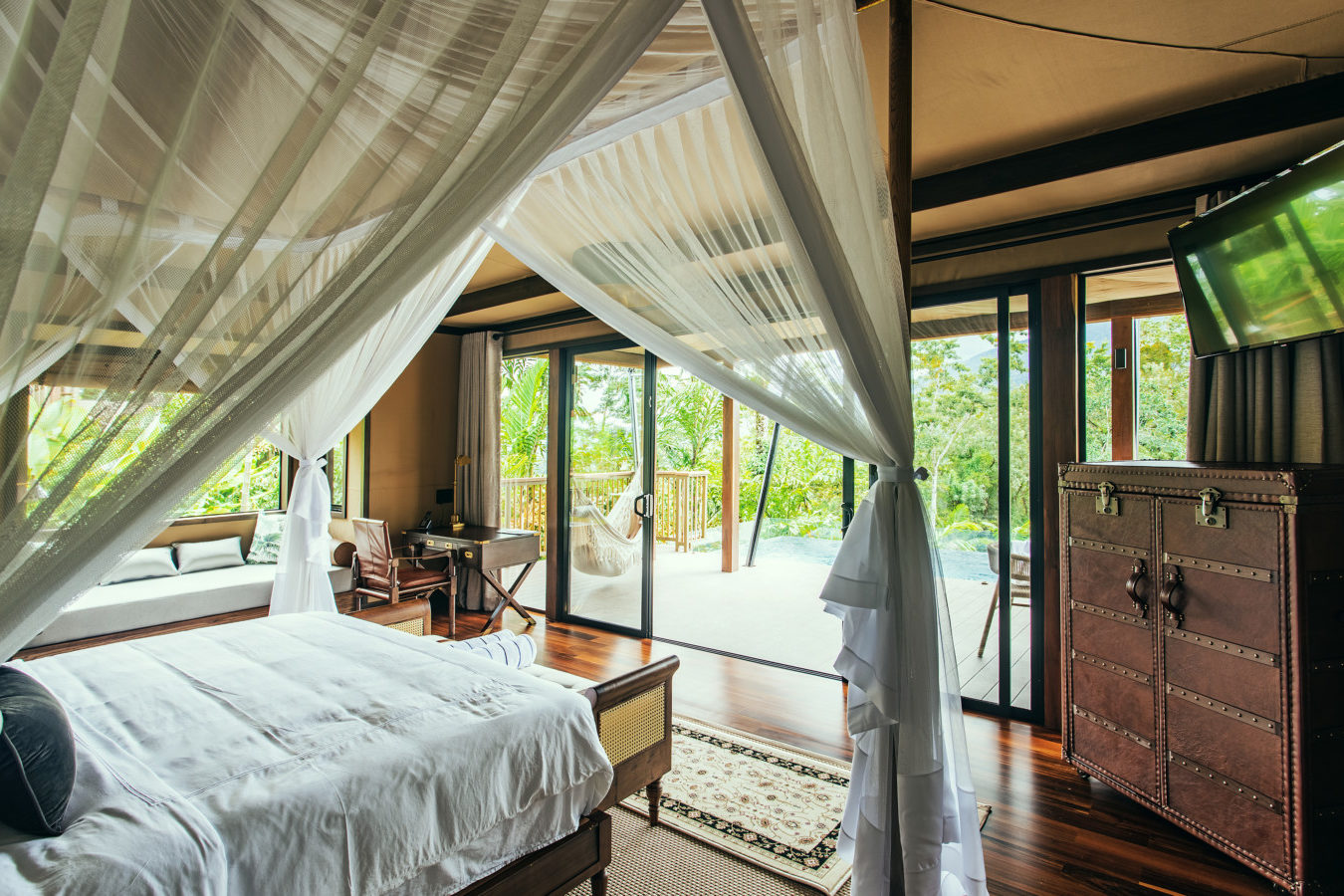 As you would imagine from a 5 star Relais & Chateaux property, Nayara Springs is a premium affair. However, the trendy looking website rather belies a more classical approach to luxury. With quite a grown-up feel to the comfortable and spacious villas. Which feature four-poster king beds, and a few chintzy design touches such as a crystal chandelier, ornate carved wood furniture, and a jazzy zebra print ottoman. Both the indoor and outdoor twin rain head showers are made for sharing. With products in large rustic ceramic bottles ticking the sustainability box. Be sure to take advantage of the complimentary offerings – including mini-bar, international calls and laundry. While activities include coffee tasting, hikes and daily yoga – which takes place in a yoga pavilion floating in the treetops.
The website boasts of 'An unexpected culinary journey in the middle of the rainforest' which is no exaggeration. With three restaurant options including a vibey Latin bistro, gourmet fine dining or, my favourite – the pan-Asian restaurant with a Latin flair. Serving a top-notch poke bowl, rich miso soup and delicious Tico Rolls – tender tuna with avocado topped with grilled plantain. Then for dessert, the rich matcha cheesecake and sake sorbet is a must.
The Nayara spa's open-air treatment rooms are cantilevered over the rainforest, offering the thrum of the jungle as the natural soundtrack. I opted for one of the more popular treatments, a homage to the local landmark – the mineral rich volcanic mud massage. Which I was pleased to realise was actually a massage, rather than a wrap. At points I was wondering when the mud was going to be applied, as it felt more like silky oil was being applied to my body. With a mixture of soothing repetitive strokes and satisfying deep tissue kneading and twisting. And having always been a firm believer in the power of mud to literally earth the body, I definitely felt a shift into feeling more grounded afterwards, and like to imagine a spirit connection with that omnipresent active volcano.