Mindfulness, Meditation and Macaroons at The Grove, Hertfordshire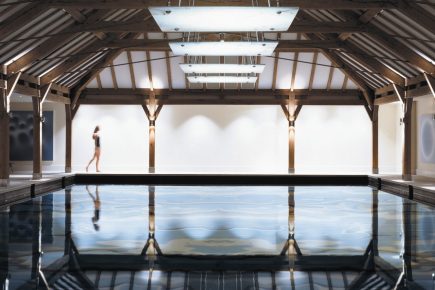 Rachel Sullivan savours the ultimate in body and mind relaxation at The Grove, Hertfordshire
Where better to go for a weekend of pampering than the place that actually invented the weekend break? Sounds like a big claim, but none less than Queen Victoria herself set the trend for escaping urban life when she started regularly visiting her friend the Earl of Clarendon for rural weekends away at his country estate which is now The Grove Hotel, setting a trend among her loyal subjects that perseveres to this day.
And on driving up the estate's manicured pathway through lush rolling hills and acres of woodland, it's easy to see why this is the spot that captured her heart. Just 20 minutes by train from London Euston, this luxury mansion house feels a world away from the hustle and bustle, with magical gardens, an award-winning golf course that has hosted both the British Masters and Barack Obama, plus the contemporary Sequoia spa. Quirky, modern art sits cheek by jowl with traditional elegance – don't miss the painstakingly hand-sheared bush bunnies caught in various amusing poses, from sunbathing to taking selfies.
I'm here in an attempt to clear my mind and calm my senses – a stressful job and two children under three make it hard to switch off. So today I'm trying out the ESPA Mindful Massage – which sounds just the ticket, billing itself as "a holistic, deeply relaxing and clarifying experience which works on the concept of mindfulness, focusing on both mind and body to help reduce stress and 'be more in the present'".
The treatment starts with an essential oil test to work out what your body is craving – for me, soothing, unsurprisingly – and a Cymbal chiming routine to open up your chakras. This is followed by a set of breathing and focusing exercises, done together with the therapist, that really do calm and focus the mind. Once your mind is in the zone, this is followed up by the sort of top-notch body massage you'd expect of a place with such a stellar spa pedigree, topped off with a face and scalp trigger point release using heated stones of smooth rose quartz – an almost transcendental experience.
The best thing about the ensuing state of near-total relaxation is that the Sequoia spa is an extremely seductive place to while away the remainder of the day, with its awesome black-tiled, ozone-friendly pool, outdoor terrace and multiple heat treatment rooms. For lunch, don't miss the spa's neat Bento boxes, in which you can choose your four quarters from a range of tempting, clean-eating options such as a light, zingy seared salmon in wasabi dressing, with the herbs and vegetables picked fresh on-site from the hotel's walled herb garden.
Back in my room, my virtuous air was shattered by indulging in one of the light-as-air chef-made macaroons left out for me, dripping with fresh lemon curd – but my feeling of Zen lasted all the way through the weekend and beyond. Queen Victoria was definitely onto something with this place.