Mantra Therapy at Hotel Tugu, Bali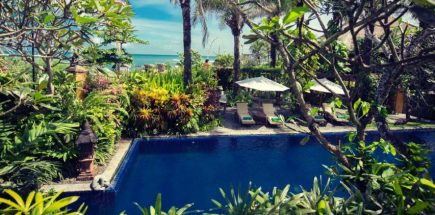 There was a time when talk of chakra-opening massages with healing mantras might have had me rolling my eyes. But thank you to Jenny, the warm, wonderful general manager for booking me in for a Kamar Mantra treatment at Hotel Tugu—it was one of the most special massages of my life. Confident meaningful strokes from Muriadi who's been at Tugu for 16 years, using a technique as old as time were truly soothing.
Everyone imagines life in Bali to be time spent floating around in paradise. In fact, this extraordinary Indonesian island, while inspiring, colourful and culturally captivating it is also a little chaotic. Relentless traffic along the bumpy roads and the throngs of tourists in its busiest resorts aren't exactly soothing—but here in Canggu, Hotel Tugu is a world away from modern-day.
Thatched teak suites on Bali's south-west coast, crammed with curios, this antiques-filled retreat is living, breathing museum. A five-metre 120-year-old Garuda carved in wood dominates the reimagined 19th-century Wantilan Agung, a seductively dark space with tree-sized teak pillars. 'Tugu', in Bahasa Indonesian, means 'monument' and artefacts abound as do huge stone dishes with floating candles and frangipani throughout the garden. Everything at the Balinese boutique hotel is done in-house with natural materials.
Eccentric and exotic, this look and feel extend to the spa therapies which take place in one of the Javanese timber houses. The sound and smell of cooking aren't usually an implication that you're about to experience a truly exceptional spa treatment, but here Muriadi was cooking just-cut ginger and lemongrass in coconut oil in a tin saucepan on a tiny gas burner. This would be used as hot poultices as part of a therapeutic body massage which included softly sung Hindu mantras. No fancy gimmicks or new-fangled machines or lotions. Just the sound of the birds, the breeze and meaningful chanting. A traditional Balinese Hindu blessing at the end where you're dabbed with holy water from brush bristles and splashed with rice wine and rice grains pressed to your forehead with a prayer.