Hasya – 'Laughing Yoga' – Beams Positivity to Amankila, Bali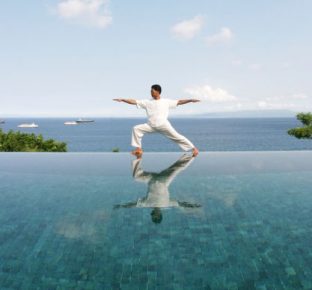 Proving the adage that laughter really is the best medicine, Amankila in Bali, offers guests Hasya or laughing Yoga, a practice based on the belief that voluntary laughter provides the same psychological and physiological benefits as spontaneous laughter, strengthening all immune functions, bringing more oxygen to the body and brain, and fostering feelings of positivity.
Sessions are offered three times a week and are led by Pak Eka, a natural Hatha and Hasya yoga teacher, and begin with warm-up techniques which include stretching, clapping and body movements (asanas) all of which help break down inhibitions and trigger happy feelings and thoughts.
Breathing exercises are then undertaken to prepare the lungs for the activity, and are followed by a series of laughter exercises that combine methods of acting and visualization techniques with playfulness.
The session concludes with laughing meditation, a period of unstructured laughter where participants sit or lie down and allow natural laughter to flow from within, which in most cases leads to real and contagious laughter.
Hasya yoga is available at Amankila three times a week, throughout the year.