Juliet Kinsman Tests the Skin Specific Facial by Elemis at the Waterbeach Spa, Goodwood Hotel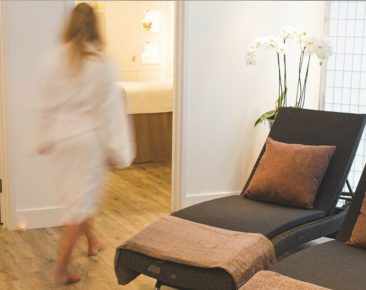 Snoring is not usually an endorsement. In fact, nodding off is generally not received as the greatest sign of appreciation. But my 60-minute facial at Goodwood Hotel was about as relaxing as time supine can be, says Juliet Kinsman, and I couldn't help falling sound asleep…
The Waterbeach Spa at Goodwood Hotel is careful not to overstate its offerings, but scheduling time here is a smart move if you're staying at the Goodwood Hotel or you're in Chichester for the weekend. It's a unique estate: there's the racecourse with a glorious view of the South Downs, an aerodrome, two golf courses within reach. You can pay £15 to use the health club facilities at the hotel, and go for a swim and a steam, but even if you just pitch up at Waterbeach for a pampering, it's worth a beautifying spell at the Goodwood Hotel.
Elemis is a British brand that uses natural ingredients – a lot like family-owned Goodwood itself. As a writer, I'm lucky to be able to have had lots of facial experiences to compare my treatment to. All too often you fill in that form on a clipboard beforehand, ticking all that you're concerned about (sensitivity, dehydration, fine lines, loss of elasticity) hoping for miracles. And then the beauty practitioner never even looks at your questionnaire. My therapist, spa manager Meghan Silver, verified my concerns (dry skin, wrinkles – the usuals) and actually paid attention with my skin-specific facial. The products used were a combination of a gentle exfoliation, those from the Pro-Collagen range and a hydrating mask.
I was not expecting a result that was tantamount to a cosmetic surgery from an hour lying in a treatment room, but I did hope that it would be an intense dose of nourishment for autumn skin. And there's nothing more unrelaxing than a so-called relaxing spa treatment when the person touching you isn't that great. (I know, First World Problems). This treatment proved to my ideal kind on a Friday afternoon – smooth, elegant hand movements which felt perfectly controlled and symmetrical. Like a beautifully choreographed finger ballet on your face. All this to say it was so de-stressing I slipped into a deep sleep (I love that at the start of the treatment Megan said she wasn't going to talk, because the main aim was that I relaxed, but if I had any questions afterwards to fire away.) One imagines your more mature client – which will be many of the spa bookings since membership of the hotel's health club supplies about 75% of the bookings (for £20 extra a month, members get £35 worth of beauty treatments a month) – really feel like it's an hour of heaven, a world away from impersonal spa appointments where staff just go through the motions. Instead it was so soul-soothing I slipped into a semi-comatose state. Beauty sleep, indeed.
To Stay: The Goodwood Hotel is formerly a Marriott Country Club, and it is now run by the estate and has been given a new interior. Be sure to book one of the re-designed boutiquey bedrooms, otherwise the bedrooms in the bricked annexe can be a little bit traditional. Facials from £40.