Jo Foley Discovers Salt Water Grottos and Stress Busting Programmes at Hotel Kronenhof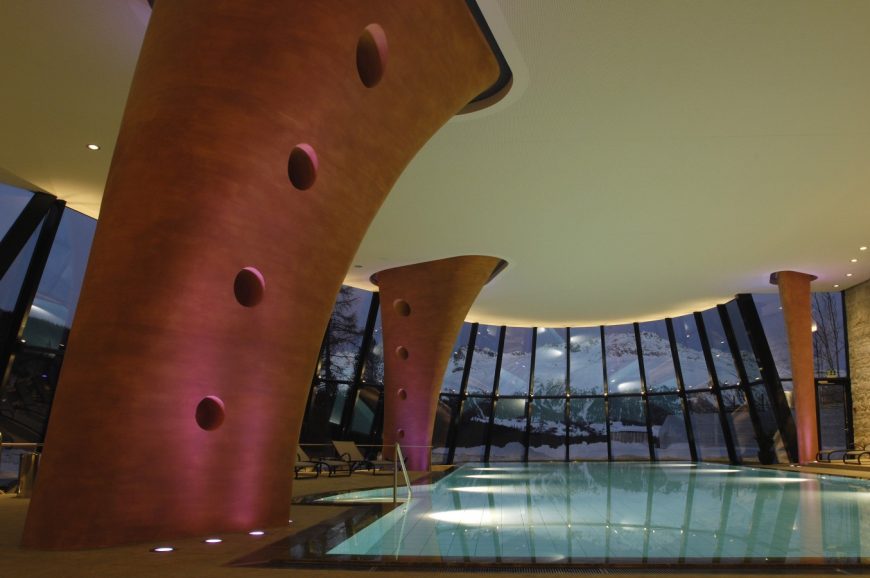 Like everything about the Grand Hotel Kronenhof, the spa is pretty impressive – wide, light and wonderful. Its treatment rooms and pools all have spectacular views of the mountains and no matter what time of the year you visit, this Engadine area of Switzerland is breathtaking.
In winter the snow sparkles with all the hidden diamonds brought out in the early morning sunshine, while in late spring early summer the wild flowers are like something imagined by Botticelli. However in autumn it is all glow and gold… difficult to keep your head down on the massage bed so beautiful are the views. Suffice to say that all the treatment rooms have huge windows so that the views almost become part of your therapy.
On the lower two floors of the hotel are the 13 treatment rooms…some for hydrotherapy, some for beauty, others for wraps, massages and scrubs… but all to pamper and relax. And there is of course the obligatory VIP couples suite which can be hired for a minimum of two hours. The lower floor is for the pools, steams and sauna…and here you are spoiled for choice. There is a Finnish sauna, a Bio version (especially for women where the humidity is higher, the air infused with essential oils and coloured lights are in operation to refresh and energise). There is also a stone grotto steam bath, a salt water grotto, a floating grotto with underwater music and a Kneipp footpath. And then of course, there is the pool itself, all 20 metres of it with a counter current system, more underwater music and magic views of the mountains. In the mornings guests can join in the aqua gym classes, a great way to strengthen and condition muscles and joints while allowing the water to take the strain and weight. They are particularly effective to prepare for a good day's ski-ing or to recover from a strenuous hike.
The treatment menu is well-curated with a body or beauty treatment for all comers, but each season is supplemented with a different signature offering. Currently it is the Five Senses massage, a combo of scent and colour. Five bowls of different hues are laid out for you to choose one, each bowl contains two oils…and once you've chosen your colour, you get to choose your scent. The theory is the tried and tested based on the fact that your intuition will lead you to what your body needs. Mine needed attention to my lower back, so with the help of my chosen earth colours and scents, off we went for a truly thorough therapeutic massage.
The beauty offerings are from a company so far unknown to me – Pharmos Natur – a German company which uses 100% natural ingredients…Indeed so pure and organic are the products that a range of them are vegan assured too. The basis of all products is raw aloe-vera organic juice. And indeed part of the facial involves a facial massage with the inside (the gel part) of a fresh slice from the plant. Normally not a huge fan of what I term 'gimmicky' ingredients I was impressed by the texture and tone of my skin after the treatment, not to mention the cool silkiness of the leaf. (I have over the years hacked off a bit of an aloe leaf to squeeze out the gel to cope with a bit of over-enthusiastic sunbathing and always found it a bit sticky and gloopy…not this well-behaved slice.)
For those of us with the more mature skin, their Rosencreme – is a magic amalgam of organic aloe vera and rose oil. It does, however, need an SPF addition if using it during the day.
However it's not just the outside of your head that needs attention, for many of us with our over-stressed, over-demanding lives…the inside needs help too, which is why the hotel has now introduced life coaching with one of Switzerland's top life coaches and sports psychologists, Thomas Theurillat. His OneDay company and one day philosophy is the basis of the coaching programme offered at the Kronenhof. Check out his website www.oneday.ch and his Ted Talk with gliding champion, Christian Maurer to discover what Thomas can actually do for you. While his name may be difficult to pronounce, his modus operandi is simple to understand.
The programme can be experienced in two hours, where you talk with him for an hour and then walk for an hour; it can be expanded to half a day…but his one-day course is what people really want to experience. Like everybody born in the mountains, the great outdoors, the freedom of nature and the purity of the air is essential not just to Thomas but to what he teaches. Although he would baulk at the word teach…what he does is "help people find their own solutions", which is what has made him one of the country's top business and life coaches. Captains of industry, chief executives and top managers seek him out once a year for refresher days…and all of them start in the mountains.
This is why Grand Hotel Kronenhof is an ideal location surrounded as it is by mountains, meadows, streams and forests. Even if a couple of hours with Thomas sounds scary, especially for those of us who have never had coaching, there is no need to be concerned, he is as gentle as a grown man can possibly be as well as kind, incisive and intuitive. A simple coffee and cake with him (and Thomas likes cakes) will get you asking yourself any number of questions about what you do, how you do it and is it best for you. Who knows a little light life coaching could almost change your life – as might an aloe-vera leaf.