Healthy Brunch Recipes: Muesli by Chiva Som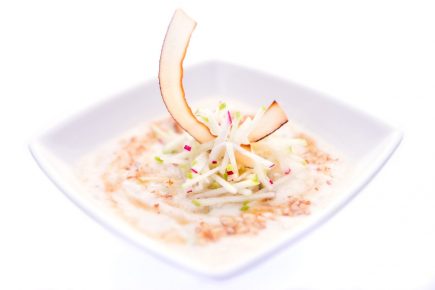 We attended the Chiva Som pop up in London and sampled their famous Muesli for breakfast.  It was so tasty, we had to get the recipe to share.
Ingredients 
40g rolled oats
1/4 red apple, finely sliced
1/4 green apple, finely sliced
1/2 tbsp black raisins
1/2 tbsp yellow raisins
1 tbsp roasted and chopped walnuts
1 tbsp lightly roasted and finely chopped almonds
1/2 tbsp Ayurvedic digestive aid
2 tbsp honey
5 cups plain yoghurt
Coconut chips for garnish
Instructions
Place the rolled oats, apples, raisins, walnuts, almonds, Ayurvedic digestive aid and honey in a bowl. Fold through the yoghurt. Place in the refrigerator for at least 3 hours to allow the flavours to develop (best overnight).
To serve, spoon the muesli into a bowl and sprinkle with the coconut chips.
Nutrition
200 kcal per serving
Protein 8.7g
Carbohydrate 23.2g
Fat, total 8.6g
Chiva Som is a luxury health resort in Thailand and delivers personal wellness programmes that focuses on a holistic approach to health that incorporates mind, body and spirit.