Clinique La Prairie Announces an Exclusive Health Resort in Partnership with Amaala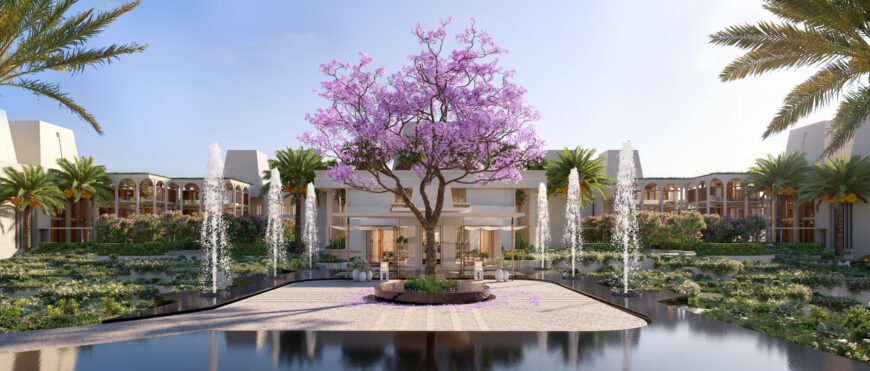 Amaala and The Red Sea, has announced a partnership with leading longevity clinic and wellness brand, Clinique La Prairie.
The partnership involves the development of a high-end 36,115 sqm Clinique La Prairie Health Resort within Amaala, which is located on Saudi Arabia's north-western coastline. The exclusive resort will offer 13 villas, as well as housing 52 rooms and suites.
"Clinique La Prairie's world-renowned facilities and health and wellness experiences, set against Saudi Arabia's extraordinary natural landscapes, will take our visitors on transformative personal journeys inspired by arts, wellness, and the purity of the Red Sea. The resort's subtle beauty – a product of Islamic architecture and modern craftmanship – will deliver a serene place in which to unwind, meditate and rejuvenate," said John Pagano, Group CEO, Red Sea Global.
Clinique La Prairie's approach to wellbeing prioritizes longevity. This is symbolized by the central "Longevity Plaza" leading to four distinctive areas of the resort corresponding to each one of the property's pillars – medical care, nutrition, movement and wellbeing. These sections will host a vast array of activities and facilities, including all the latest technologies developed over 90 years by Clinique La Prairie to enable clients to live a longer, healthier, and fuller life.
The resort also features a diagnostics lab, museum, beach club, workshop and training rooms, private dining space, and even a cooking school, ensuring visitors can embark on an inimitable journey of rejuvenation and self-discovery.
Clinique La Prairie has a unique approach to wellbeing, combining leading preventative medicine, genetics and epigenetics with bespoke lifestyle and nutrition plans always grounded in the latest sciences. Using the CLP Longevity MethodTM, medical specialists and holistic experts will provide guests with highly personalized revitalizing, immune-boosting and transformative itineraries over one week or longer stays, to embrace health and life to its fullest potential.
The clinic's expert will work to slow time, as well as restore visitors' internal balance and remedy a wide range of conditions, including fatigue, anxiety, digestive disorders, insomnia, diabetes and more. Cutting-edge science and ancient healing practices combine to offer holistic practices.
Clinique La Prairie will offer synergistic treatments to rejuvenate inside and out. The medical pillar will include advanced diagnostics lab and radiology, physio, neuroscience, dermo, aesthetics, and dentistry. On the wellbeing side the destination will provide cryochamber, hyperbaric suites, IV infusion and a series of next-generation therapies to be unveiled, all of which contribute to Amaala's standing as a distinctive wellness destination.
Sustainability is a cornerstone of Amaala, with the entire destination set to be powered by 100% renewable energy. Respect for flora and fauna also runs through every aspect of the resort's design. For instance, Amaala's buildings have been brought around 100 meters back from the coastline to avoid interference with the natural habitat of the Red Sea's fragile turtle populations. Lighting is also carefully used to protect the night sky and limit the impact of artificial light on wildlife.
Simone Gibertoni, CEO of Clinique La Prairie, stated: "At Amaala, we are creating the most important Health and Longevity-focused resort ever developed. We're delighted to be building our very first full-scale destination in such an extraordinary setting and to help bring Red Sea Global's vision of regenerative, ultra-luxury tourism to life."