Castello del Nero – We Check In to One of Tuscany's Most Luxurious Retreats
Set in 740 acres of cypress trees, olive groves and rolling hills, the moment I stepped over Castello del Nero's stone threshold, I felt transported to the romance of medieval Italy, albeit with five star, 21st century luxe.
Overview
The castle has belonged to various noble families since the 12th century and has been Tuscany's most luxurious hotel for the past decade. The Italian Fine Art Commission supervised the restoration as the owners uncovered mosaics and frescoes and gently brought them back to life and today, every room – private and public – unleashes its history and grandeur on the visitor.
However there's no intimidating formality here – we were welcomed into 'our home' – and Castello del Nero achieves the holy grail of luxury hotels by being both jaw-droppingly beautiful and immediately nurturing with its vaulted ceilings, terracotta floors, huge bathrooms with clawfoot tubs and spacious, airy bedrooms decked in sumptuous fabrics and soothing colours.
The panoramic terrace looks over the wonderful 740-acre estate with two levels of vineyards (this is the Chianti region) and one of olive groves – the hotel produces its own fine extra virgin olive oil.
The three different restaurants delight the tastebuds and you can work off its mouthwatering fare without even leaving the grounds – there are kilometres of trails ideal for running, walking or cycling and the spacious air-conditioned fitness suite has Technogym equipment.
The Spa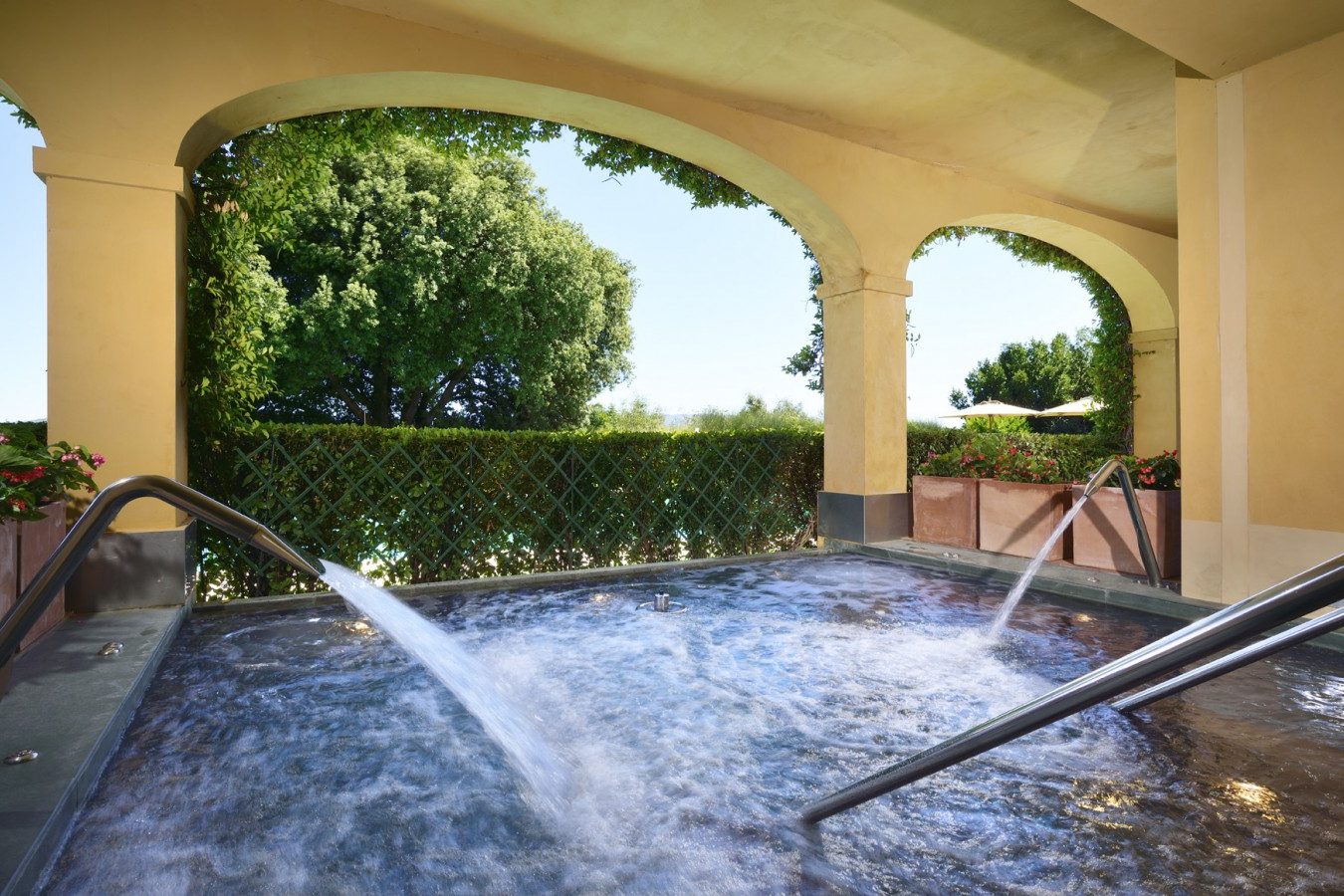 ESPA at Castello del Nero is the first destination spa in Tuscany, and the region's first ESPA location. It uses natural wood, smooth glass and cool stone to create an atmosphere of calm; it is a cocooning, relaxing and I-want-to-stay-here-forever triumph. It's spacious (over 1000 square metres), beautiful and immediately soothing. One of the lingering things about here is the smell – lavender, rosemary and home-grown Tuscan extra virgin olive oil have been specially blended 'to smell of Tuscany' and the magical concoction is used in both the spa and the in-room toiletries. The treatment menu is extensive and therapists skilled.
There's an outdoor heated vitality pool where you can either take shade under trees or stretch out and sunbathe on loungers, gazing at the Tuscan rolling hills. The views are a big part of the relaxation ritual here – the Vitality pool overlooks the vineyard and loungers in the relaxation room look out (through one way glass) over the verdant estate.
Castello del Nero Spa Journaty – This totally indulgent, wonderfully long treatment begins with an exfoliation using the hotel's own extra virgin olive oil with sea salt to exfoliate and smooth the skin. The skilled therapist then moves to a lavender-infused extra virgin olive oil for a stretching and soothing Balinese massage. A ritual to calm and nurture even the tightest muscles and minds. Deep relaxation at its finest.
To Stay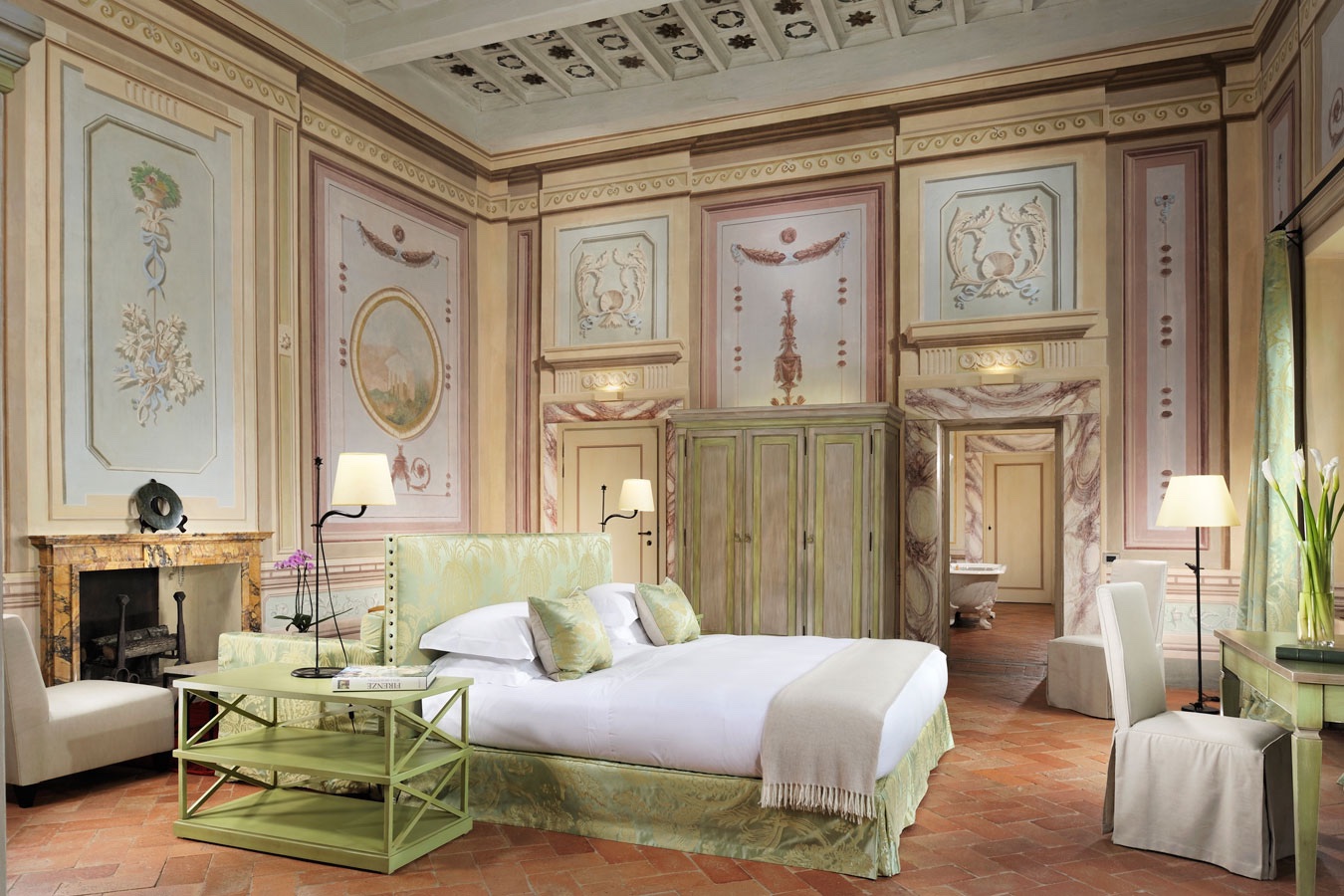 The beauty of Castello del Nero is that all the rooms are different but all combine authentic opulence with enchanting views and walls that could tell a story or two. I stayed in Deluxe room 206 and the theme was terracotta red – warm and stately and with high windows set into the centuries' old stone walls, I felt like a princess. My king-sized bed was topped with Egyptian linen – super comfy – and my vista was over the hills. The bathroom was enormous with space to pad around in happily. The claw-footed bath was deep enough to sink into and the hotel is generous with those divine smelling toiletries.
The first floor was the noble floor and today houses the suites. The frescoed Deluxe suites are opulent and huge and you will wake up gazing at the painstakingly restored frescoes. The Marchese Carlo suite still has the crest of the ruling Torrigiani family above the fireplace.
Tip: Suite 102 has a dazzling pretty H shape bathroom with original frescoes on the walls – it has been voted one of the most beautiful bathrooms in the world!
To Eat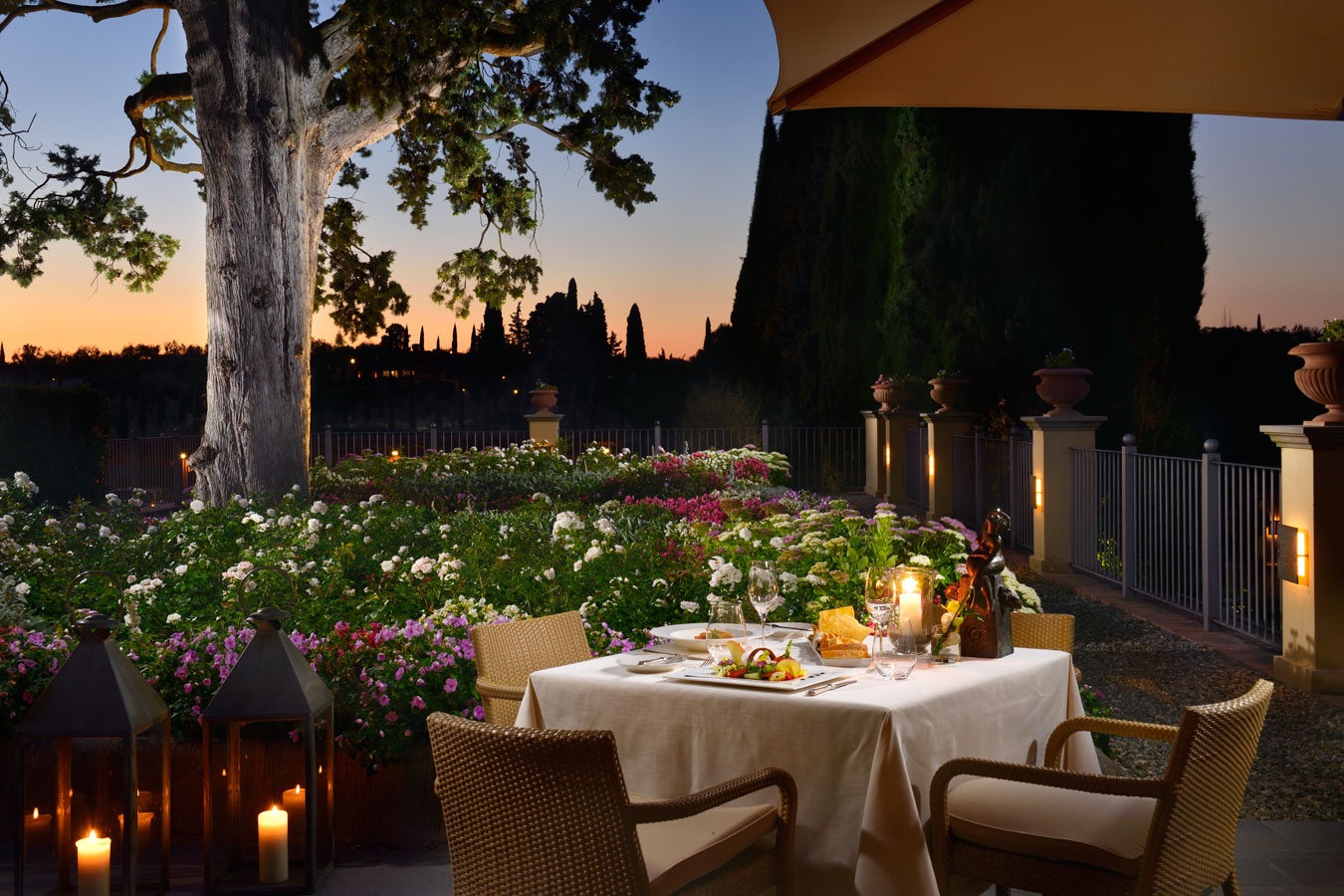 Eating in La Torre is an old school, totally Italian glam affair. The dishes are presented theatrically but there are no gimmicks or tricks – just the freshest, local ingredients cooked exquisitely by Michelin starred executive chef Giovanni Luca Di Pirro.
Our starter of a slow-poached hen's egg with zucchini sauce and charcoal flavoured bread was followed by homemade pasta filled with cottage cheese, asparagus and truffle.
The main – melt in the mouth Zeri lamb – was accompanied by a moreish purple mashed potato and the astonishing finale of puddings – Passione Esotica (a custard of chocolate, passion fruit and Matcha Tea) was followed by towers (literally) of macaroons. The experience is topped off with a spellbinding coffee brewing ritual that belongs in Hogwarts.
"And this we call meditation wine." The sommelier held up a bottle of ruby Brunello, "Perfect for talking with friends." Meditation wine – I mentally banked this joyful phrase as we sat around a large wooden table in the ancient 12th-century cellar. We were participating in the extra virgin olive oil and wine tasting evening, one of at one of the hotel's many gastro offerings – others include cookery courses with the executive chef Giovanni Luca Di Pirro and, in October and truffle hunting with dogs (pigs sometimes eat the truffles and occasionally fingers!).
We learned how to warm a glass to release the grassy scent of a fine extra virgin olive oil and tasted four wines looking at their hue and understanding the different notes. Any thoughts of emails, devices, to-do lists evaporate – there is no better place to relax than learning about 'vino' within these stone walls.
For The Kids
Castello del Nero is fantastically welcoming to kids who will revel in the huge spaces to play in and the storytelling that comes from living in a castle! Under-6s can stay for free in their parents' room, extra beds can be added to some of the rooms (€55 a night) as can cots (free) and babysitting is available on request.
And Castello Del Nero caters so brilliantly for them that their luxurious spa even offers special treatments for the under 16s: there's a 45-minute Angels Massage, a Teen Facial and manicures and pedicures for children.
Don't Miss
Sightseeing. There is so much to see – from Florence which oozes art and culture to the slightly more sedate but beautiful Siena with its shell-shaped Piazza di Campo. And, only 20km from Castello del Nero, is the medieval 14-towered hilltop town of San Gimignano – famous for saffron (so expensive because it can only be collected at dawn), white wine Vernaccia and for being one of the most magical places in the world.
Pedestrian only, I defy you not to feel like a time traveller as you wander through the narrow streets and gaze from the hilltop over the Tuscan countryside.