Burj Al Arab Jumeirah Embrace Their Heritage Through Three New Spa Journeys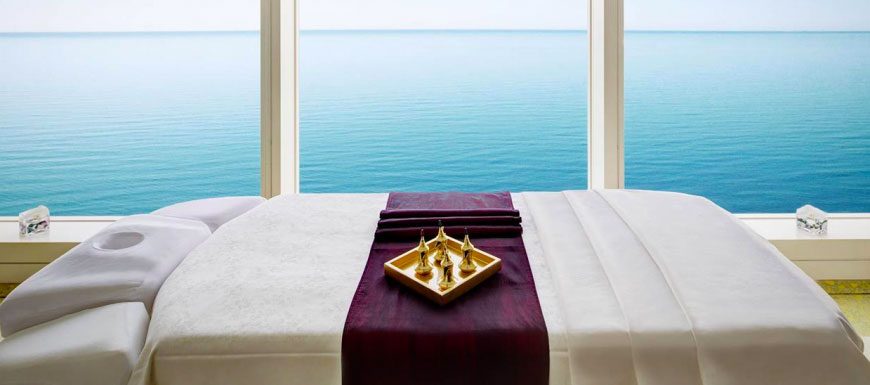 Burj Al Arab Jumeirah has paid tribute to its own heritage and legacy through the creation of three new spa experiences.
Entitled 'journeys' The Sail, The Wave and The Atrium are three new custom created treatments that include a massage, a wrap and an envelopment designed to transport you to a new realm of luxury relaxation.
The journeys have been enhanced using "the integrity of senses" to integrate sight, sound, taste, touch and aroma. Merging elements with rare and natural ingredients from products with a deep Arabic heritage, the three two hour journeys have been specifically designed to result in the utmost relaxation and establish long term benefits.
Inspired by the iconic architectural shape of Burj Al Arab Jumeirah, The Wave journey is designed to awaken senses with a re-energizing foot and full body polish, combined with a detoxifying Swedish style massage. Layers of a cooling gel, stimulating essential oil and uplifting cream, promote circulation, resulting in complete invigoration. The wave journey also aims to reduces cellulite and fluid retention.
Created in tribute to The Sail of the hotel, the journey has been created to invigorate the senses with ingredients seeped in the traditions of Arabic heritage. A gentle foot cocoon and body polish of coffee and frankincense, is followed by an aromatherapy massage, culminating with a calming & nourishing envelopment of patchouli and vanilla. Pressure and reflex points are used to calm and relax the body and mind.
The Atrium journey represents the breathtaking heart of the hotel. A foot and body polish of rose, cardamom and olive to regenerate and nurture the skin, combined with a comforting and regenerating "east meets west massage", has been designed for emotional balance and fortification. The Atrium journey includes an uplifting envelopment of layers to raise  spirits, uplift your mood and nourish your body – resulting in mindfulness and positivity.
All three spa journeys last for two hours, and are priced at AED 1,950. As well as the treatment itself, guests also receive a 300ml product based on the journey choice.