Better Ageing – Wide Eyes & Smooth Lines With Dr Prager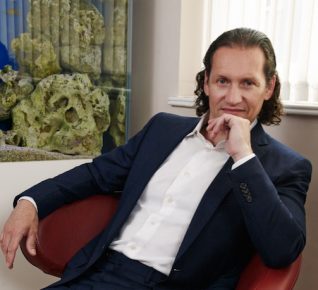 As one of the most sought-after aesthetic doctors in Europe – with fans ranging from a-listers and fashionistas to beauty-savvy business folk flocking to his Wimple Street practice – you might think Dr Pragers waiting room could be a tad intimidating. It isn't. Welcomed by a beaming receptionist, chatty co-patients and a hypnotic tropical fish tank, it's quite the opposite.
It's my second visit to Prager's clinic and the first time I've succumbed to his famous injectables. My last visit was a few years ago for his non-invasive, Illuminator Facial. It was, and still is one of the best results-driven facials I've found – but as time takes its toll I feel like a need an upgraded boost. Though I've been told time and time again from fellow trusted – and ever glowing – beauty insiders that they would never seek Botox anywhere else, I'm still slightly anxious. The re-assuring waiting room banter from a regular client – "oh he's literally a magician!" – put any nerves to bay.
Prager himself is a likeable as everyone says. Perched in front of his 3-D camera, we're chatting away like old friends. A huge photo of my face pops up on his computer screen – it literally shows every bag, sag and crevice – I wince, and look away. "You've got good skin for your age" he reassures me, as he fills several needles.
Prager's experience and finely tuned eye not only earned him the well-publicised title of the 'King of Botox' but also 'Dr Natural'. Unlike practitioners who treat different parts of the face in isolation, Prager's method is to focus on the face as a whole. He uses his injections – a mix of Botulinum Toxin and Hyaluronic Acid – to lift the jowl and neck area, while replacing volume around the cheek, temple, brow and chin, resulting in a fresh and lifted look without obvious signs of treatment. Prager was actually the first practitioner to advocate the use of Botox for the lower part of the face and neck
Fifteen minutes and several pain-free, pinpricks later and I'm done. "That was actually quite a relaxing experience" I say. "Well I am a qualified hypnotist" he teases. Except he's not teasing – I've already noticed the certificate confirming this on his wall. I leave the clinic with a few tiny red dots on my face, slightly flushed from laughing and excited to see the results.
A few days later I notice a difference – my face looks smoother with a bit of a glow. Three weeks later the results are remarkable. My whole face seems to have woken up. My eyes are wider, bags banished, frown lines diminished and my cheekbones are more prominent and lifted. Friends comment on how well I look and ask if I've been away. Nobody asks if I've had a treatment – except one – who asks if I've seen Prager, but she's a fellow convert and recognises his magic…