Beach Ready Hair – Top Tips From Fashion Stylist Tracie Cant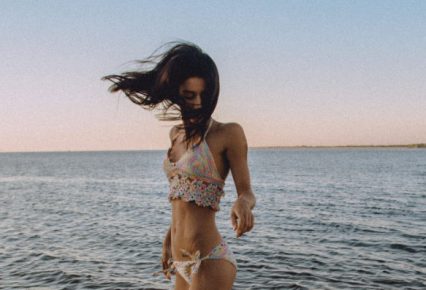 Visiting or living in a hot or tropical climate can have an adverse effect on the quality and texture of your hair.
Fear not – there are certain regimes and simple protocols that we can follow to prepare and protect the hair whilst basking in the delights of our new surroundings. Tracie Cant hairdresser, treatment expert and tousler to stars such as Scarlett Johansson, Keira Knightley, Emily Blunt shares are top tips and products:
We can start by preparing the hair to be beach-ready. In just a few simple and easy steps the hair will be fit and ready to travel.
The first port of call is to visit your hairdresser – to ensure that the hair is cut well and has a healthy colour.
This will build strength within the hair structure and improve the overall quality of the hair – a good foundation is where it all starts.
I highly recommend building consistent hydration into the hair by using a hair mask at least twice a week leading up to your travels. Leonor Greyl Masque Quintessence is a deep penetrating mask that rebuilds and hydrates even the most damaged hair. Rahua finishing treatment is also an excellent hydrating product – with all of the ingredients being 100% organic and a percentage of all sales going towards protecting the Amazon.
For cleansing the hair I suggest packing a hydrating shampoo as some hotel shampoos can sometimes somewhat harsh. Try the Moisture Rich Cleansing Conditioner by Ojon – it is a best selling 'all in one', and will gently cleanse the hair and lightly condition at the same time. It will also save you space when packing!
Another favourite is Shampooing Reviviscence from Leonor Greyl – it is rich with botanicals and vitamins to hydrate stressed hair.
To put back the hydration that may be lost throughout the day use a high-quality conditioner after shampooing – especially when subjecting the hair to the effects of heat, humidity and salty sea water. I love Masque Fleurs de Jasmine from Leonor Greyl – it has a concentration of rich amino acids and botanical oils such as jasmine- to increase flexibility and elasticity. Another perfect hydrator is Rare Therapy Moisture Conditioner from Ojon – this has the added bonus of blue agave nectar and jojoba oils to give a deep conditioning effect to more stressed and porous hair.
I suggest using a protective hair mist with added filters when out in the sun – the Protective Hair Veil mist from Aveda has UVA and UVB protection for up to 16 hours. It has a three-part defence system to protect and hydrate and is also water-resistant – to ensure protection from humidity and the harsh effects of the sun, salt water and chlorine pools.
For maximum protection, I would try rinsing and re-applying the mist throughout the day – if you are at the beach or pool – to avoid a build-up of chemical or salt residue on and within the hair. The re-application gives the same added protection as sunblock would for the skin.
Hair oils are also an amazing way to add a protective barrier against the harsh effects of sea salt or chlorine and can also tame the hair while braving the elements – L'huile de Leonor Greyl is amazing and smells divine – it protects and acts as a barrier – while smoothing and hydrating the hair.
Dr Jackson's Coconut Melt is gorgeous if you are simply basking in a hammock on a beach and love the natural aroma of the tropics. This is an all in TLC product for dry hair and skin it's also anti-bacterial and anti-fungal – so perfect to have in your travel kit as a rescue go-to product.
Lastly let the rejuvenating process continue as you sleep with Secret de Nuit from Phyto – this wonder product will repair and rejuvenate your hair all night long – simply apply before going to bed and let it go to work. It's residue-free which is an added feature – so on waking the hair is already hydrated and protected – ready and prepared for another day at the beach!