Balinese Massage at W Bali Seminyak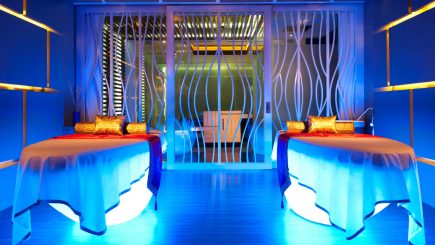 Open 24/7, the sassy spa at W Bali Seminyak wants you to rock around the clock, detoxing and retoxing.
ACCESS ALL AREAS AT AWAY®
You could almost miss the sign for the W on Seminyak's main, crazy sign-festooned main street – but follow the driveway through the charming understated arch of green bamboo and gets rather grand as it sweeps into the five-star hotel's main open-plan open-sided sociable lobby space. Neon pink lighting, street art mural, and loud electronic music in the reception lounge let you know this isn't a traditional spa retreat situation. Bright-coloured graphics shout inspiration of what you should do… Detox with a fresh juice at the FUEL stand where chilled fruit begs to be made into healthy smoothies. Or retox with a flamboyant cocktail by the palm-tree-festooned pool area. The beats curated by Earworm in London permeate almost every corner and remind you this is a hotel with a party spirit and its very own recording studio (try and check out the W Sound Suite if you can).
Trad Meets Rad
Follow the path to the AWAY® Spa by W Hotels, and the theme of this entertaining hotel is 'backstage' – it's a refreshing, effervescent take on wellbeing. Get there 30 minutes before your treatment area to make the most of the relaxation area with oxygen masks to plug into, and a hot-stone bath and invigorating chilled bubbling plunge pool to get your circulation pumping. Balinese massages are beloved globally as the ultimate rub and stretch for stressed-out bodies. Here, in this untraditional setting my excellent therapist still used traditional techniques – acupressure, hot stones, stretching and reflexology on the feet– ancient time-tested tricks to relieve every modern-day stress.  In just an hour, I felt as though I'd had a whole two-week holiday and my muscle tension had melted away.
Top tip: if you're arriving during the night or crazy early, book in for a massage to smooth away any jet lag – there's a 25% discount off treatments taken between 11pm and 9am.
Sea-view Suite
Staying in a suite on the top floor treated me to an impressive view out over the pool with the Indian Ocean in widescreen – which is a tonic in itself. Starting the day with a quinoa-coconut porridge with caramelised dried fruits (not too sweet, truly tasty) and a wheatgrass shot served with a wedge of orange, tequila style is the W all over. You'd have thought such a fun-infused formula was strictly aimed at millennials, right? But plenty of guests here are more mature – in age at least, but they're clearly young at heart. Margaret and George were a retired couple from Australia who I saw greeted by staff as though they were part of the family – it was their third stay since 2014 and they are set on coming back every year.
W RETREAT & SPA BALI, SEMINYAK, KEROBOKAN, DENPASAR, BALI, INDONESIA
Phone: + 62 361 4738 106