An Exotic Spa Break – Leo Bear Checks in to The Selman Marrakech, Morocco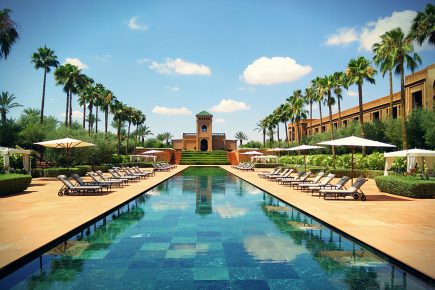 Blending Moorish architecture with splendid baroque flair (none other than Jacques Garcia designed the interiors), this red-brick pleasure palace is one of Marrakech's swankiest yet most serene spa retreats.
Pass your time lounging next to the hotel's 75m freshwater pool – the longest in Marrakech – or getting to know the owner's pure-bred Arabian ponies, then when the mercury hits scorchio, there's the cool climes of the Henri Chenot spa to retreat to.
Just 10 minutes from Marrakech airport, The Selman has 'exotic spa break' written all over it.
A cool haven of flickering candles, ornamental Arabian lanterns and soaring brickwork arches, this ravishing Henri Chenot Spa outpost is dedicated to the art of detox.
There are plenty of softly, softly pampering treatments to choose from, but to see real results the 'no pain, no gain' approach is recommended: that means firm scrubs, eyebrow-raisingly powerful hose-downs and facials that will make your eyes stream (if you give your therapist the green light for extractions). Grit your teeth and you'll come out gleaming though – and for afters, there's sweet mint tea on tap.
Top tip: This Luxury Spa Editor found the male therapists more skilled than the female ones in both massage and facials.
Hydro-Energetic Cure Session: Giving spa-goers a strong taste of what the Henri Chenot philosophy is all about, this invigorating treatment combines three important detox elements: a deeply nurturing hydro-aroma bath filled with essential oils and warming jets, a nourishing heated phyto-mud wrap, followed by a powerful 'hydro-jet' treatment – aka a good old-fashioned hosing, not for the faint-hearted…