Amanda Byram Checks In to Kamalaya and Discovers a Game Changing Retreat
Kamalaya (translation Lotus Realm – a symbol for unfolding life's potential) is a game-changer. Truly. The brainchild of John and Karina Stewart, a former traditional yogi monk and a doctor of traditional Chinese medicine, respectively, this is one hotel where you know you'll be in great hands.
Set in magical surroundings amongst ancient granite boulders and a spiritual old Buddhist monk cave, Kamalaya is more than just a hotel and spa. It is hard to pinpoint exactly what it is, as it is so many things, but primarily it is a health resort. Words like Reconnect, Rejuvenate, Discover, Explore, Enrich, Pause, Integrate, Meditate, Nurture and Heal are thrown around like a tennis ball at Wimbledon.
It is clear from the language here, that this is a place to renew your mind, body and soul. It is a fitness and ideal weight retreat, offering programmes that focus on the correct exercise and nutrition, with a top-class brand new fully-equipped gym, and knowledgeable trainers. It is also a detox retreat. But you won't find intense master cleanses and clay drinks here – rather cleansing the body through food.
Nothing is imposed too heavily here, the choices are yours and that mentality makes you want to immerse yourself into it completely. The staff here rule. Always accommodating, friendly and full of character.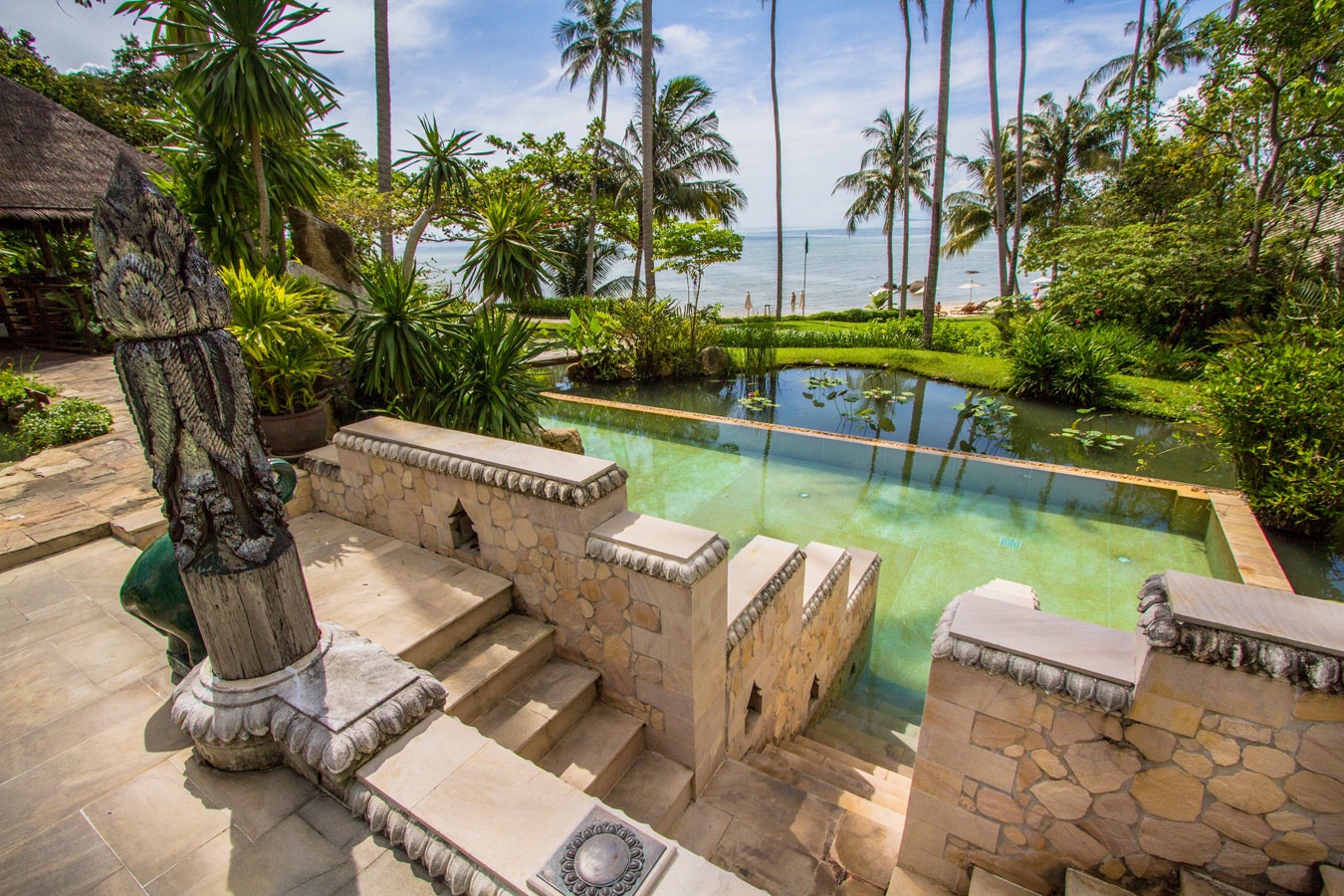 The spa at Kamalaya is set amongst an abundance of nature. Treatment rooms are little thermoses overlooking the beach. Evening treatments are a bonus as they allow you to watch the sun set over the ocean just as you open your weary eyes to reality again. Kamalaya's main focus is on your mind, body and soul.
The therapists and specialists here are carefully handpicked for their special skills. Everyone from stress management therapists (Sujay is my new best friend) to the Indian Reiki experts made a serious impression on me, and I am not easily pleased!
During my treatments I had two out of body experiences, one with reiki and one with Shidohara, one of my favourite Ayurvedic treatments – it involves a gentle pouring of warm oil, continuously, over the forehead (the third eye) – used to treat a variety of conditions including stress, memory loss and insomnia – it left me walking on air, literally.
Other treatments include Traditional Thai Massage with herbal compress, Traditional Indian Head Massage, Traditional Asian Hand Massage, Royal Ayurvedic Massage.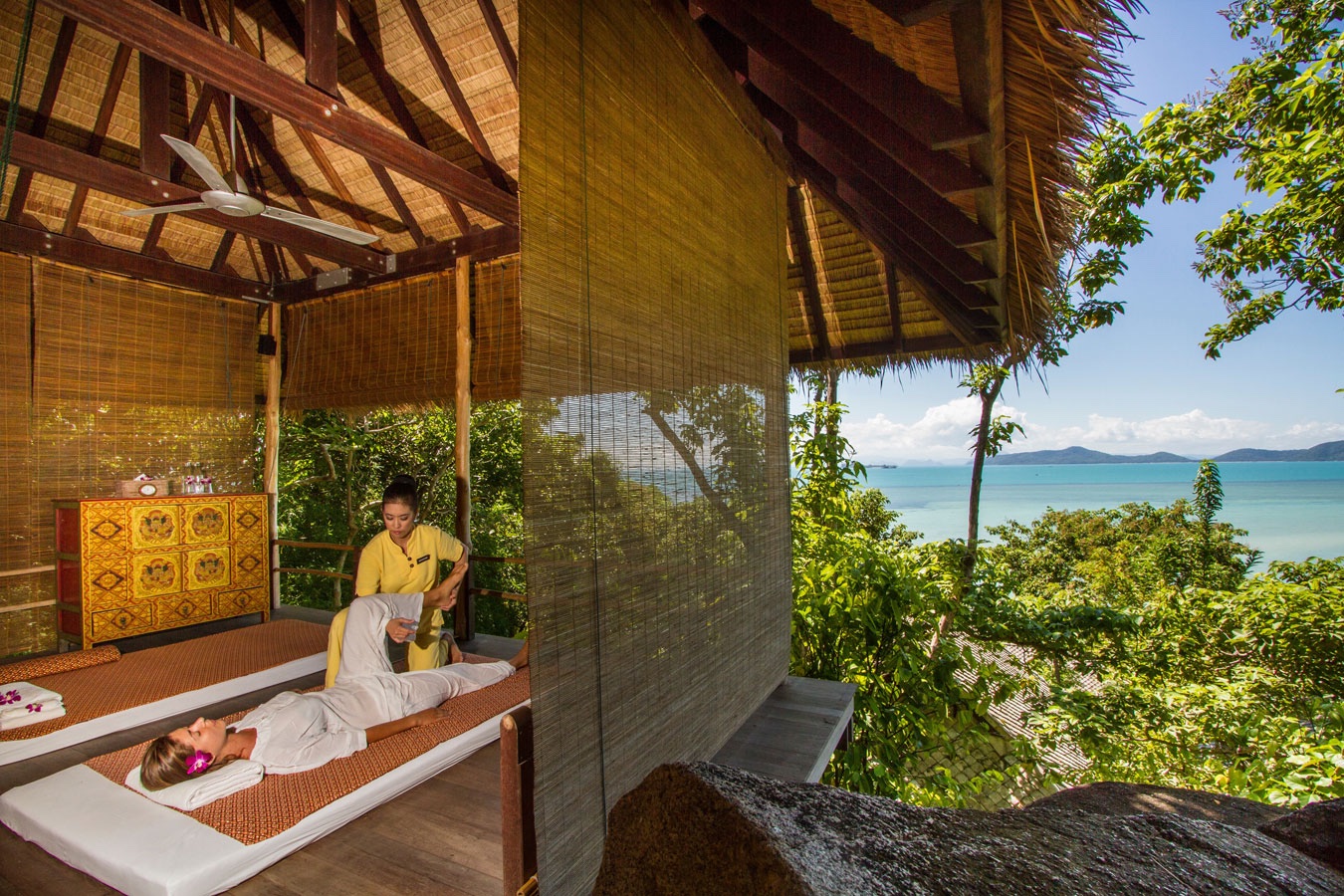 Programmes here include 'Relax and Renew', 'Asian Bliss De-stress', 'Balance and Revitalise', 'Sleep', 'Detox – Intro/Basic/Comprehensive'.
I chose the Balance and Revitalise as I was suffering from adrenal fatigue, but I would highly recommend any of the programmes. The international naturopaths and nutritionists, stress management experts, and experts in every field imaginable can work with you to create your own health programme from the wide range of holistic medicine and healing therapies.
The programme is designed to counteract the stresses of contemporary lifestyles and prevent adrenal burnout. Upon arrival you begin with a personal Balance and Revitalise Consultation and bio-impedance analysis to determine your specific health and wellness needs so that the program can be tailored for maximum effect and comfort.
Restorative and healing treatments include Royal Ayurvedic Massage, Shirodhara, Vital Essence Oil massage and more. Personal consultations in Naturopathic Lifestyle, Nutrition and Anti-Stress management support you to achieve a more balanced approach to your life.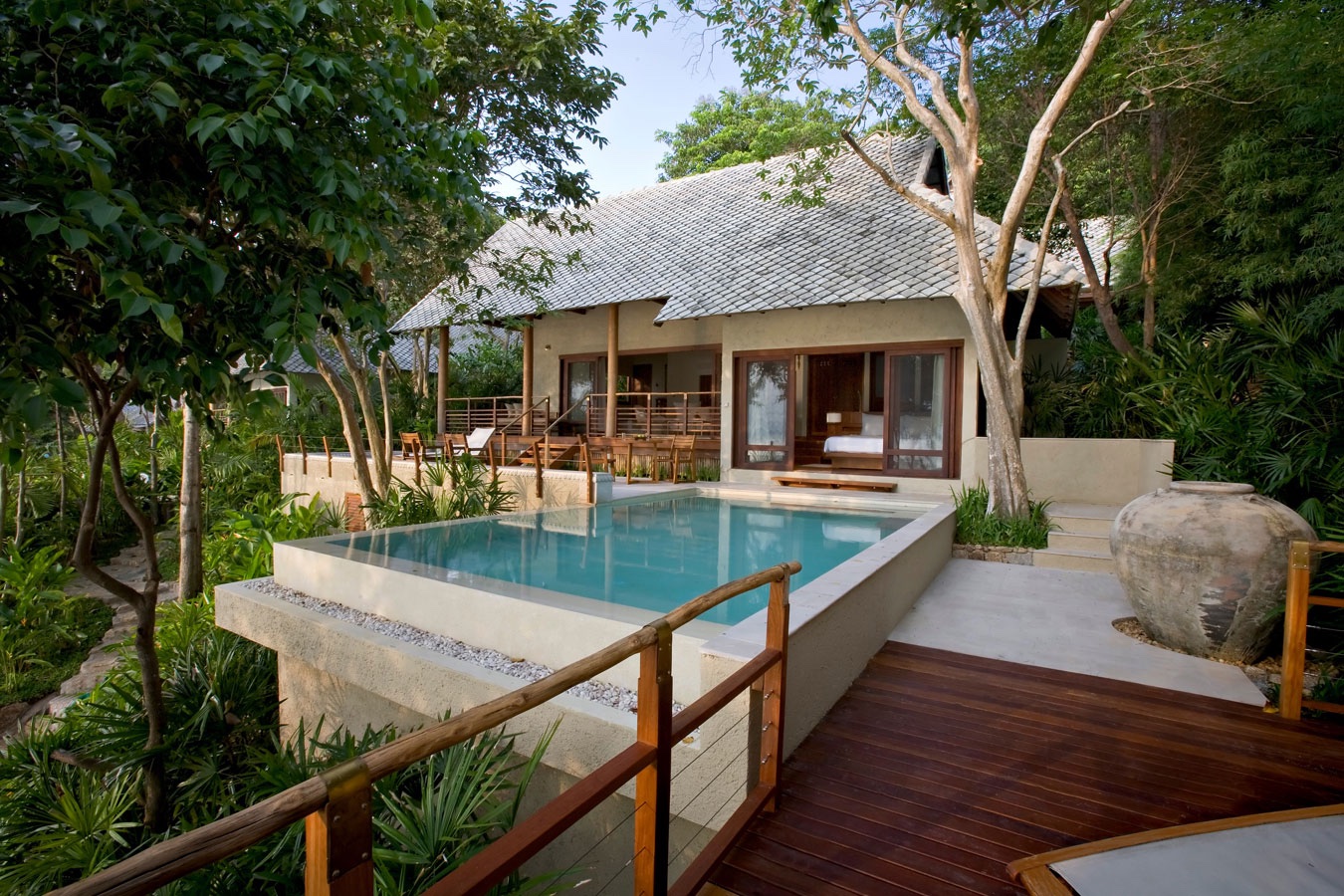 Kamalaya is a retreat surrounded by an abundance of nature. And the sleeping arrangements melt beautifully into the scenery. There is a range of room types which feature a minimalist décor and natural colour scheme throughout.
Choose from 'hillside rooms' nestled among majestic boulders and outdoor showers which make you feel as though you are completely at one with nature. The Suites with Sea View offer simple, stylish natural design and you can lounge under a magical canopy of stars on your private balcony.
The Villa sea view, which is home away from home, with oodles of space on a private balcony with daybed should you feel the urge to stay in your room all day (and trust me this is a tempting option). If you're travelling with the family, there are 'two-bedroom villas' which overlooks the tranquil Kamalaya beach. They house two en suite private bedrooms and a private pool that overlooks the ocean.
All rooms come fully stocked with beautiful toiletries wrapped in handmade paper and an abundance of beautiful shower products made with organic natural ingredients, just like Kamalaya itself.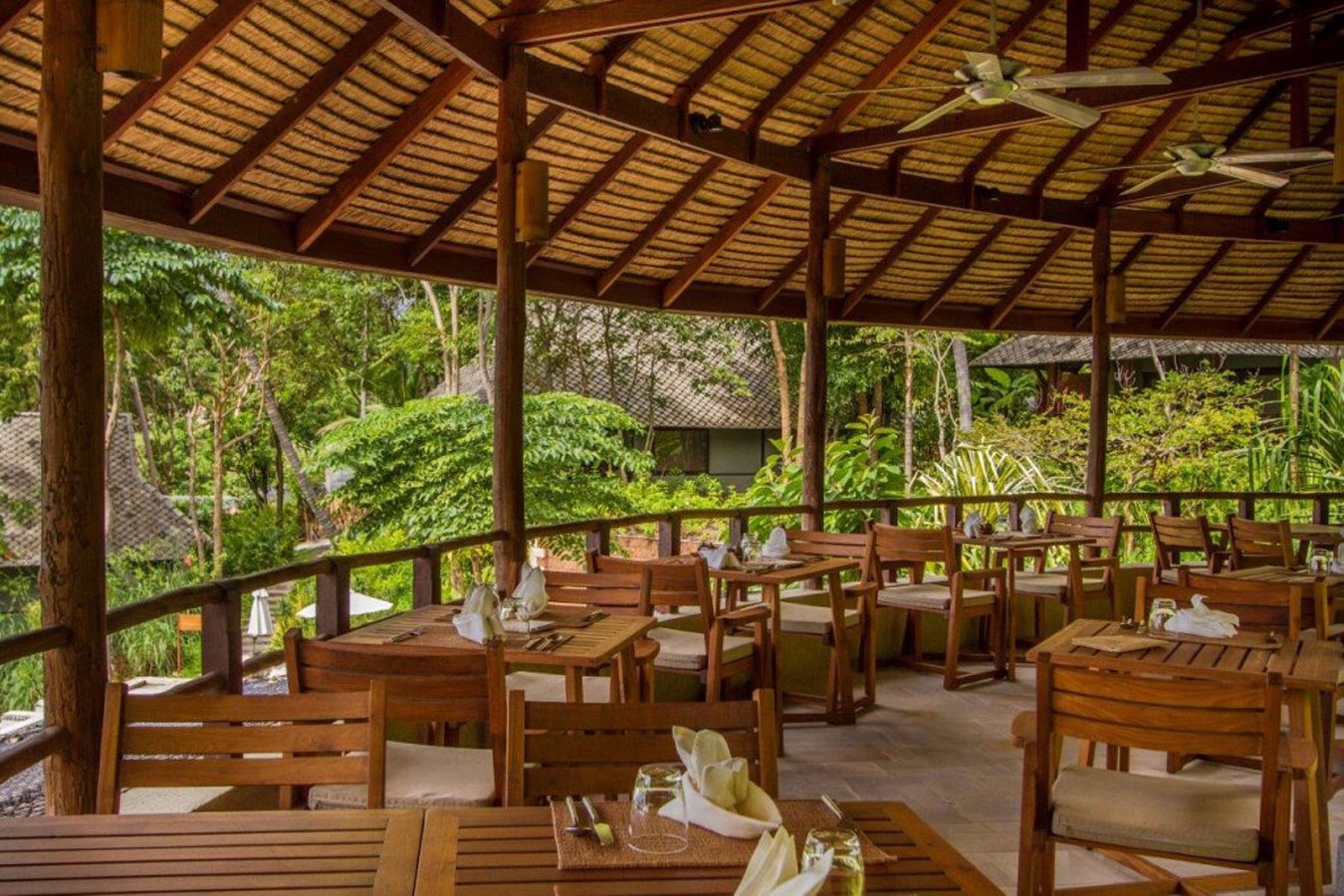 The food at Kamalaya is soooo tasty, it is a strong reminder that healthy food CAN be delicious! The 'Detox' plan, for example, takes a more holistic approach. Organic food that excludes the usual suspects of dairy, meat, fish, poultry, egg, soy, wheat, corn, potato, peanut, sugar is used. What is unusual is, just how darn tasty the food (especially the desserts) are without these ingredients!
Try the Roast pumpkin and sunflower seed dumplings, or the mung bean pasta, pumpkin curry with a side of kale slaw. Kamalaya is a hotel and spa where anyone can come to relax and take in the beautiful island, without the "detox" menu. The à la Carte menu is equally healthy and equally delicious. Try the slipper lobster with avocado salad, baked black cod with cucumber avocado mash and watermelon mustard, and the raw chocolate and avocado pear cake. The best part is, that there are no strict rules here. You can have a glass of wine or a coffee if you want it. But trust me, you won't even want to!
The breakfast buffet is a smorgasbord of delicious superfoods, buckwheat pancakes, nut and dairy milks, vegetables and fruits and smoothies and juices. There is a juice and smoothie list as long as your newly toned arm which you can indulge in any time of day, knowing you're being healthy. Detox Papaya Bee (nut milk papaya and bee pollen) Roller Coaster (wheat germ, cayenne, mint, coriander, pineapple, carrot and lime) and Coco Loco (coconut water and flesh, banana, tahini, vanilla and cinnamon).
My favourite part about Kamalaya is, that if you are on a programme, you don't have to worry about the cost. Your treatments are included, as is your food, and you can order your breakfast lunch and dinner as and when you please in the restaurant or to your room or the beach.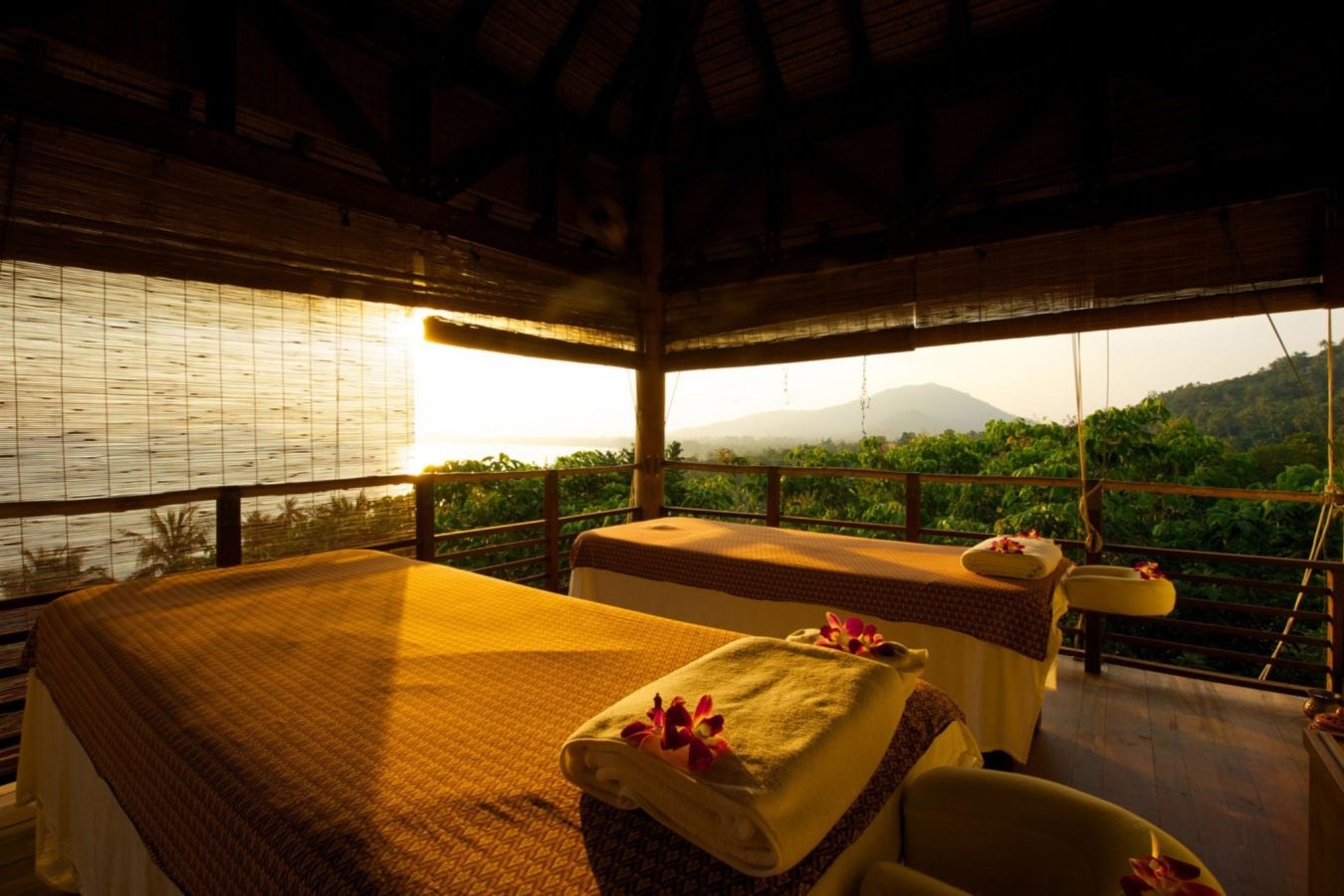 Each week there is a different schedule of group holistic activities at Kamalaya. Daily options include various styles of yoga suitable for different levels of experience, tai chi, Qi gong, pranayama, meditation, Pilates, fitball, stretching, suspension exercises, aqua aerobics, aqua yoga, beach power walks, cooking classes, traditional tea ceremonies, temple tours and more. Most activities are complimentary for all guests, whether on a programme or not.
Take one of Kamalaya's brilliantly organised excursions. In particular, the Sunset Cruise where you spend the day on an incredible yacht, with Kamalaya staff on board and exquisite food made by the Kamalaya chef, and a masseuse to top it all off! Rent a moped for about £6 a day and discover the island!
Get used to sleeping to the sound of frogs, being amongst tree-houses, peace and quiet, sea views, showering outdoors and feeling generally awesome! The staff are ace. The food is exquisite. The vibe is awesome. The scenery is to die for. They say here "Feel Life's Potential". I felt it then, I feel it now. Just as Kris on the beach said, "It's the same time as it was this time yesterday". Time really stands still here at Kamalaya. And I wouldn't want it any other way.