A Spotlight on COMO Shambhala Estate, Bali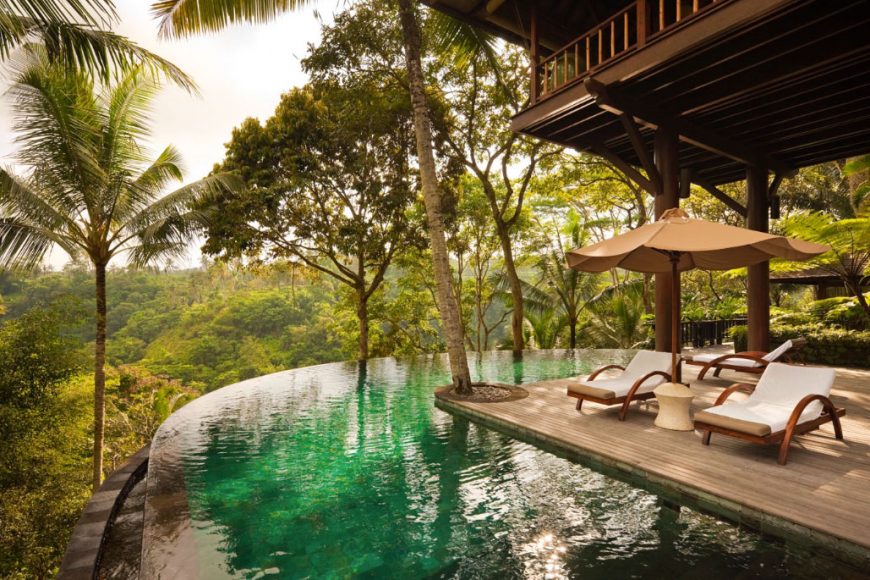 When investing in a fancy five-star escape this exclusive Balinese perch proves to be a spiritual experience — even when an average stay in this soothing sanctuary is only four to five days.
This Ubud wellness resort's genesis was in fact in 1998, as a property called the Begawan Giri. Not long after that it was acquired from the couple who owned it privately, and reimagined by hotelier and business doyenne Christina Ong. A quarter of a century later and the remarkable natural jungle setting the original COMO Shambhala spa retreat still promises the same kind of views that make eyes boggle and jaws slacken as well as a life-changing perspective in a spiritual sense. Its 30 suites (spread over five Retreat Villas) and the Ojas Spa itself ensure that this award-laden wellbeing paradise retains its position as the favourite of discerning celebrities.
Even with the passing of time, Mrs Ong's Bali hotel has become more relevant than ever. We've entered an age when luxury lovers are less concerned with buying things. Instead, we seek enriching and enlightening experiences, and all the better if they boost our health and tune us into nature. Not many wellbeing-focussed hotels lure honeymooners to take time out in romantic destinations with the ambition that they'll return home with their new better halves, the best version of themselves. The resort's therapy offerings have evolved over their 25 years, and one of the most interesting developments has been with the Oriental Medicine programme:
Modern-eating classics now appear on the menu alongside traditional Indonesian dishes. Real Toast — crushed avocado, heirloom tomatoes and cucumber — and the Big Raw Salad with its Dijon mustard and apple cider vinaigrette taste more of holiday than health centre. And as suited to something sparkling and indulgent as these tropical surroundings might be, the most loved drink is the signature fresh ginger tea.
When I took a tour of the sprawling greener-than-green grounds, one gorgeous villa suite really stood out as taking my breath away. Minimalist but warm, its cleverly designed infinity pool seemingly jutted out over the Ayung River valley. Turns out this is Mrs Ong's favourite spot to stay when she's here — so if you're smart, you'll book Tirta Ening.
Even as COMO has opened other properties all over the world, this flagship has stayed consistent with its core principles: a holistic personalised programme geared at long-term improvement of health and lifestyle habits.